7-Eleven has been expanding the boundaries of the convenience store concept with ongoing launches of its Evolution Stores. The retailer uses each of the nine locations to gain a better understanding of what shoppers want in their respective markets, and these actionable insights in turn power innovation and development for the chain as a whole.
Each Evolution Store offers its own take on convenience retailing: for example, the new Dallas location boasts customizable beverage options, a premium cigar humidor and an in-store Laredo Taco Company, among other innovations.
The concept was launched in 2019 as "a result of trying to reimagine our stores through our customer's eyes," according to Molly Long, VP of Store Evolution and Design at 7-Eleven. The retailer uses the stores to explore ways to bring in new shoppers while increasing the visit frequency of existing customers, and also improving how consumers see the 7-Eleven brand overall.
"As a testing ground for the latest 7-Eleven products and innovations, we've learned a lot from each Evolution Store — and the customers we serve," said Long in an interview with Retail TouchPoints. "Our Evolution Stores allow us to constantly introduce new products and services — from high-quality food and beverage options to innovative digital offerings that help maximize convenience for customers."
When You've Seen One Evolution Store, You Haven't Seen Them All
One of the key elements of Evolution Stores is that no one location is like any other. For instance, all Evolution Stores contain an in-store restaurant concept — but only the Manassas, Va. location includes two restaurants, Parlor Pizza and Raise the Roost Chicken and Biscuits. The Manassas store also served as a real-world testing ground for the retailer's Sips and Snacks emerging brands program, which is an invitation-only showcase for up-and-coming entrepreneurs to present their most innovative products.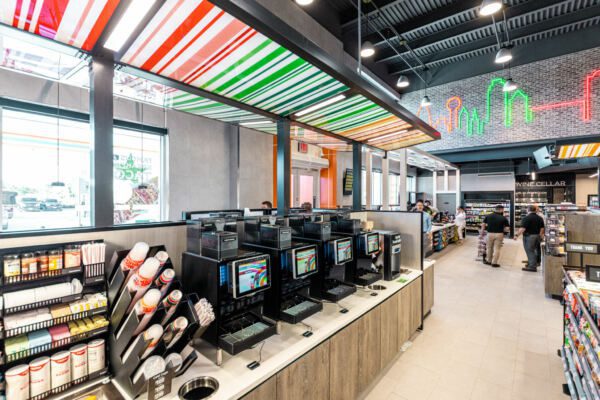 The new Dallas Evolution Store also has a unique take on its restaurant offering. Other locations include Laredo Taco Company restaurants, but the latest shop features an extended covered patio for customers, frozen margaritas and beer on tap to enhance the experience. The Dallas store also has a self-serve espresso machine that7-Eleven is using to test specialty items including Cold Foam Dirty Chai (a Chai Tea Latte with added double shot of espresso) and a Horchata Latte.
"Each Evolution Store is developed with its local community in mind," said Long. "We really want to gain an understanding of their needs, test new concepts and then scale those concepts that are working to new stores. The little details, like store design, lighting and music, really add to the ambiance and make our customers feel understood. For instance, in warm weather climates, we'll consider an outdoor patio to provide additional restaurant seating, while in a city we may offer more grab-and-go hot food items for on-the-go customers."
Stores Feature the Retailer's Latest Tech Solutions
Food isn't the Evolution Stores' only focus. The concept also utilizes 7-Eleven's full suite of omnichannel and mobile technologies, including Mobile Checkout, for a seamless in-store experience, and the ability to load a 7-Eleven Wallet with cash at the register to enable all shoppers to join the digital ecosystem. The stores also offer 30-minute delivery through 7NOW to let shoppers get snacks when and where they want them.
Each Evolution Store's launch is the result of careful planning. An important goal for any one of these retail labs is to test customers' reaction to its unique features, so the convenience retailer wants to place them in areas that will help it better strategize future store openings.
"We are very intentional about picking Evolution Store locations," said Long. "We want to test a variety of store sizes so we can learn and understand different ways to utilize space. We also want to test a variety of location types to understand how different consumers with different needs respond to our concepts. We also want to be sure to meet the needs of the local communities — so we'll pick a location based on population density, traffic and demographics."
The retailer will continue to develop other Evolution Stores as the data comes in, and standard 7-Eleven locations will advance with them. The shops already have helped the retailer understand both local and national consumer trends, and the aim is to help the retailer stay ahead of the curve as the convenience space continues to evolve. Retail never stands still, and 7-Eleven is already planning for the future.
"Over the next year, we expect to see a rise in customization options across the food and beverage category, new digital innovations to create a more seamless shopping experience, increased personalization in loyalty programs and so much more," said Long. "We're constantly evaluating our customers' needs to see how we can better serve them."