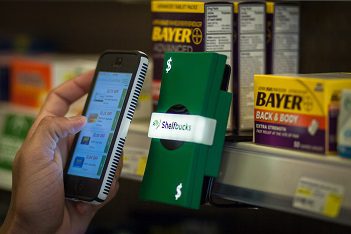 Beacon technology has been a hot topic among retailers striving to improve the brick-and-mortar shopping experience. For smaller retailers who don't generate the revenue required to invest in more comprehensive retail solutions, beacons represent a cost-effective alternative to communicate with and engage consumers, analyze shopper behaviors and deliver personalized product offerings via mobile.
Tarrytown Pharmacy, an independently owned and operated pharmacy, continually focuses on testing new, affordable solutions designed to enhance the in-store experience. Executives at beacon platform developer Shelfbucks heard about the pharmacy through local connections in the summer of 2013 — both companies are based in Austin, Tex. — and inquired about bringing the technology to the store.
"Mom-and-pops are typically not on the forefront of technology, because we don't have the people doing research out there to create proprietary web apps like Shelfbucks on our own," said Mark Newberry, Owner of Tarrytown Pharmacy, in an interview with Retail TouchPoints. "We can't do that on a small scale that's cost effective, so we have to wait for other groups that have already developed this [technology] to come to us and let us know that this is out there for the general public of retailers."
Newberry selects potential solutions based on two criteria: Value to the consumer and user simplicity. If a vendor pitches a product to the pharmacy and it doesn't fit both requirements, the product is no longer considered. Shelfbucks impressed Newberry on both accounts, he noted, and he saw the affordability as a great opportunity to select the solution "before any other retailer had it." After months of brainstorming the schematics of the implementation, the pharmacy officially rolled out the solution in February 2014.
The Shelfbucks solution consists of three components: Battery-powered beacons that are compatible with Bluetooth Low Energy (BLE) and Near Field Communication (NFC) technology; a back-end offer management software that monitors consumer activity throughout the store; and the mobile application that consumers use to opt into and interact with the beacons.
As part of the rollout, Shelfbucks installed 20 beacons on shelves throughout the pharmacy. Shoppers browsing the throughout the store can interact with Shelfbucks by tapping the beacons with their iPhone or Android smartphones. Shoppers are then prompted to download the app, so the phone can gain access to the server and obtain data relevant to the phone's location. The phone will then display product information, real-time discount offers and coupons on nearby products. Shoppers can redeem their special offers at the cashier in real time, eliminating the need for clipping coupons, online researching or showrooming.
Tarrytown Pharmacy collects data from the beacons to track and analyze which items are selling throughout the store, and what aisles customers are browsing in the most. Newberry noted that he has plans to analyze and compare basket sizes of customers using the Shelfbucks platform versus shoppers who are not in an effort to measure effectiveness and relevance of product deals displayed on the app.
"We get to promote and move product that we want to move, so if we have a generic store brand of a product, our margin is greater on that product versus a brand name product on the aisle," Newberry said. "We can even offer discounts and bring more visibility to those products, and even with the discount, make more margin than the brand counterpart that it's next to. It's a win for the customer, because they get a little discount, and it's a win for me, because we've just sold something with a bigger margin than its competitor."
Only one week after the implementation, Tarrytown Pharmacy saw positive results. While the data is limited, it shows promise that consumers can adapt to the solution quickly.
"The results are a lot better than we planned," said Erik McMillan, CEO of Shelfbucks. "The number of offers that are being looked at by customers, and then after an offer is looked at, the conversion rate of an item actually being purchased is staggering. Typically, conversion rates for print coupons are less than 1%. For a mobile coupon, maybe you're seeing 10% numbers. We're seeing multiples of 10%."
Because Tarrytown Pharmacy has seen such early success, Shelfbucks is looking to expand further into the retail industry, and expects to unveil the beacon technology in more brick-and-mortar stores.
"Let's drive a great shopper experience," McMillan said. "Let's look at the data coming out of it and make really solid decisions on how to change the offers and how to move things around. Once we have that use case figured out, we can understand how much we can increase conversions and margins. If we suggest you buy this product, what percentage of shoppers are actually going to buy that product? We can apply that to somebody with 8,000 stores, like Walgreens, CVS, Family Dollar or a Target — you name it. If we can increase Mark's bottom line by X percent in one store, take that and multiply it by 5,000."