At a time when many brands are reassessing their brick-and-mortar footprints and closing locations, it's evident that Men's Wearhouse is prioritizing in-store innovation. Its parent company Tailored Brands, Inc., has seen great success after unveiling a "next-gen" store concept this past September in Shenandoah, Texas. As a result, Men's Wearhouse already has plans to expand the tech-driven concept to more locations through 2021.

Developed in partnership with architecture, design and strategy firm NELSON Worldwide, the new store concept was designed to elevate the traditional Men's Wearhouse format by wrapping modular storytelling, personalized service and wardrobing, and digital technology into a streamlined, modern aesthetic. The store is laid out in distinct sections for custom, rental and retail sales, and includes new fixture systems and co-creation tables for customers to work with expert stylists. A new "Vault," highly visible on the store floor, holds additional inventory while giving consumers transparency into store operations.
The adoption of interactive technology, including contactless measurements, makes the shopping experience more immersive, personalized and safe. An interactive tablet is used in conjunction with the store's vast shirt wall, which includes a multitude of fits, styles, color families and patterns to help customers find what they need in their desired size and fit. Tablets also give customers the option to add items to their virtual fitting room, which then notifies a staff member to prep the try-on area.
In an exclusive interview with Retail TouchPoints, Carrie Ask, Chief Customer Officer at Tailored Brands, Inc., shared the inspiration behind the new store concept and how the retailer is approaching brick-and-mortar moving into 2021. Robyn Novak, Vice President of NELSON Worldwide, also provided additional commentary regarding how the companies worked together to bring the store to life.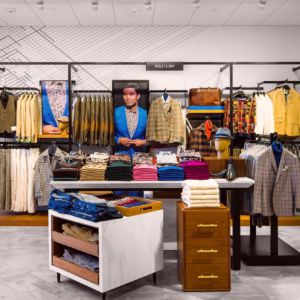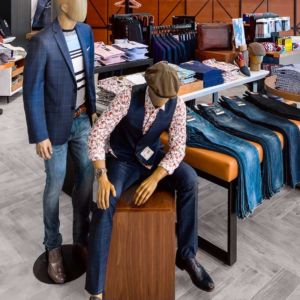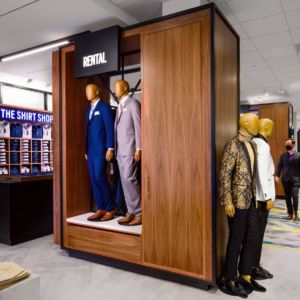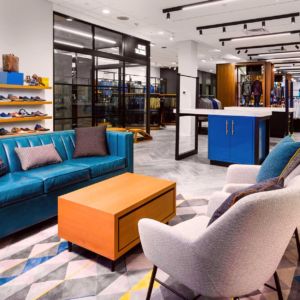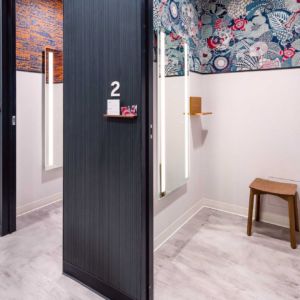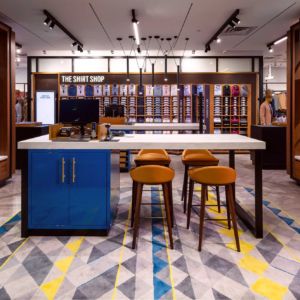 Retail TouchPoints (RTP) COVID-19 has been a time of relearning and reimagination for brands of all sizes and across categories. What has Tailored Brands, Inc., and specifically Men's Wearhouse learned in these times?

Carrie Ask: Yes, it's been a challenging year, and we've all had to adapt to this new reality. We know that menswear and retail are changing rapidly, driven by the evolving needs of our customers. As a result, we accelerated several new omnichannel initiatives such as BOPIS (buy online, pick up in-store), appointments, contactless measurement, ship-to-home and curbside pickup in order to make it faster, safer and easier for our customers to shop.
Growth in online sales can be attributed to younger customers coming to us for stylish yet comfortable garments at a great value, with brands like Alternative Apparel and Paisley & Gray. At the end of the day, our aim is to be the primary destination for all "moments that matter" for our current and future customers.
RTP: You just referred to younger customers coming to Men's Wearhouse online to meet their needs. Have you noticed a shift or evolution in your customer base during this time?

Ask: We have been long adapting our assortments to the shift to casual, and have continued to meet our customers where they are. Tailored garments will always be a part of our DNA as the suit will continue to be relevant in our customers' wardrobes. That said, nearly half of our sales are in casual, non-suit, categories. We're excited about how our new next-gen store allows us to showcase our service and great head-to-toe outfits for both our suiting and casual offerings through a combination of new fixtures, mannequins, and digital and physical imagery.
Prior to COVID-19, we were seeing strong consumer response to our selection of casual wear, including unstructured jackets, polos, chinos and shirting with four-way stretch. These assortment shifts are clearly resonating, as we saw growth across all our brands and continue to see momentum across our style range. 
RTP: How did these new consumer needs and other insights dictate your vision for the new store concept?
Ask: We kicked off our next-gen store design initiative by immersing ourselves in what our customers expect from us and mapping opportunities to improve their overall shopping experience inside a reimagined aesthetic. We designed a store that would strengthen our ability to express modern menswear style, showcase and empower our expert service, integrate and embed a seamless omnichannel experience and evolve our economic and operating models.
RTP: How did you determine what digital elements you really wanted to integrate and augment in the new store concept?

Robyn Novak: Determining what digital elements to integrate and augment in the new store concept stemmed from the brand's promise of delivering on "moments that matter," all centered around providing a seamless journey for the guest pre-, during and post visit. In the new Men's Wearhouse next-gen concept, technology enables co-creation, enhanced personal selections and elevated service.
Ask: There are a few messages we wanted to amplify via the digital conception in order to distinguish our knowledge of menswear via these new formats. First, we developed a digital shirt wall that allows for customers to see all colors in a simplified display, with the ability to select the one they want to try on or purchase. Our back-of-store inspirational wall is meant to elevate and amplify those "moments that matter." Custom screen mirroring inspires customers by showing them the custom suit they have built on a large screen. Lastly, the digital laydown table is all about co-creation, producing energy and activity that radiates throughout the store.

RTP: What work was required behind the scenes to make the tech-enabled components, such as the virtual fitting room and tablet experience, come to life?
Ask: The next-gen store is the culmination of extensive cross-functional collaboration, innovation and hard work, including expertise from our partners at NELSON Worldwide, an award-winning design firm specializing in architecture, interior design, graphic design and brand strategy. They really helped us take the store to the next level in design and customer experience by leveraging the latest virtual technology such as computer vision and AI. 
RTP The Vault is a fascinating concept. There's obviously an experience focus, but were there other objectives for it? Does this help with transparency and connection between shoppers and employees?
Ask: The store as a whole is meant to offer a sense of transparency and engagement, enhancing the trusted bond between the customer and our staff. Instead of the consumer feeling boxed out, we installed glass panels throughout that enhance a sense of inclusivity. Rather than having a traditional back-of-house area, we designed the Vault — functioning as a stockroom — to visibly store additional styles and sizes. This allows our team to bring products forward that best fit the customers' personalities.

Novak: The Vault also provides a way to address — through design — two changing dynamics in retail: One, the ever-evolving service model, and two, the rationalization of the traditional back of house. For the customer, the Vault provides clarity in product presentation. Moreover, fewer SKUs on the "traditional sales floor" streamlines decision making while providing a more elevated, personal service model. As brands like Men's Wearhouse evaluate the size and role of the back of house, it provides transitional merchandising with innate flexibility, all while allowing their associates' expertise to shine via personal service and selection.
RTP: How is the new store concept performing thus far? Is there any indication of whether it will be applied in more locations moving forward?

Ask: We have long been focused on identifying opportunities to show up in more efficient and effective ways for our customers — and the opening of our first next-gen store is another way we are bringing this commitment to life. We are thrilled that we are already seeing relative comp store sales increase in the Shenandoah location. We have our second next-gen store opening in mid-December in Buford, Ga., and next year we plan to roll out even more across our fleet. We look forward to what we will accomplish in 2021 and beyond.