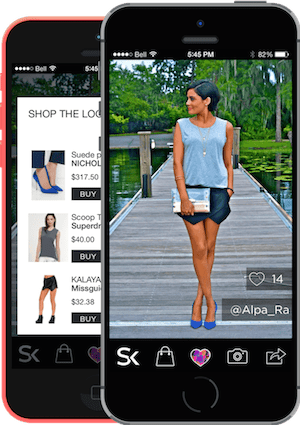 To acquire fashion inspiration, many shoppers turn to fashion blogs and user-generated content (UGC) featuring every day "street style." In fact, blogs are the third most influential digital resources for consumers making a purchase (31%), following behind retail sites (56%) and brand sites (34%), according to the Technorati Digital Influence Report.
Stylematch has evolved into the ultimate source for all things fashion, including content, ideas and inspiration. It has become an interactive fashion destination designed to offer savvy consumers a new way to shop, search and try-on fashion items, according to the company's CEO Adam Cox. Although Stylematch has a variety of unique qualities, the company most recently launched "Shop The Look," a digital "fashion wall" created from UGC. The new experience, which was unveiled in May 2015, was created with Stackla.
For "Shop The Look," Stylematch aggregates and curates all UGC that has a "street style feel," and then makes each image shoppable by integrating direct links to fashion retail partners via a series of "shop spots," Cox explained. Looks are then shared across social networks, which help drive traffic to the Stylematch site and, eventually, retailer partner pages. After rolling out these new "shop spots," average time on page increased by 144%, exceeding four minutes per visitor.
As a business and fashion hub, Stylematch focuses on three key value propositions, according to Cox:
Aggregation: The site features a generous range of outfits from fashion brands, retailers and street style figures from around the world.
Curation: All brands are compartmentalized based on four distinct style groups — Luxury, Premium, Fast Fashion and Boutique.
Engagement: The Stylematch mobile app allows users to digitize their closets, create outfits and shop.
The latest "Shop The Look" feature "further embraces the engagement offering with curated social media content that is one-click to shop," Cox said. The Stackla software platform is "offering users a new way to shop street style fashion through aggregated UGC from social networks."
Over time, Stylematch has learned that consumers visiting the site embrace UGC much more than corporate promotional images. As a result, "we are very much focused on using social media to promote shoppable street style fashion," Cox said.
The company also is focused on releasing its latest mobile app, which features a Virtual Change Room. Consumers can use augmented reality technology to see how items look on them before they complete a transaction. They also will be able to shop UGC "leveraging the same functionality that's on our web site," Cox reported. "The Stackla platform is mobile optimized and easy to implement for proprietary apps. We also have plans to implement more Stackla widgets across our site over time to complement our category ranges, so we can mix product shots with UGC imagery."