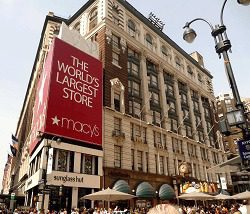 Mobile's extraordinarily strong performance during the 2015 holiday season may have caught some in the retail industry by surprise, but not Macy's Head of Digital Technology Yasir Anwar. His highly innovative group has been "betting on mobile for a long time," he said.
"We anticipated Black Friday mobile commerce traffic would be higher than desktop traffic, and it did account for over 50% of our digital traffic," said Anwar. "We also predicted that mobile shopper behavior would shift from being primarily about browsing and searching to encompass complete sales transactions — and indeed we saw double-digit growth over last year."
One reason Macy's has its finger so squarely on the pulse of consumer trends is the highly customer-focused structure of its digital organization. Anwar discussed how the retailer has developed a culture of digital innovation at the "Macy's and Salesforce: The Shopper Success Platform" NRF Big Ideas session, Jan. 17 at the Big Show.
Key elements of this culture include:
• Shrinking experimentation cycles to as short as one month;
• Keeping customers central, so that "when a developer writes a line of code, she understands what customer behavior that action is going to impact," said Anwar;
• Organizing IT projects and processes around specific steps in the customer journey, i.e. how a digital shopper discovers a product on a Macy's web site, how products are selected and how they are actually purchased; and
• Building "lean startups" via Macy's Labs, with 18 such projects planned for 2016.
Culture Trumps Process
In creating the "organizational DNA to do innovation at the grass-root level," Anwar follows the lead of Steve Jobs. "We start with the customer experience and work our way backward into process and technology, rather than the other way around," he explained. The culture also involves keeping customers not just at the center but at the top, so they are visible to everyone in every job role.
"Culture eats process for lunch," said Anwar. "Part of our paradigm shift was that we learn not just for the customer but with the customer." With change in the digital space happening so quickly, the danger of not keeping customers central can mean that in the two months it might take to develop a new functionality, "the customer may already have moved on," he noted.
However, Macy's support for rapid retail innovation supports faster design, decreased IT costs, a more customer-focused infrastructure and greater experimentation for the retailer's digital initiatives.