Like many other DTC brands, True Classic made its first big impression online — in its case with a series of humorous, fast-paced, mildly homoerotic commercials. Also like many other DTC brands, its next step was into the brick-and-mortar world. But rather than going solo right away, True Classic partnered with retail services company Leap to operate five stores in Los Angeles, Chicago, Washington, D.C. and San Jose, Calif., beginning in 2022.
Now, True Classic is ready to manage brick-and-mortar operations on its own, with plans to open eight mall-based stores in markets including Houston, Dallas and Boca Raton, Fla., by the end of 2023 — and that's just the beginning.
"We already have an extremely loyal shopper in the DTC space," said Ryan Bartlett, Co-founder and CEO of True Classic in a statement. "Once they purchase True Classic, more often than not, the customer returns with a repeat purchase and also buys into other categories. We are looking for those same offerings and results in a brick-and-mortar space, and there is an extremely high amount of potential in these store openings, as we are going to the markets where our loyal customers live."
True Classic COO Matt Kawadler shared why now is the optimal time to accelerate the brand's physical growth, and how its stores will combine the brand's digital strengths with the "classic" look and feel that's part of its name.
Retail TouchPoints (RTP): Why is True Classic accelerating its move into brick-and-mortar now?
Matt Kawadler: I've been involved in building DTC brands for about 10 years, and what they're missing is that whole channel of offline revenue, which ends up being 35% of apparel purchases. We need to service those customers where they are, so moving into brick-and-mortar makes a lot of sense. It builds a lot of credibility and awareness [and allows customers] to talk to a human, touch and feel the products and have a place to return them. Brick-and-mortar is also a lifetime value driver, so we want to make our shopping experience so versatile that it almost doesn't matter which channel you use.
[With stores we also can provide] a really good customer and brand experience: NPS scores for in-store customers are anywhere from 10 to 30 points higher [than for other channels]. Additionally, because we spend a lot on online advertising, having stores helps amortize that expenditure.
Finally, we feel now is the moment because you want to have a large enough business online so you're able to reduce your risk and increase the probability of making them successful.
RTP: Your stores have been described as offering a "digital-first experience." What will that include?
Kawadler: If people are walking by the door [of our stores], we want to show how the True Classic product is different. We know which [digital images] work on the website and resonate with customers, so we also have digital screens strategically placed throughout the store to show product imagery that's been A/B tested. We can switch out the images rapidly, so if it's a Monday and we're trying out a new ad or campaign, we can put the ad right into the store, funneling it right to the screens in the exact way we want customers to experience it in the store.
RTP: How will that affect the stores' design?
Kawadler: It's all in our brand name — that we're representing something "true" and "classic." That relates to how a man buys [our] clothes, which are good-fitting basics. We've taken that kind of traditional approach to apparel and modernized it with big TVs and big ads playing, but there's also a vintage look and feel expressed in the fonts we use and things in the stores from the 1970s and 1980s. It's a digital-first feel but we give it enough comfort by adding those vintage touches.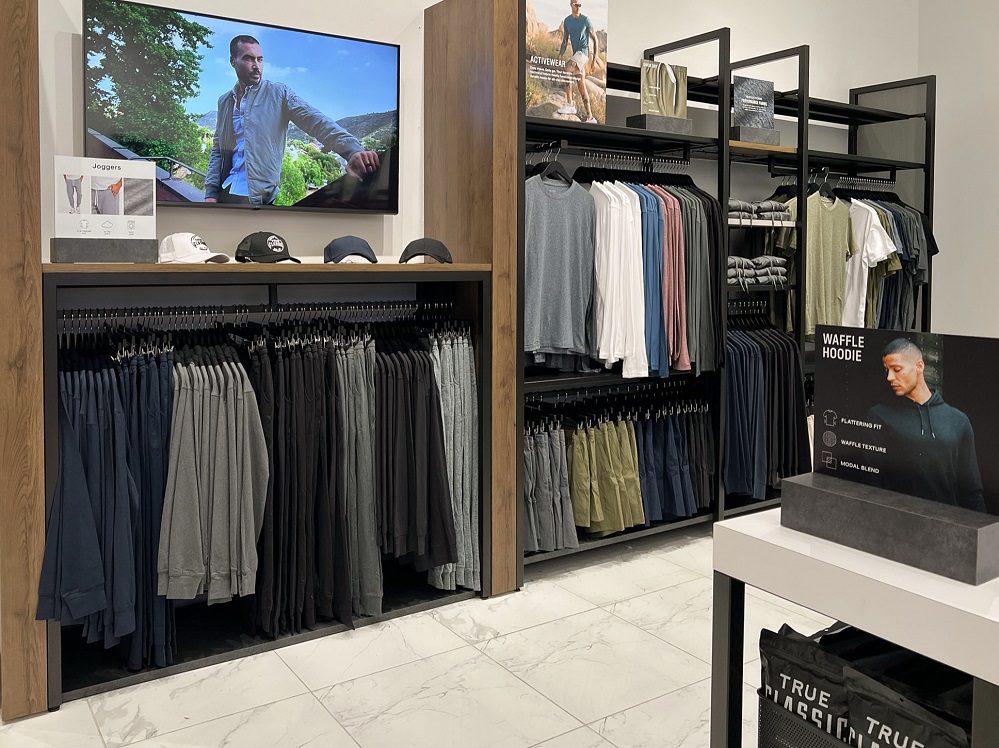 The stores are located in high-traffic malls, including the Galleria in Houston, the Stonebriar Centre near Dallas and the Town Center in Boca Raton, and will be anywhere from 1,200 square feet to 2,000 square feet. We're starting with that size box to give customers enough of a view of our assortment, as well as providing a place to walk around and hang out. We're also expanding into women's apparel [after adding activewear and men's bottoms in 2022], so we're thinking about that for growth.
RTP: How will these stores differ from the ones True Classic operated with Leap?
Kawadler: We iterated on some of the stores that we did on the Leap platform, but the [newer] stores will be owned and operated by us, with our people, store managers and leases, along with the new design. [Working with Leap] allowed us to learn that high-traffic malls are better locations for us. We also hadn't done a lot of the digital merchandising in those first-generation stores, but we'll lean into that [in the newer stores] because it plays to our strengths. Leap was a great partner to get us up and running, but now all the employees involved are within our retail organization, so they "get" more about telling our brand story and talking about our products.
RTP: What can you share about True Classic's growth plans?
Kawadler: We know where our customers are because of [the data from] millions of customers online, including not just who visits and shops at our site but which customers are the most valuable. So we can see that within the top 25 markets, these are the five or 10 that are clearly where our customers are congregating.
Now that doesn't mean we can always put a store exactly where we want; we have to look at market data. What are market rates for rents? Are temporary or long-term leases available? But by using online data to know and direct you where to go, the probability of success is so much higher, assuming we can get into that market at a good price.
We want to open up more stores, but we're always going to be data-driven about it — we'll look at the numbers to identify good markets for our business and good real estate deals. If those stars align 50 to 100 times, we'll do those deals. We want to build a retail fleet, so we could have that many stores in a few years.