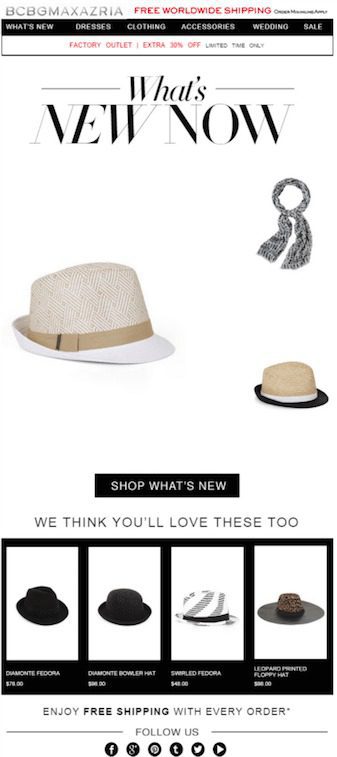 With a thriving, 25-year history, BCBGMaxAzria has made its mark in the fashion and retail worlds by creating high-quality apparel and accessories that appeal to the wants and needs of its customers.
Across all three brands — BCBGMaxAzria, BCBGeneration and Herve Leger — marketing campaigns and engagement strategies focus on the subtle, yet extremely important details of each item. To create more tailored and compelling email campaigns, BCBGMaxAzria has leveraged Bluecore, which has helped create highly personalized, automated trigger campaigns.
Thus far, BCBGMaxAzria has deployed customer and catalog behavioral-based triggers, according to Tom Lamb, e-Commerce Marketing Manager at BCBGMaxAzria. These triggered emails average a 525% increase in click-through rate versus non-triggered emails. The brand also has seen a lift of more than 220% on click-to-open rates.
"What is critical to the BCBG customer is specificity," Lamb said in an interview with Retail TouchPoints. "A black cocktail dress is not just a black cocktail dress. The details — style, fabric, cut — they all matter. Providing this level of detail via our triggered emails speaks to our customers on a personal level. It's not enough to know they want a black dress. We need to know which dress, and the types of dresses that are similar that may be a great option for our customer to consider."
Prior to implementing Bluecore, BCBGMaxAzria never leveraged customer lifecycle marketing or triggered email campaigns. After discovering Bluecore's automated marketing capabilities, the brand determined that with its streamlined integration, ease-of-use, ROI and program scalability, it would be the ideal fit for its business needs.
The Bluecore system is designed to take care of "all the data tracking and analysis on the fly," according to Lamb. The solution then generates the corresponding email trigger in seconds.
"With Bluecore, we are now effectively and efficiently managing our business, which gives us more time to spend focusing on caring for our customers," Lamb said. "We have been really impressed with how Bluecore automates and simplifies many of our common marketing responsibilities. Not only is the technology thorough and responsive, but it also is extremely flexible, depending on our specific needs each time."
Building Customer Connections
Over the past few years, the BCBGMaxAzria marketing team has been working to evolve its overall approach to email marketing.
With a goal of creating more personalized connections with consumers, the brand also aimed to increase revenue while improving day-to-day marketing tasks.
"Bluecore's email marketing solutions are simple and efficient, ensuring that valuable time is spent on customer needs, rather than dealing with tedious, antiquated processes," Lamb explained. "The technology has created an additional revenue channel without adding another level of approval process, or creating additional creative workload."
BCBGMaxAzria is now exceeding its email revenue goals while streamlining its daily operational processes, Lamb said. "Our best practices show that getting personal — down to the color, style and previously viewed product — is critical to conversion. Taking it a step further we provide customers a look a related best-selling products that are specific to past browsing behaviors. And finally, we often send along free shipping and other promotions to sweeten the deal and bring customers back to the site to complete a transaction."