The Pokémon Go smartphone app has created plenty of buzz since its release in the U.S. and Australia on July 6, with more than 15 million people having downloaded the app from the Apple Store. From a retailer's perspective, that's 15 million case studies for how potential shoppers are getting used to and using augmented reality-based apps within their daily life.
This could be great news for brick-and-mortar stores and malls, which have been seeking out ways to increase store traffic. Niantic, the developer behind Pokémon Go, revealed that the app would include "sponsored locations" which would enable businesses to sponsor stops within the game, including "Pokéstops" and "Pokégyms" designed to help users collect items and stage battles with other opponents.
With the app's "Pokéstops" and "Pokégyms" already built in within Google Maps to take place at landmarks, public parks and buildings that are easily distinguishable by players, retailers partnering with the app to specifically sponsor their own stores would provide greater incentive to consumers traveling to shops and malls.
Mall-Based Retailers And SMBs Cash In
The reaction to both the app's popularity and the increase in people walking around public places to "catch" the Pokémon has been divisive for sure. One Sephora store located in a Massachusetts mall banned consumers from playing the game, while spokespersons for both the Arlington National Cemetery and the U.S. Holocaust Memorial Museum both indicated that they would request players to refrain from using the app on their grounds.
However, select stores at retailers such as T-Mobile and Australia-based Woolworths Supermarket already have taken advantage of the craze, with the former putting up store signage encouraging shoppers to get a new phone to use the app. In the case of Woolworths, the retailer interacted with a shopper on Facebook that had caught a Pokémon within a store.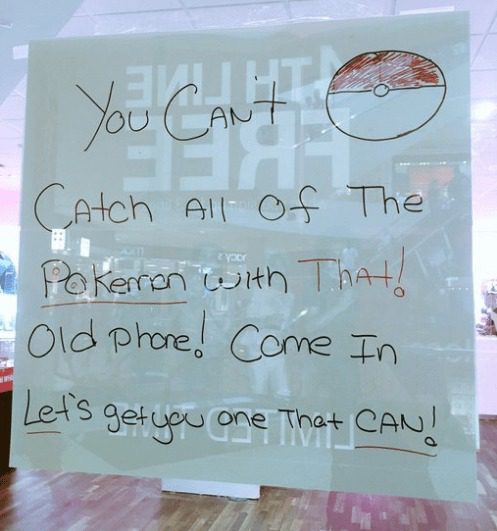 "If I were GameStop or Best Buy, I'd be falling all over myself to figure out how to put a Pokéstop in front of all my stores, hopped up with a lure," said Nikki Baird, Managing Partner at RSR Research, in a blog post. "And I would have someone standing out front (a sign wouldn't be enough to catch phone-obsessed Pokémon trainers) offering water bottles to the people who show up — free if they're members of my loyalty program. 'Hey, if you're a GameStop member, you can come inside and get a free water, ice cold. Oh, you're not a member? It's really easy to join. If you like gaming, you'll love what we have.'"
A New York pizzeria illustrated that small businesses also can get in on the fun, by spending money on "Lures" that will increase the amount of Pokémon within the app users' radius. When the pizzeria's manager spent $10 to have a dozen Pokémon characters placed in the location, the company's sales increased 75% throughout the weekend, according to the New York Post. If small businesses are willing to spend money on these added features, all while creating their own signage or social campaign, there's a good chance users of the app will flock to the area.
Augmented Reality Beyond Pokémon
While retailers would be wise to ride the "Pokéwave" as it continues its rise, the app's success also can provide brands with inspiration toward building out augmented reality within their own apps, or partnering with other augmented reality-based companies to add value to the store experience. Perhaps retailers can use augmented reality to have urban shoppers collect a 10% discount on footwear on their walk or train ride to work, or even can offer a free coffee to the first few people who travel to a specific site near a mall.
"Gamification works," Baird explained in her post. "People are out there obsessing over 'catching them all.' The positive feedback of the little stars around your pokéball can be addicting — as we can all see. Retailers have many places in their business where the power of gamification can be leveraged — in employee training, in customer loyalty programs. The rewards of Go are simple, but they're powerful. Wouldn't any retailer like to have this level of addiction with their own apps? Especially if that addiction converts to spending real dollars?"