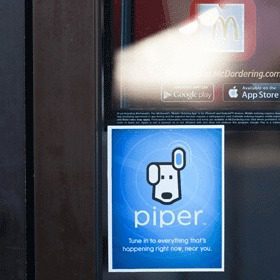 McDonald's franchises in Columbus, Ga. have rolled out beacon technology from Piper in an effort to improve the customer dining experience. With the technology, McDonald's can deliver coupons, offers, promotions, information on employment opportunities and customer surveys to consumers' smartphones as soon as they enter a restaurant.
Customers who install the Piper app are prompted to save an Apple Passbook offer to their device. The offer also is visible and can be redeemed through the Piper Android app. Through the platform, customers can customize their experiences based on the types of messages they want to receive.
During the initial four-week launch, which began in October 2014, participating stores saw more than 18,000 offer redemptions for promotions involving the McChicken sandwich and 10-piece Chicken McNuggets. The promotions improved McChicken sandwich sales by 8% and Chicken McNuggets sales by 7.5% versus the previous month.
"In today's mobile world, everyone is looking at their phones," said Jack Pezold, an owner and operator of McDonald's franchises throughout the Columbus, Ga. area. "We know our customers and Piper's beacon solution allow us to cater to their tastes, preferences and behaviors, making it easy for them to get more value and enjoyment out of their McDonald's experience."
Of all customer segments, the mobile promotions were most successful among Millennials, according to Pezold. "Younger, tech-savvy customers in their 20's-to-early 30's turned out to be our most enthusiastic users during the rollout, providing us with very positive feedback throughout."
The pilot program was rolled out in 17 McDonald's franchises in and around Columbus, Ga., according to Pezold. Due to the pilot's success, Piper is working on installing beacons in 263 McDonald's franchises across Alabama, Georgia and South Carolina.
"The primary goal for us is not so much customer tracking; we're really more in the business of customer engagement," said Robert Hanczor, CEO of Piper. "McDonald's is primarily interested in conversion rates, so we simply need to know that the promotions and the messages that we're distributing to proximity are working, and promoting things that people want. Those conversion numbers, which can be sales revenue or the number of people looking at different messages across our network, are similar to what they would be for other advertising media. From there, we determine what messages are most compelling and creating the most positive response."