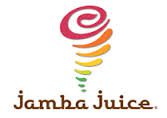 Jamba Juice, a specialty beverage and food retailer selling health- and wellness-related products, reached significant milestones in two of its technology-based programs.
The Jamba Insider Rewards (JIR) consumer loyalty program passed the one million member mark. The program allows members to enter a phone number into a terminal at the register in order to receive rewards, personalized offers and free Jamba products.
Digital loyalty solution provider
Spendgo
provided the technology for JIR and assisted the retailer in developing the program. Jamba is targeting to reach two million members in 2015.
Jamba Juice also gave away its millionth free beverage as part of the "Million Free Juice or Smoothie Giveaway," a program which enabled customers to receive a free beverage if they completed their purchase using the ISIS mobile wallet.
"The rapid growth of our Insider Rewards loyalty program will enable us to more quickly mine valuable consumer insights and information, thus allowing us to better serve our customers' needs," said James D. White, Chairman, President and CEO of Jamba Inc. "Facilitating one million transactions through the mobile wallet over the last seven months confirms that the era of mobile commerce has arrived."