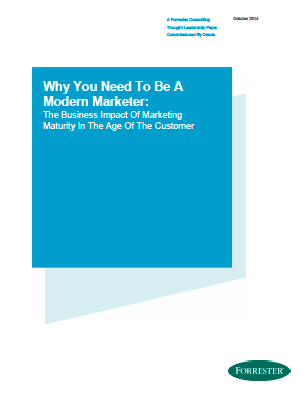 Marketers in a variety of industries could learn from retail, according to a recent study, titled: Why You Need To Be A Modern Marketer: The Business Impact Of Marketing Maturity In The Age Of The Customer, conducted by Forrester Consulting and commissioned by Oracle.
The global study of 492 marketing decision-makers featured responses from executives in 20 industries, including electronics, energy, financial services, healthcare, manufacturing, media and telecom, in addition to retail.
As many as 46% of retail organizations currently are able to provide real-time feedback and advanced insights to enhance customer engagement and marketing effectiveness, compared to 31% in other industries, according to the study.
Additionally, 42% of retail companies are leveraging a fully integration cross-channel marketing platform vs. 14% from other industries.
To access the complete report, click here.