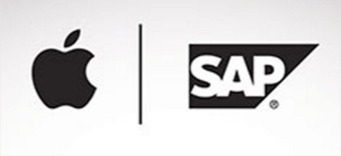 The iPhone and iPad have just become more enticing to retail professionals as well as web developers looking to build out new apps for their retail clients. Apple and SAP are partnering to combine the devices' mobile capabilities with features from the SAP HANA Cloud Platform.
This joint effort will deliver a new iOS software development kit (SDK) and training academy so that developers, partners and customers can build native iOS apps tailored to individual business needs.
Retail industry professionals, whether managers or associates, will have the opportunity to use their iPhone or iPad to access newly built apps with functioning enterprise data, processes and user experience features to help them make warehouse- or store-based decisions they need in real time.
"This partnership will transform how iPhone and iPad are used in enterprise by bringing together the innovation and security of iOS with SAP's deep expertise in business software," said Tim Cook, CEO of Apple in a statement. "As the leader in enterprise software and with 76% of business transactions touching an SAP system, SAP is the ideal partner to help us truly transform how businesses around the world are run on iPhone and iPad. Through the new SDK, we're empowering SAP's more than 2.5 million developers to build powerful native apps that fully leverage SAP HANA Cloud Platform and tap into the incredible capabilities that only iOS devices can deliver."
As a part of the partnership, SAP will develop native iOS apps for critical business operations. These apps for iPhone and iPad will be built with Swift, Apple's interactive programming language, and will offer the user experience platform SAP Fiori to improve user productivity through the automation of day-to-day tasks across any device.