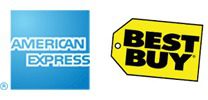 Best Buy and American Express have partnered to enable American Express U.S. card members enrolled in the Membership Rewards program to use their points for online purchases on BestBuy.com.
With the new offering, eligible American Express card members can use Membership Rewards points to pay for part or all of their BestBuy.com purchases. Card members also can check their Membership Rewards points balance before they check out on BestBuy.com.
Codes and registration are not required for the program. Best Buy also offers same day, in-store pickup to Card Members who use their points to purchase products.
"In our stores and online at BestBuy.com, our customers expect choice and flexibility from us on how they pay for and receive the consumer electronics they want," said Mary Lou Kelley, President of E-Commerce at Best Buy. "We are excited to partner with American Express and allow Card Members the ability to convert their Membership Rewards points into the latest and greatest consumer electronics products and services."
To use Membership Rewards points online at BestBuy.com, consumers must:
Open "Your Cart" and proceed through the checkout process;

Enter an eligible American Express card number, select the Membership Rewards points balance and equivalent dollar value;

Designate how many points to use towards the purchase (Card Members can use points for all or part of their order); and

Complete the checkout process by confirming and placing the order.
Point balances will update in two to four business days in Membership Rewards program accounts.