COVID-19 kept people cooped up at home and cooking their own meals (including that infamous sourdough bread), but now that pandemic lockdowns are behind us, hospitality and retail companies believe consumers are eager to satisfy their cravings for both socializing and eating out in a single visit. The 2023 entertainment report from commercial real estate company JLL reveals that "eatertainment," offering a variety of participatory activities along with foodservice, will be the most popular concept for the 9.1 million square feet of new entertainment space slated to open in the U.S. and Canada over the next two years.
One-third (33.9%) of planned entertainment development will be in the eatertainment category, but "competitive socializing" — which JLL defines as a single game or activity with elevated food and beverage options — will be nearly as popular, at 32.4%. Just over one-fifth (21.8%) will be devoted to trampoline parks and kid zones.
Additionally, virtual reality entertainment — currently comprising just 0.6% of existing entertainment square footage — will be getting a boost, with 5% of planned openings, comprising more than 400,000 square feet, falling into the VR category.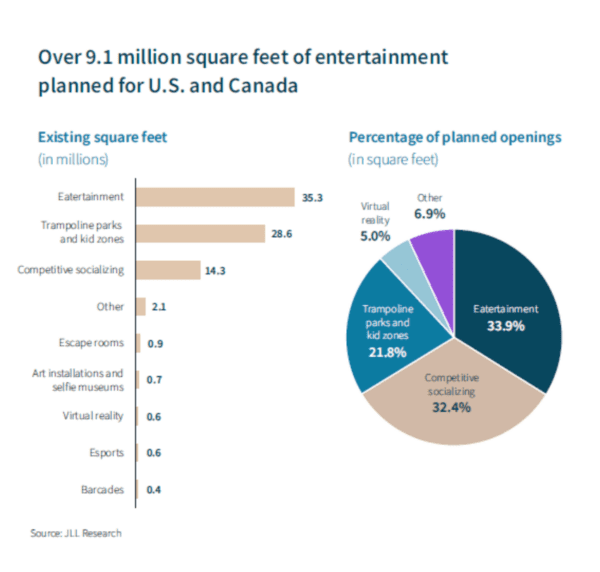 While this is the first year that JLL has been tracking this data, "anecdotally, there has been an increase from 2020," said Naveen Jaggi, President of Retail Advisory Services at JLL in an email interview with Retail TouchPoints.
"Consumers want unique experiences, and landlords want their operators to keep things fresh and provide these experiences to consumers," said Jaggi. "We are seeing a lot of competitive socializing concepts that are focusing on a single game and include food and beverage; for example, Puttshack combines tech-enabled mini golf paired with food and drink services. These keep consumers engaged and eager to return to the experience again."
What Makes an Entertainment Venue Appealing to Landlords?
Retailers and hospitality companies looking to take advantage of these trends will need to find optimal spaces to house new entertainment elements, so making a strong case to a prospective mall operator or landlord is critical.
According to the report, landlords are generally risk-averse when considering leases, so they are looking for indicators that a concept will be a success at their location, including:
Existing locations of the same concept with strong average unit volumes;
An executive team with a history of executing successfully. If the concept is a new one, it's especially important that the team has had success with other concepts in the past; and
A strong business plan, marketing plan and pitch deck.
"Creditworthy tenants are also key — compelling concepts need to be backed with good credit and enough funding," said Jaggi. "Landlords also want diverse experiences in or near their centers to help increase the length of time in the day or week that consumers use their spaces. Complementary entertainment that doesn't compete, but rather increases traffic to centers, is highly desired."
Landlords' desire for consistent activity throughout the day or week will have them seeking a mix of tenants, with some attracting kids and families during the day and others bringing in adults during the evening, according to the report.
Retailers and entertainment companies also want to mitigate risk, according to Jaggi: "Rather than initially opening one location in multiple cities, they are going to focus their efforts on one region, open a few locations and prove their concept works."
VR-Powered Entertainment is Charging Up
While virtual reality has been slow to gain traction in retail, it is a growing area for entertainment. The JLL report identified a number of high-profile concepts:
Immersive Gamebox raised $20 million last year to fund 100 new locations. Games are played within a projection gaming room. Titles include popular IP such as Squid Game, Shaun the Sheep, Angry Birds and PAW Patrol;
Sandbox VR offers immersive location-based VR for groups of up to six, with more than 35 locations globally; and
Zero Latency VR is open to groups as large as eight and offers a larger area within which players can roam. The concept has 18 U.S. and six Canadian locations.