Perhaps no brand has more sustainability street cred than Patagonia. That reputation is well-earned — from the company's self-imposed "Earth Tax" and the Sustainable Apparel Coalition (which it founded alongside Walmart) all the way down to the plastic swift tacks used to attach its hang tags, Patagonia is known for practicing what it preaches.
And yet the company keeps pushing to find ways to do more, and one of the many executives participating in these efforts is Jennifer Patrick, Director of Global Packaging and Branding.
"One of our main goals a couple years back was to get all of the plastic out of our packaging," she said in an interview with Retail TouchPoints. "That little swift tack was a big push for us. We partnered with one of our factories in India to gather all the leftover organic cotton scrap and turn that into string, and that's what's holding our hang tags at retail now, and even some of our other packaging." Earlier this year, the company also unveiled a new initiative with Living Ink Technologies to use algae-based ink (more sustainable because it's carbon neutral and renewable) on its hang tags.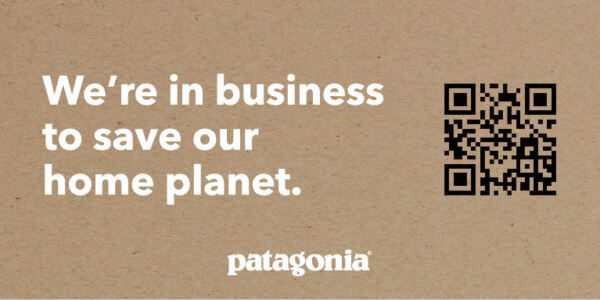 These changes may seem small, but they can have a surprisingly large impact, as evidenced by the company's latest initiative: to digitize its hang tags in partnership with EVRYTHNG, a Digimarc company. Patrick estimates that by replacing the multi-card hang tags the company had been using with ones featuring QR codes, Patagonia will divert 174,000 pounds of paper waste from landfills, or as Patrick describes it, "the equivalent of the weight of a spaceship."
Patagonia continues to achieve such stellar results from its environmental efforts, one hang tag at a time by:
Trialing new technologies that have the potential not only to offer environmental benefits but also business benefits in the form of cost savings and enhanced data;
Regularly assessing the outcomes — both expected and unexpected — of new programs (in the case of the new hang tags Patrick noted unanticipated, but welcome, savings in man-hours); and
Always keeping an eye on what's next: for Patrick and her team the next dream is digitizing care labels.
From 20 Hang Tag Designs to Two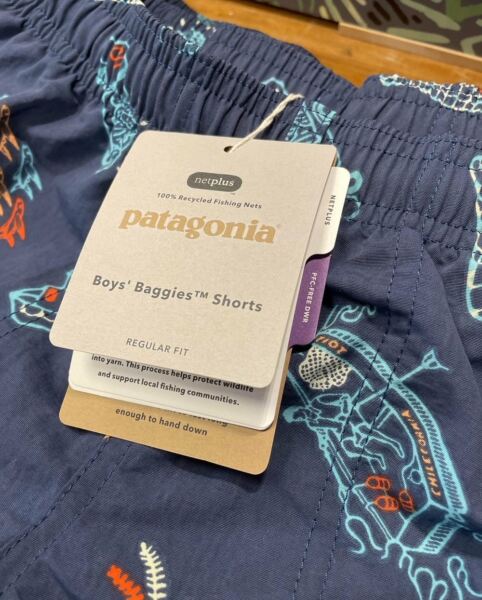 For the past year Patagonia has been working with EVRYTHNG to completely revamp its hang tag program. Up until now, the retailer had been using a clamshell design with multiple inserts to showcase various product features and regulatory information. All told, Patrick and her team were producing 20 different clamshell cover tag designs and a whopping 453 inserts. But when the Spring 2023 line hits shelves, it will feature just two cover tag designs and three inserts.
This impressive reduction from 473 printed product tags (20 clamshells + 453 inserts) down to just five is enabled by that phoenix of digital tech – the QR code. Starting next year, every Patagonia hang tag will be simply a front and back with a serialized QR code connected to an EVRYTHNG digital profile (with a few exceptions on products that need those three legally mandated inserts).
Perhaps the biggest enabler of this shift has been consumer behavior: "About eight years ago, we tried the QR code, and it fell flat," said Patrick. "[There were] a couple of reasons, but the main one was you still had to download an app to read the QR code, and nobody used it. QR codes have come a long way since then, especially with COVID."
Patrick and her team did some research before giving QR codes another go, and found that people from 16 to 82 years old now feel comfortable with QR codes. "It wasn't every single person, but a larger majority than I would have expected, to the point that we realized we could gain more customer engagement by adding the QR code than by keeping all those inserts," said Patrick. "I mean we were lucky if somebody made it through half of the first insert — nobody goes into retail trying to read a novel."
And the QR code is just the beginning. The true power of Patagonia's new hang tags comes on the backend, which is supported by EVRYTHNG's product digitization and data management platform. The first step involves creating a digital profile for every product, called an Active Digital Identity (ADI). That ADI is then linked to a "carrier" like a watermark, or in this case a QR code, and all activity through that code is then tracked and stored as part of the product's ADI. From there the sky's the limit.
"Any action that's taken with the physical code is captured in the product cloud," explained Judy Moon, EVRYTHNG's Global Head of Apparel, Beauty and Luxury in an interview with Retail TouchPoints. "Depending on how the code is being used that could be what it's made of, where it was made, what certifications it has, where it is in the supply chain, what store it got shipped to, how consumers are engaging with the product, did it get returned for resale, is it being recycled — we follow the journey of the physical product digitally."
In the case of Patagonia's hang tags that information is relegated to the end of the product lifecycle — the "sale moment" — since nothing can be tracked until the hang tag is attached and starts to be used. However, even within this limited scope, digital tracking can provide valuable insight into how consumers are engaging with products — not to mention that the QR code is also a convenient vehicle for all the product information that used to be contained on those hundreds of inserts.
Oh the Things You Can Do — When You Go Digital
Even before the program has rolled out onto its shelves, Patagonia has garnered big savings in the form of reduced paper waste; decreasing the need for reprints (since the content is digital the printed QR code can stay the same and the corrections made online); and the carbon footprint of shipping all that paper. Patrick also has noticed huge savings in another arena as well — labor man hours in multiple operational areas.
"This has been a really big lesson for me, because I actually implemented the insert system," said Patrick. "At the time, we felt like all these little details were unique key benefit statements for each product, but we really didn't do any internal resource calculation around how much work it was going to add. At one point we had about 600 different inserts; they got out of control, not just on the creative side, but you can imagine the mistakes we were seeing at our factories and distribution centers. When I evaluated the internal resources after we moved [to the QR codes], we are saving about a year's worth of effort across our creative, project management, distribution and data teams."
Patrick also pointed out that while the QR codes themselves never need to change, "the content or the experience that you deliver to the consumers can be changed dynamically behind the scenes." This is particularly key for printed assets like hang tags, which get created sometimes as long as a year before they arrive in stores.
"We were spending a lot of money on corrections," she added. "That's probably never going to 100% go away, but the way that we've designed our new hang tag, most of the information lives behind the QR code on our Product Detail Page [which can be updated anytime]. Not to mention our web and marketing teams are already creating so much beautiful content and speaking to our customers in so many different ways, and we can now tap into those resources. That's what digital offers — you can speak to customers in their own language, you can give them so much more detail and you can change it quickly."
Next Stop: Care Labels
Patrick is now a believer in the sustainable properties of technology: "[Working in packaging] we're always hearing about new materials — seaweed-based, sugar-based, there's a million different replacements that are the 'next hot material.' But I want to stop using new materials. Instead, I want to replace single-use materials with technology. We've seen that we can do that — we can make packaging smaller because we can communicate through a digital access point."
With the hang tag program ready to roll out, Patrick already has her sights set on her next big challenge — care labels. She talks about the fact that all the care labels created by the apparel industry (most of which are cut off and thrown away) could wrap around the world 13 times.
While the cost and environmental benefit of digitizing care labels are clear — not to mention advantages in the realm of accessibility by making content easily available in multiple languages and different regions — there are some legal hurdles.
"One of the hang-ups for on-garment digital labeling is regulatory," explained Patrick. "I've been working really closely with a bunch of other industry brands and organizations to try to push regulation through the FTC. It's just a small tweak in the legislation that needs to be made to allow for this digital access point to communicate care and content. We're making a lot of progress from a legislative point of view, and also our mindset has evolved over the past year as a brand. We have all this information to share about how to care and repair and recycle our garments, so the need has grown internally for us too."
Once the legislative hurdles are cleared, EVRYTHNG will likely be along for that ride as well, in what Moon describes as "Phase Two" of their partnership. The potential is immense — beyond the environmental benefits, on-garment digital tracking would provide Patagonia with visibility earlier in the product lifecycle, with the ability to track products from the manufacturing stage and through distribution.
"I get really passionate about how we can leverage technology to do good — to help businesses, help our planet and help people," said EVRYTHNG's Moon. "Patagonia's missions are so aligned with what we're trying to accomplish from a sustainability perspective, so for me this partnership is just like gold dust."