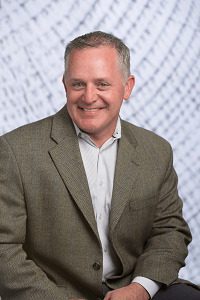 When the coronavirus pandemic first hit the U.S., everyone saw its immediate impact on supermarket supply chains: shelves emptied by consumers frantically stockpiling toilet paper, cleaning products and shelf-stable staples like rice and canned beans. While supply chain executives' first job was refilling those shelves, keeping them filled as the pandemic wore on has continued to generate new challenges.
In an exclusive interview with Retail TouchPoints, Chris Lewis, EVP of Supply Chain for RBS, revealed how sourcing agility, a focus on worker safety and a bottom-up approach to "collective intelligence" have helped the company meet those challenges. RBS manages one of the largest supply chains on the East Coast, supplying five grocery chains owned by Ahold Delhaize USA: Food Lion, Hannaford, The Giant Company, Giant Food and Stop & Shop. RBS services approximately 2,000 stores via 18 distribution centers, handling more than one billion cases annually and traveling 135 million to 140 million miles each year with its private fleet of delivery trucks.
Retail TouchPoints (RTP): What new challenges did Ahold's U.S. supply chain face due to COVID-19?
Chris Lewis: With the initial surge, we had some comp sales that were 100% higher than the previous year, and we found that many manufacturers had a hard time keeping up with that increased demand. To find the products that we needed, we went from buying everything from one primary vendor, such as one of the big CPG companies, to secondary and then tertiary suppliers. In some cases we went to suppliers that specialized in food service; we set up relationships with five or six of them, and we were able to convert their bulk products for retail/consumer use. We also went to suppliers supporting bookstores and universities, to secure hundreds of tons of hand sanitizers and cleaning products.
RTP: Have you had to continue relationships with these suppliers as the year has progressed?
Lewis: We're still experiencing more than 10% comp sales increases, and we definitely see significant growth in the food space, particularly on the omnichannel side, with more and more customers moving to BOPIS or delivery options. That's continued to create big giant spikes on the product side. Some manufacturers have been able to step up, but [sourcing] cleaning supplies is still a struggle from both primary and secondary suppliers. Others, like those providing rice, soup and other key staples, also are still struggling to keep up. The sourcing teams have been doing a great job, and the bottom line is that consumers are likely to see a lot of unique brands that they haven't seen before, even including items from other countries.
RTP: What were some of the other challenges presented by COVID?
Lewis: One vitally important thing that we have to manage is to make sure that our associates are safe in our workspaces and manufacturing areas. We have to make sure that they are safe, and also that they feel safe. So we've invested a lot in cleaning, sanitation, temperature checking — there's been a lot of process work involved in making all that work. We've been very lucky and have had 90%+ attendance rates, but I've heard that some of our competitors have had problems with maintaining staffing.
Additionally, we're continuing to work with manufacturers, private brands and secondary partners to fill gaps in key areas. Most manufacturers use the summer months to rebuild their stocks of basics like flour, but many haven't had the chance to do that this year. That's the other piece that will continue to evolve in 2021.
As part of working with manufacturers on ramping up production, we've asked a lot of them to reduce the span of items they're producing, as a way to get the staple items to the shelf in a more sustainable way. In the middle of a pandemic, people need a basic bottle of ketchup, not three or four different types and flavors to choose from.
RTP: The transformation project is a major undertaking. What were the reasons behind it, and what benefits do you expect to see from it?
Lewis: Just before COVID-19 hit, Ahold Delhaize USA announced a $480 million multi-year investment to transform its supply chain into a fully integrated self-distribution model. We will add eight more DCs by 2023, with technology enhancements that include scaling up procurement, enhancing digital solutions with transportation and warehouse management systems, and utilizing AI-enabled forecasting and replenishment systems.
Ahold Delhaize is a product of the merger of two companies. At the beginning of 2020, the Ahold side of the supply chain had been 60% to 70% outsourced to a third party, while the Delhaize part was almost 100% self-distributed. We worked out a deal where RBS would take back all the logistics, the DCs and the buying for the merged company. That's involved buying physical items like tractor-trailers, technology and product, and in addition to these investments there are also going to be benefits on the capabilities side. Having control of inventory across 18 DCs and 2,000 stores means that we'll be better prepared for any spike in sales, for example from a hurricane or other natural disaster.
RTP: What would be your advice to supply chain professionals about operating in a rapidly changing environment?
Lewis: I tell my folks all the time that it's important that everyone in my organization contribute to our collective intelligence. We're always trying to get ideas from all parts and levels of the organization, whether that's a DC worker, someone in meat manufacturing or a buyer. To support that, we've instituted a 20-minute stand-up online meeting every two weeks. Every corporate associate has the opportunity to share information, ask a question or air a concern.
Overall we're looking to make changes to our buying processes and get focused on operating in much quicker time frames. That involves both how work is being planned and how it's being executed.