Will the unemployment stimulus motivate workers to stay home, preventing businesses from gearing up to reopen effectively? It's a question that industry experts are addressing, and a challenge retail businesses should be aware of as the economy begins to reopen.
In one recent survey of retail businesses, as many as 75% of hourly workers did not return to work when they received offers to resume their previous position, according to research from DailyPay. That statistic was far higher than initially projected: "We were forecasting that when it came to the hourly worker base, we were going to see every company challenged with getting people to come back to work if they were making less than $20 per hour," noted Jeanniey Mullen, Chief Innovation Officer at DailyPay. "But we thought it would be closer to 50%, not 75%."
The fact is, a significant percentage of each state's workers could make more by not working versus restarting their previous job, as reported by CNBC.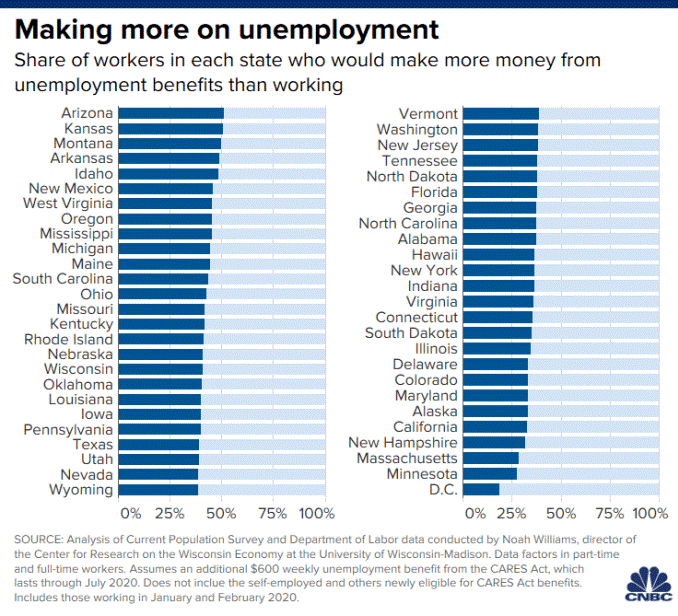 It should be noted that the unemployment stimulus is a significant reason — but not the only reason — that employees are not returning to their previous jobs right now. Some may have already gotten other jobs, while others feel it is not safe or too early to return. "Possibly because they had not been working long enough to qualify for unemployment, or they were just anxious and stressed that they would not be called back to their previous job, many people went out and got other jobs," Mullen said.
Re-Employment Challenges Impact The Smallest And Largest Companies
Getting employees back to work is a problem for one-shop businesses as well as the largest companies. In one example, a small business owner in New York state noted that some of his 55 furloughed employees are "reluctant to return to work because of an unprecedented boost in unemployment benefits approved by Congress," as reported in a Syracuse.com article. Symeon's Greek Restaurant employees were paid a minimum wage of $11.80 per hour and are now collecting approximately twice as much in unemployment. Across the board, restaurants may struggle to motivate employees to return to work, according to the Wall Street Journal.
However, it's not just a challenge for the smallest businesses: A store manager at a 60-store supermarket chain in Maryland, who asked not to be quoted, reported a similar problem.
Starbucks also is dealing with the challenges of reopening 90% of its stores by June 1. Some employees are afraid to return to work, but also are afraid of losing their job and unemployment benefits at the same time, according to a Business Insider article. The company recently ended a 30-day period of "catastrophe pay," for employees who were unable or unwilling to work. Some employees can receive a 30-day unpaid leave to retain their job; otherwise they simply lose their job.
Small Business Loan Rules Create Further Complications
As part of the CARES Act, small businesses can obtain loans that are forgivable if they spend at least 75% of the money keeping employees on their payroll in the eight weeks after receiving the loan. But what if they can't get employees to return?
Greg Buzek, President of IHL Services, summed up his perspective of the challenges in an interview with Retail TouchPoints: "We have competing stimulus plans that have very different objectives:
Expanded unemployment has some unemployed retail workers making upwards of $30 an hour to not work, depending on the state; and
The Payroll Protection Program (PPP) that requires those employees or others to be employed for eight weeks before June 30, or the loan that small businesses receive is not forgiven."
[The PPP] "puts employers in an adversarial situation with their employees," Buzek noted. "If they make a written offer and it is rejected, either because they are making more not to work or have valid reasons, e.g. they don't feel safe or have no childcare, the employee loses unemployment benefits. However, if the retailer can't get the employees back, the business goes under or they have a loan that is not forgiven. This is one of the reasons why we are projecting that COVID-19 and the stimulus plan snafus and lockdowns will cause the loss of 299,000 retail and hospitality companies by the end of the year. Of those closures, 265,000 will be in companies with fewer than 50 stores, and 220,000 will be one-store chains."