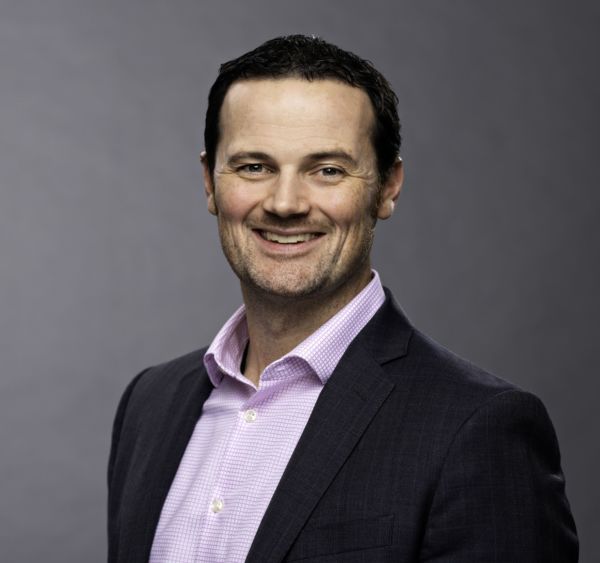 Before COVID-19, the brick-and-mortar shopping differentiator for the consumer was the in-person experience: They could try on the goods, or just see them in context. They could lie down on that mattress. It wasn't a problem if customers opened that dresser drawer and touched every handle in the display.
But for the foreseeable future, shopping will be "no contact." At large retail outfits you won't be trying on that shirt. In-store services will be reduced, or fundamentally changed from feeling luxurious to feeling medical.
There will be some innovation that may first strike us as odd: Suitsupply is reinventing its retail journey by installing "Safe Shopping Screens" partitions in its stores. These partitions allow for "safe up-close interaction" with customers when they are getting their suits fitted and tailored. Sterilized fitting rooms can be booked by appointment.
Other operations will innovate, but will this be enough? According to an April 30 survey from research group First Insight, a majority of consumers feel safest shopping in grocery stores (54%) and drug store chains (50%); 45% would feel secure shopping at big-box retailers, and 43% would feel safe shopping at local small businesses and warehouse clubs. Malls were ranked lowest, with only 33% of respondents saying they feel safe shopping there. Women feel less secure about shopping than men.
Until we have a proven mass vaccine, retail will need to rebuild a sense of safety and trust, rather than accentuate any ambient despair. After all, it's called "retail therapy" — not "retail trauma."
Everyone in retail will need to regain trust in the areas where they work and shop, from the customers to the C-suite, including the employees in the back offices, along with the entire retail supply chain.
A concerted use of technology can help, including robots. Much is still experimental, but many options are here right now, ready to go.
Let's Fix The Fear
Scientists have long-known that germs spread fast: Before COVID-19, researchers discovered that contamination of just a single doorknob or tabletop in the office environment could be detected on 40% to 60% of workers and visitors within two to four hours.
According to the Wall Street Journal, the cleaning staff is frightened. With the commercial cleaning sector experiencing a 200% turnover rate on average (and sometimes up to 400%) before this crisis, there will need to be a solution that can protect these vulnerable workers from undue harm.
It may be advisable to insist cleaning contractors train their staff in best practices from Global Biorisk Advisory Council. GBAC consultants are the experts on clean: They have been on the front lines during international outbreaks of serious illnesses such as the 2014-15 Ebola outbreak, the 2003 SARS outbreak, Zika, H1N1, and COVID-19.
Old procedures won't work, and new methods will be required. That paper checklist that once hung in the mall restrooms will now seem laughably quaint — a scribbled signature along with a timestamp doesn't mean the restroom is germ-free. That signature also doesn't note if a single rag was used to wipe down multiple surfaces and touch points. Nor does it certify that no spot was missed.
Deep-pocketed boutiques could adopt additional cleaning measures, such as those enacted by the New York Stock Exchange, which uses specialists to "deep clean" their work areas. A more common approach would be to require janitorial staff to follow the guidelines laid down by the CDC.
Large areas can be disinfected via electrostatic spray technology, so cleaners can dedicate most of their work to high-touch areas. Electrostatic spray technology has a 60-year history in the agricultural and industrial sectors, and it's been recently adapted for the workplace. Electrostatic spray technology charges the cleaners and disinfectants as they pass through a nozzle. This generates a mist that lightly (but evenly) coats surfaces. Areas that were once only spot-cleaned, such as restrooms, could be sanitized throughout, with minimal wiping required.
An Intelligent Clean Via Robots
Smart building solutions have focused on maintaining the best indoor temperature for occupants or improving air quality with sensor-enabled ventilation. For a while now, these buildings have used data to reduce energy use, cut costs and make workplaces safer.
But smart buildings — places that brim with technology — lag when it comes to intelligent cleaning solutions. In short, we're running behind on using tech to clean.
That said, some tech can be used in surprising areas: Connected soap dispensers in the restrooms can alert the cleaning staff when the restrooms are receiving high traffic — and thus need a cleaning. Alternatively, voice-based soap dispensers could remind restroom users to wash their hands.
Some offices are experimenting with UV lights that are said to kill germs. However, according to the former NASA scientist developing the technology to be used in recessed lighting fixtures, there are still some kinks to work out, such as the angle and duration of the exposure to the UV light. The scientist is said to be in conversation with major retail stores for sanitizing returned clothes.
By 2025, more than 150,000 mobile robots will be deployed in brick-and-mortar retail establishments, according to an estimation by ABI Research. This work will not be limited to warehouses. Robots have roamed the aisles of Walmart and other grocery stores for a while, monitoring inventory and cleaning up spills. The EMMA autonomous scrubber by ICE Robotics handles large swaths of commercial hard floors, where we're no longer thinking about spills as much as droplet and fomite transfer, and if a space feels comprehensively clean.
Now, supermarket robots can also clean and sanitize while stocking shelves and cleaning. The LightStrike Germ-Zapping Robot by start-up Xenex uses pulsed UV light to kill viruses, bacteria and spores on surfaces. Initially developed for hospitals, Xenex claims the robot can disinfect a room in 10 minutes. A similar UV robot from UVD Robots in Denmark travels hallways and rooms on its own, killing bacteria autonomously.
Nonetheless, before any high-tech disinfecting, the environment must be clean. The CDC recommends a two-step preventive measure: "Cleaning of visibly dirty surfaces followed by disinfection." An intelligent robotic vacuum sweeper such as Whiz can vacuum office carpets thoroughly without missing or skipping areas — up to 30,000 square feet per shift. Whiz frees up the cleaning staff to work on high-touch areas elsewhere. It also lowers risk of workplace injury and reduces exposure to large, possibly infected areas.
While the robot vacuum worked, the staff would use upgraded products — rather than the usual brands. Their products would be from an EPA-approved list of cleaners and disinfectants that have been proven effective at killing germs that cause viral respiratory illnesses.
Technology Builds Trust
Not all technology will work: It's unlikely there will be "pandemic drones" scanning your body temperature in the mall parking lot.
Some approaches will be low-tech: customers and employees could be asked to refrain from shopping in groups. Announcements could remind customers to maintain a distance from other shoppers. Security officers may confront those who are not complying.
But reasonable, targeted technology is the way. A recent survey from RSR Research found that retailers with higher sales growth are more likely to see robots as customer service tools. Those same retailers will likely see robots, IoT and cleaning technologies as an advantage, too.
Robots can clean continuously, with no error. They impart a sense of trust that the retailer is using the latest techniques — whether on the sales floor or in the office. If a customer sees a robot sanitizing the shelves, that imparts confidence. If a worker sees that carpet getting vacuumed thoroughly by a robot, they also feel trust.
This is how to get the customer back: Rebuild trust.
---
Brady Watkins is the Senior Vice President and General Manager at SoftBank Robotics America. He is focused on delivering efficiency, cost, and quality benefits of autonomous services to commercial management in sectors such as real estate, transportation, and retail. Watkins works across development, engineering, marketing and customer success to tailor strategic connected robotics solutions to partner needs and business objectives. Before joining SoftBank Robotics, Watkins led digital client solutions at InnerWorkings and sales and integration at Ubisoft.