As the last surviving U.S. big-box baby chain, BuyBuy Baby, shutters its doors, a familiar name has returned to the retail landscape — Babies 'R' Us has opened its first store in the U.S. since the brand's 2018 bankruptcy.
The rebirth of Babies 'R' Us marks not just the brand's timely return but also a significant reimagining of what baby retail should look like (hint, the big box is no longer). The 10,000-square-foot store at the American Dream mall in New Jersey is clearly focused less on having every product under the sun and more on guiding parents through the process of equipping themselves, with:
Vignette-style baby room displays to inspire shopping choices;
A prominent lounge area for parents to build out their registry;
A Learning Center that will feature regular educational events;
The much-lauded "stroller track" to test out merchandise on different types of terrain;
Ample photo opportunities for the new generation of Instagram (or is it now TikTok?) parents;
And, in an unusual move for a mall-based store, a dedicated bathroom and private Comfort Zone for nursing mothers (or those dealing with unruly offspring).
Despite the drastically reduced size compared to the Babies 'R' Us stores of yore, the selection is surprisingly broad while still feeling accessible and curated, with clear sectioning and signage. The aforementioned "non-selling" spaces also offer a welcome reprieve from the sensory overload that often struck new parents in the brand's former model.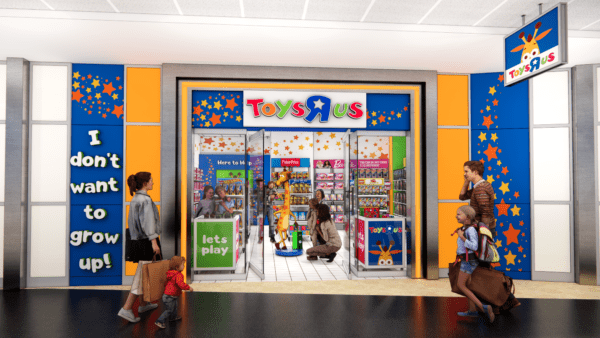 The return of Babies 'R' Us to brick-and-mortar is the work of brand management firm WHP Global, alongside American Dream itself, which is the actual operator of the store. After filing for bankruptcy and shuttering all its U.S. stores, Babies 'R' Us and its sister brand Toys 'R' Us passed through a number of hands before being acquired by WHP Global in March 2021. Since that time, WHP's revival efforts have primarily focused on Toys 'R' Us, with the opening of that brand's U.S. flagship (also at American Dream) in December 2021, as well as a wide-reaching store-in-store partnership with Macy's.
Even as it relaunches Babies 'R' Us, WHP continues to focus on growing the store presence of Toys 'R' Us, which is now present at all Macy's in the U.S. and will open a new store at the Dallas-Fort Worth airport in partnership with travel retailer Duty Free Americas in time for the holiday season. Globally the Toys 'R' Us brand now has more than 1,350 stores and ecommerce businesses in 31 countries, with recent launches in India, Mexico and the UK through a store-in-store partnership at nine WH Smith locations that also will be debuting this summer.
WHP has indicated that is has similar plans for the Babies 'R' Us brand and in fact, a store-in-store partnership for that banner in the U.S. (similar to the Toys 'R' Us' partnership with Macy's) is rumored to be in the works.
"Since acquiring both the Babies 'R' Us and Toys 'R' Us brands in 2021, our mission has been laser-focused on bringing them back to America," said Yehuda Shmidman, Chairman and CEO of WHP Global in a statement when the Babies 'R' Us relaunch was announced. "We achieved that mission for Toys 'R' Us by opening our global flagship at American Dream and through our landmark partnership with Macy's. Our plan to open Babies 'R' Us at American Dream in the coming months is a huge milestone in the return of Babies 'R' Us to the USA, and it sets the stage for a national rollout of Babies 'R' Us in the future."