Responsible athleisure brand Able Made has launched a new immersive pop-up retail experience to promote its sustainable mission-driven message at 1 Hotel Central Park in New York City.
Through the partnership with 1 Hotel — properties are inspired by nature and created using reclaimed materials — Able Made has found a pop-up home that aligns with its own values to afford an eco-friendly shopping destination.
"The audience for responsibly, ethically and locally sourced products and experiences in NYC is so tuned in right now that I want to be able to capture people who desire these experiences in new and elevated ways," said Suzanne McKenzie, Founder and Designer for Able Made in a statement. "1 Hotels is the perfect partner because its design-driven approach and sustainably created spaces reflect our core values and mission at Able Made."
Within the Able Made space at 1 Hotel Central Park, the hotel's earth-focused aesthetic expands with inspiration stemming from natural resources and greenery, including the pendant fixture bearing the Able Made brand logo on a moss background hanging from the ceiling.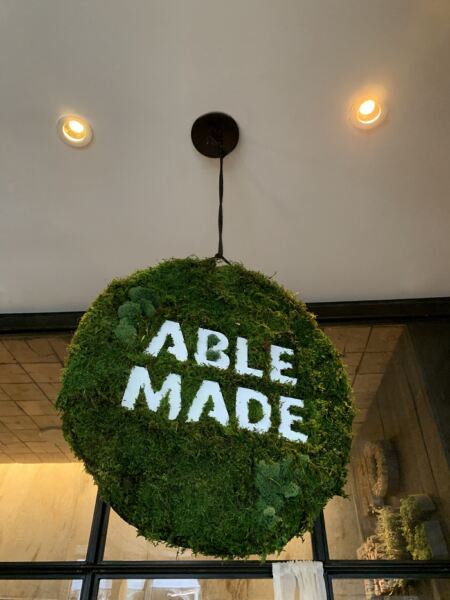 Able Made has used the pop-up experience to unveil the second phase of its first ready-to-wear collection with spring-inspired pieces that include the Riley windbreaker and Avery bodysuit. For this pop-up offering, Able Made promotes sustainability even in the smallest details, including sustainable paper hangtags and organic-cotton shopping bags. These details are complemented by the mindful design and display of the shop to create a 360-responsible retail destination. Offering properties that the hotel brand refers to as "sanctuaries," the 1 Hotel has served as an Able Made partner in the past. This latest pop-up experience reflects the second partnership of its kind between the two brands. The first Able Made pop-up shop at a 1 Hotel property appeared at 1 Hotel Brooklyn Bridge from 2018 to 2019.