It's no secret that the mall isn't the draw it once was. Kids these days are just as happy to meet up on Roblox and Fortnite as they are going to their local shopping center. The idea of transforming malls into "mixed use" gathering spots has become popular, but an aerial view of these complexes provides an interesting perspective on another potential evolutionary path for the mall: as a fulfillment center.
"If you look at a mall from the thousand-foot view, it looks a whole lot like an Amazon fulfillment center," said Kyle Spencer, Co-founder of retail consultancy NextRivet in an interview with Retail TouchPoints. "All those back-of-house loading docks are just perfect for fulfillment. Not to mention that the malls are where they are for a reason — mall operators bought and developed that land because it was close to the consumer and to [access points like] highways. The retailers then become the 'shelves' of the fulfillment center."
Of course, that's easier said than done. Among the problems facing mall operators as they look to build out centralized fulfillment operations are:
The complicated nature of logistics, which isn't a skill shopping centers typically have in-house;
Mall infrastructures that weren't built with centralized fulfillment in mind; and
Large national retailers that aren't inclined to roll out different fulfillment systems across different areas of their operations, paired with the natural competitiveness of mall owners that operate in the same region.
But that's not stopping mall operators from trying, and there have been a number of successful efforts, including:
Simon's Shop Premium Outlets online marketplace with fulfillment handled on-site by third-party solution Fillogic;
Vicinity Centre's partnership with Australia Post to create a centralized back-of-house hub to consolidate mall deliveries; and
Majid Al Futtaim's efforts to change its philosophy around store leasing in order to enable back-of-house fulfillment operations.
Getting a Piece of the Ecommerce Action
Transforming unused mall space into logistics and fulfillment hubs is an elegant solution to a number of problems facing both retailers and mall operators. While foot traffic is returning in the wake of the pandemic, ecommerce growth hasn't slowed, and every sale that happens online is one that doesn't happen in a store.
"[There's research] that shows that when shoppers go to a store, even if they don't make a purchase, when they get home and buy online their basket size is larger," said Dan Hill, Managing Director of Shopping Malls Development at Middle Eastern mall operator Majid Al Futtaim (MAF) in an interview with Retail TouchPoints. "Our missed opportunity as a landlord is that the sale doesn't occur at our asset. We need to find a way to [get a piece of this], otherwise [sales at] our malls will continue to decline to online purchases. We're fighting for every nickel and dime that we can for our retailers, but also to make sure that it occurs at our assets.
"Even back when I was with Westfield [before Hill joined MAF in 2021] there was a growing concern that as landlords, if we did not come up with a somewhat unified approach to deal with this, we would lose out to smaller competitors who could potentially buy a site next to us and serve as an ecommerce provider [for our retailers] and undercut our malls," Hill added. "For some time now mall operators have been aware that this is a service that needs to happen for the retailers to remain profitable, and that our malls have unique attributes that can facilitate better distribution."
Offsetting the Costs of Ecommerce Fulfillment
While operators are looking to offset losses to ecommerce, retailers are struggling to keep up with all those online orders. "Ecommerce at scale is not cheap," said Bill Thayer, Founder and CEO of U.S.-based fulfillment vendor Fillogic in an interview with Retail TouchPoints. "As it becomes a bigger portion of your total sales pie, it really becomes painful. If you can use this existing infrastructure, it's kind of a 'duh.'"
"The malls are looking for alternative forms of GLA [gross leasable area]; it can't just be 80% retail and 20% food and beverage anymore," said David Blumenfeld the other Co-founder of NextRivet in an interview with Retail TouchPoints. "That can be healthcare providers or gyms, but it can also be fulfillment and micro-fulfillment hubs that use the back of house to bring in revenue.
"For the retailers, it comes down to simple unit economics," Blumenfeld added. "If I'm a retailer, especially a retailer that doesn't have a ton of daily volume coming from online orders, but I want to fulfill from store, that delivery can cost me $15 to $20 on a one-off basis. But if I can aggregate five packages on a route and maybe even aggregate with other retailers, my unit economics come way down."
"The concept of micro-fulfillment isn't new," said NextRivet's Spencer. "Retailers are already changing their distribution model, from relying on giant 3PL warehouses in central parts of the country to allocating smaller portions of their inventory to the right places. This is just a continuation of that."
An Expansion Opportunity for DTC
These kinds of mall-based solutions can be helpful for more than just the retailers that are tenants. As Spencer pointed out, there's no reason a digitally native brand couldn't leverage mall-based fulfillment hubs to expand its distribution capabilities or even enter new markets.
"It's all in how they position it, but let's say an operator gets 100 'back-of-house only' tenants. They can go from saying, 'I've got 300 retailers on property' to 'I've actually got 400 retailers on property — 300 front of house and 100 back of house,'" said Blumenfeld. "There's an opportunity for the mall to expand because they're not just offering traditional retail space, but also retail space that's more logistics-based than consumer-facing."
So What's the Hold Up?
The scenario feels like a win-win for all parties involved, which begs the question: why isn't it already happening more widely? The answer is multi-faceted, but the bottom line is that logistics is complicated. That said, while a number of recent efforts by mall operators to launch fulfillment solutions have failed or been put on the back burner, there are some that seem to be going the distance.
Curbside fulfillment from malls, like what Brookfield and Sephora have done in Texas, is becoming more commonplace. And efforts to make mall-based inventory available online via marketplaces, as Simon is doing with its ShopPremiumOutlets (SPO) platform, are also becoming a popular strategy. MAF has created something similar at its Mall of the Emirates in Dubai. In both cases online orders from the marketplaces are fulfilled from mall stores (in fact, Fillogic handles the fulfillment for SPO).
MAF also has launched larger initiatives to aggregate its fulfillment capabilities into centralized hubs, but those efforts have been slowed, in part, by the challenge of dealing with buildings designed for a different purpose. For its new Mall of Saudi, which is currently in development, MAF hopes to solve for this by building spaces for centralized fulfillment at the outset. In its existing malls the company is slowly shifting the way it sells space to its tenants.
"A lot of our big box stores, for instance, are just too deep," said MAF's Hill. "If you look at the store as a grid of cubes, in the same depth as the width [of the store] is where you make 100% of your money. When you go to the next grid back, you're making 75% to 50%, the third grid back you're making zero to 50%, and anything beyond the third or fourth grid is underutilized. So we've decided, certainly on our new malls, we're hardly doing any stores that are deeper than three or four grids back unless it's absolutely necessary. We've forcefully reduced [the store size].
"In the case of our existing malls, like Mall of the Emirates, we're actually taking that space back and essentially creating dark stores," Hill added. "The problem is they're not always convenient to the loading bays, so we're having to figure that out. It's not ideal, but again, if we don't do it, we lose out."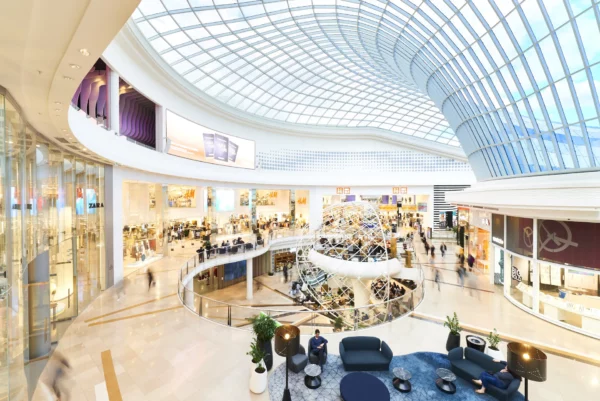 Vicinity Centres, a mall operator in Australia, tried to create something similar in one of its malls, using unleased space to offer both outbound and inbound fulfillment services. The problem they've run into? A classic chicken-and-egg stand-off: "Everyone's initial reaction [to the idea] is positive," said Nick Irvine, GM of Ancillary Businesses at Vicinity in an interview with Retail TouchPoints. "Then we say, 'Can you please sign and we'll go build it,' and they say, 'How about you build it and then we'll sign.'"
Vicinity did build out a small-format version of what they were hoping to create (about 300 square meters or 3,000 square feet) and signed on four retailers to participate. Interestingly, they were all DTC brands, highlighting the potential for malls in that arena; however, the project has since been put on pause.
"The biggest challenge for us was our bigger national retailers that have a footprint in other competing centers said, 'We can't change our fulfillment warehouse software to have a bespoke system just with you. It's either all or none,'" said Irvine. This illustrates another sticking point — in order for mall-based fulfillment to work at scale for large national retailers, competitive mall operators will likely have to collaborate on a single solution.
While it might sound unlikely, it has actually happened in the recent past. In 2013, Simon, Macerich and Westfield teamed up in the U.S. to launch same-day delivery from their malls in partnership with Deliv. Unfortunately Deliv was shut down in 2020 (its technology assets were then acquired by Target), putting an end to that particular collaboration. "That was the first, if not maybe the only time that the mall operators actually worked together, and it happened to be around fulfillment," noted Spencer.
Another alternative is for mall operators to work directly with the postal carriers, which Vicinity has done successfully in Australia. Working in collaboration with the country's largest delivery provider, Australia Post, Vicinity has created a dedicated space in its loading docks that allows Aus Post to consolidate deliveries.
"Australia Post was excited because they have trucks coming in and out all day, so instead they can come with one huge truck, offload the deliveries and then either put them in storage or distribute them around in one go," said Irvine. "And the retailers got excited because they don't get interrupted 10 times a day by 10 different delivery people."
Now Vicinity is working with its retailers, Aus Post and ecommerce shipping platform Shippit to conceptualize a way to handle outbound deliveries, such as online orders a retailer fulfills from a store.
Just a Matter of Time
While mall-based fulfillment hasn't fully left the starting block, Spencer believes the industry is "at the precipice of a major shift.
"Consumer demand is driving next-day and same-day delivery, and the only way to achieve that is through micro-fulfillment," Spencer said. "Retailers are reducing their portfolio size and their back-of-house spaces, but if you're going to have a smaller back of house and still need to ship from store, how do you achieve that? The headwinds are there. It's going to all converge at a point where the retailers are doing it all on their own, but it's costing them way too much money, and the mall operators provide a solution — there will be a point when it all comes together."
"I think both retailers and shopping centers get a little overwhelmed, but this doesn't have to be a full-blown fulfillment center, it could be a just couple thousand square feet," added Blumenfeld. "I think what's been proven out over the last three to four years is that it's too much of a specialty to run a logistics hub, and too big of a departure from what shopping centers do today, to think that every operator is going to build and run their own thing. It will likely have to be through a third party, and we're still in the phase of seeing how that's going to shake out."