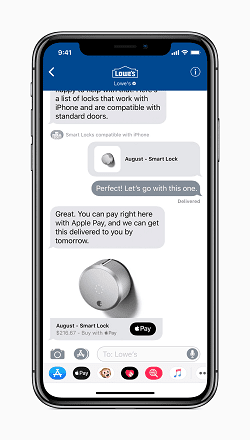 With the recent release of the iOS 11.3 update, Apple device owners can now use the beta version of Apple Business Chat to directly access customer service from a small group of companies that include Lowe's, Home Depot, Newegg, 1-800-Flowers and Apple as well as Marriott, Hilton, Discover, TD Ameritrade and Wells Fargo.
"More and more, customers are showing that they prefer the convenience of messaging customer service versus making phone calls," said Gihad Jawhar, Lowe's VP Digital Development in a statement. "As a leader in service, Lowe's is committed to meeting customer needs on their terms and through their communication preferences. Our support for Apple Business Chat makes messaging exponentially more powerful for our customers and our customer service agents."
Business Chat enables users to communicate directly with businesses through a native iPhone and iPad function, with no need to download a separate application or set up an additional account. Users can access a business through Safari, Maps, Search or Siri, and start the chat by clicking on an icon or QR code to open an iMessage window.
In addition to powering chats — which can include images and links as well as text — Business Chat can be used to schedule appointments and process payments via Apple Pay. Companies will be working with Apple to create business-specific integrations, such as selecting a seat on an airline flight.
One key benefit of Business Chat is privacy protections, which are noteworthy in light of privacy and data-sharing concerns that have emerged with Facebook.
For example, only the customer can initiate a chat with a company, not the other way around. The company cannot see the customer's personal information during the interaction, although the consumer can choose to share it. Once a thread has been deleted, the company cannot message the consumer back. This could become a competitive differentiator in the future, given that Facebook has been working on functionality that would allow companies to send unsolicited messages through Facebook Messenger.
Another feature Apple is touting is that Business Chat will connect users to human agents rather than chatbots. "Most often, your conversations will be with a live agent. You might get a fast, automated response for simple requests, but a real person will be available if needed," according to Apple.
To manage the complexities of providing this chat functionality at scale in real time, both Lowe's and Home Depot have partnered with LivePerson, an enterprise-class cloud-based platform for mobile and business messaging.
Businesses must register with a customer service platform that has been integrated with Business Chat, according to Apple's developer site. Besides LivePerson, those platforms include Salesforce, Nuance, Genesys, InTheChat and Zendesk.