A designer handbag probably isn't the first thing that comes to mind as a vehicle for making the world a better place, but Stacey Boyd, Founder and CEO of the luxury ecommerce site Olivela, is out to prove that's exactly what it can be.
The site sells the same luxury goods you'll find on NET-A-PORTER or Farfetch, at the same prices, except on Olivela 20% of the net proceeds goes to one of the site's more than 25 cause partners. These cause partners are key to Olivela's model, not just because they give shoppers a way to feel good about their purchase, but also because the halo effect of "free" cause-related publicity helps the whole thing work financially.
Boyd's path to founding Olivela — which just celebrated its fifth anniversary in September 2022 — has been a winding one. After graduating from Harvard with both an MBA and a Master's in public policy, she founded a series of businesses across education, information systems and online resale. "My through line has always been using the power of the markets, the power of capitalism, the power of scale, to nudge the world little," she said in an interview with Retail TouchPoints.
That is exactly what she's trying to do now with Olivela, which has captured the support of celebrities such as Jennifer Aniston, Mindy Kaling, Jessica Alba and Selena Gomez as well as brands including Valentino, Ganni, The Vampire's Wife and Spinelli Kilcollin.
Here's how Boyd is leveraging the dynamics of luxury retail to "nudge the world"…and making the effort financially viable.
'Turning Shopping into a Force for Good'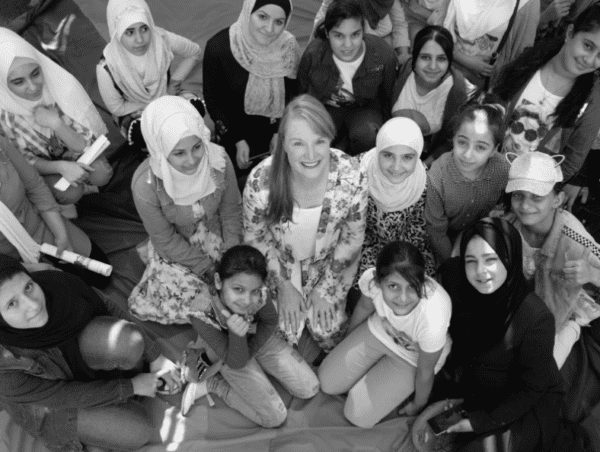 Olivela's origin story traces back to Dadaab, Kenya. In 2016, Boyd was attending an event with Nobel laureate and activist Malala to support the Malala Fund, which advocates for girls' education, when she had an epiphany. "I reached into my bag to take out my phone to take a picture of Malala and this incredible group of young women, and I realized two things," recalled Boyd. "One is that talent is equally distributed, but opportunity is not. And second, and more importantly for what Olivela is today, was that a fraction of the cost of my bag could send one of those girls to school for a year."
At the time Boyd was running her previous startup Schoola, which let parents send in and resell gently used clothing to raise money for their children's school. "We had scaled from five schools to 35,000 and were processing 10,000 units a day," said Boyd. "And I thought, gosh, if I can process 10,000 $5 to $10 items, imagine the good that I could do if I could process 10,000 $500 to $5,000 items — and Olivela was born."
The site now boasts tens of thousands of SKUs from more than 400 luxury brands, and just completed a "soup to nuts" site redesign and re-platforming on Shopify Plus to better drive home the brand's cause story.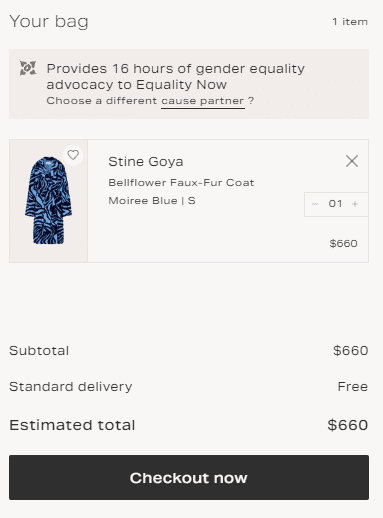 The charity component of the site is very straightforward — 20% of the net proceeds of every sale go to one of Olivela's cause partners. That donation is called out at every step of the sales process, from the product detail page through to checkout, with a direct calculation of how much money will be given to charity. By default those donations will go to whichever charity Olivela is championing at the moment, but customers can change that to have their donation go to any of the charities Olivela works with during checkout.
"We thought it was really important for everyone to have that agency," explained Boyd. "The underlying notion behind Olivela is turning everyday actions like shopping into a force for good, and I think the more we can give people the ability to choose where they want their good work to go, the more scalable it will be."
Donations that Don't Cost Customers a Dime
Olivela has three core charity pillars: gender equality, climate action and health and wellness, which Boyd said has centered primarily on food insecurity over the last few years.
The numbers are staggering. Last fall, Olivela crossed the $1 million mark in support for Ukrainian refugees through Save the Children. During the pandemic, the site raised enough money to feed 350,000 children through a partnership with No Kid Hungry and Save the Children, and other donations have provided nearly 1 million days of schooling to children around the world.
"Whether it be our COVID response in the U.S. or our current work supporting refugee children in Ukraine and around the world, Olivela's support is making a meaningful impact in the lives of the children and families with whom we work," said Janti Soeripto, President and CEO of Save the Children in comments shared with Retail TouchPoints.
All of this comes at no expense to the customers who shop Olivela or the brands sold on the site — products cost exactly the same as they would anywhere else. Which does raise the question: how can the company afford to be so generous?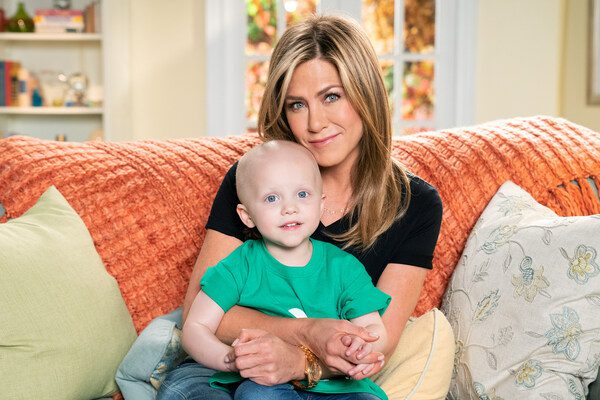 The long and short of it is that the free marketing that Olivela's cause partners (and the celebrities that support those charities) give the platform drastically decreases the brand's marketing and customer acquisition costs. "We've raised half a million dollars for St. Jude's, for example, and they've had Jennifer Aniston post a couple of times for us," explained Boyd. "So that ends up reducing our overall marketing costs, which allows us to do more on the charitable contribution side."
"You can buy the same bag in a few different places, but if you buy it on Olivela you send a girl to school or you plant trees or you feed kids that otherwise might not have access to food — that's a pretty compelling selling point," said Boyd. "Especially in the world that we're living in right now, people are looking for ways to make the world a better place, so giving them an easy way to do that is powerful."
This overarching messaging is furthered by exclusive collaborations that help drive awareness of the Olivela platform. For example, a new campaign with fashion designer LaQuan Smith will feature two dozen exclusive pieces, dropping over the course of five months, that shoppers won't be able to find anywhere else.
"The brands have been a really big part of what we're doing," said Boyd. "I think they're really excited to find ways to nudge the world a little bit too."