For the most part, ecommerce the world over presents in the same standard format — whether it be high-end jewelry or groceries, products are typically displayed in that familiar scrolling grid we all know so well.
Neha Singh, a former Google engineer who also helped build Vogue's digital properties, wasn't satisfied with that status quo. "This interface — a grid of thumbnails on a white background — was created by Amazon 25 years ago to sell books, and from there it got used somehow for every category and every brand," she said in an interview with Retail TouchPoints. "As a consumer, I love shopping, but I used to hate online shopping. It's just so tedious, while going to stores is so much fun." Her solution? Re-create the store experience online. In 2017, she founded Obsess, where she serves as CEO, to do just that.
"Originally my reason [for founding the company] was that you don't always have time to get to stores, so you should be able to get that experience without going to stores," said Singh. "Now we view our mission more broadly — we are reinventing the online shopping interface to make it much more engaging, interesting and branded."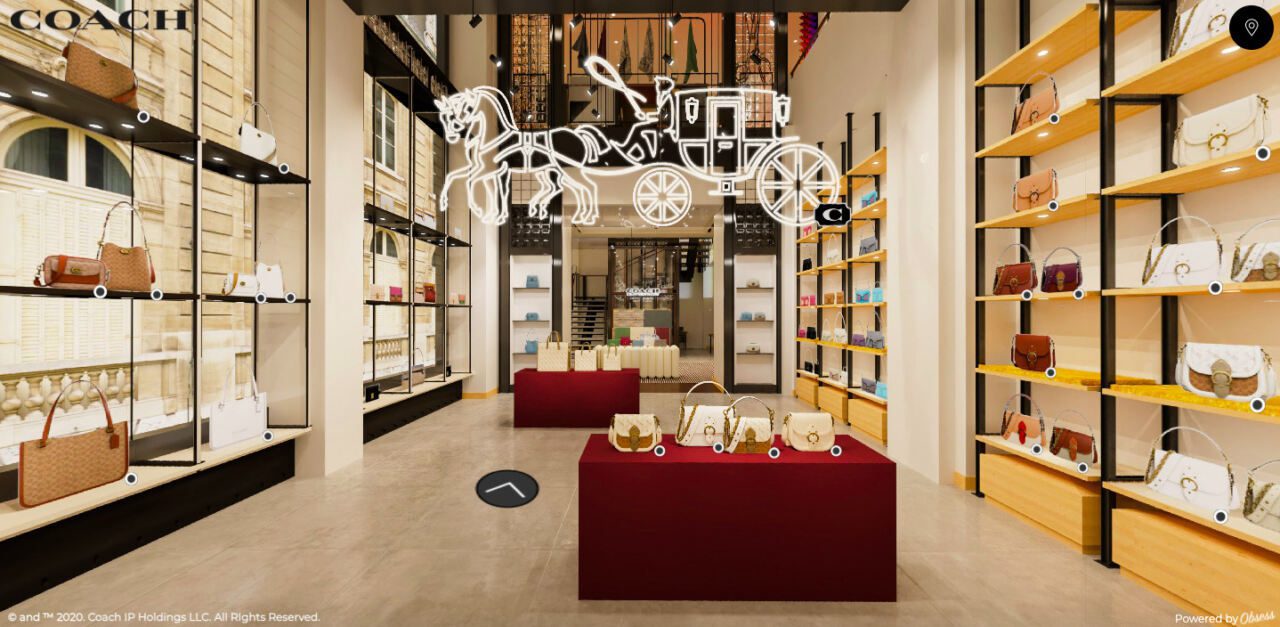 In five short years, Obsess has gone on to power online virtual experiences for the likes of Ralph Lauren, Tommy Hilfiger, De Beers, Coach, Dermalogica, General Mills and Party City, to name just a few.
The company's recent work with American Girl offers a perfect example of both the vast potential and the real-world results of these virtual experiences. For American Girl, Obsess developed two separate virtual experiences — a digital version of the brand's famed Rockefeller Center flagship and a virtual museum that has no real-world equivalent.
"Our ultimate goal is to create a completely different way for customers to engage with and shop American Girl online," said Stacy Carpenter, User Experience Senior Manager at American Girl in an interview with Retail TouchPoints. "We want to be where our customers are, and these virtual experiences allow us to build on this relationship while also showcasing our brand's point of difference."
For American Girl the results have been clear, with high traffic across both experiences, strong engagement and solid click-through rates, according to Carpenter. The activation has been so successful that American Girl is now rolling out holiday updates for both the virtual store and museum.
As American Girl illustrates, these kinds of virtual experiences:
Create more dynamic digital experiences that encourage discovery;
Expand the utility of real-world real estate investments by allowing stores to be re-created online and made available to a broader audience;
Move beyond the constraints of the physical world, allowing retailers to create immersive online experiences that wouldn't be possible IRL; and
Offer a stepping stone toward the future of digital commerce in the metaverse.
Bringing Discovery to Online Shopping
The ultimate aim of these 3D virtual spaces is to create an element of discovery that's been missing from the online shopping experience. "It's more like a real store experience," explained Singh. "You can go toward the things that you like, but you see other things along the way. Discovery today is happening on [platforms like] Instagram, but even then, it's becoming more and more tailored to what you've already looked at. And on brands' own ecommerce websites, it's typically just a search-and-filter action — there's not a lot of discovery, because it's just not designed in that way."
These 3D virtual spaces are an add-on to the brand's existing ecommerce site, not a separate website or platform, and no additional hardware or software is required. Singh thinks this kind of diversification of the online experience is what will lead to the next evolution of both online and offline shopping: "For the past five years or so, omnichannel was mostly about logistics — how you get your products delivered across all different channels," she said. "But the next phase of omnichannel is about experience, how you can provide a consistent branded experience across all your customer touch points.
"If you're offering an experience in the store, the customer online should also be able to experience that, and vice versa. Younger generations are spending all their time on gaming, eSports, social media — all of these are very interactive, visual interfaces, and ecommerce is now starting to catch up to that demand."
Expanding the Reach of Real-World Real Estate
Retailers that want to take an initial step into this type of ecommerce can have Obsess digitally re-create their physical stores in photorealistic 3D, integrating both in-store and online inventory for a fully shoppable online store experience.
"This is a very easy way to create a much richer experience for consumers online, because you already have your beautiful retail stores that you have merchandised with so much effort," explained Singh. "This is about increasing the ROI on your retail investment, because now a much wider audience can see it, they can experience a store without having to physically go to the store."
A prime example of this is the series of virtual store re-creations Obsess has built for Ralph Lauren, which include the brand's Boston, Beverly Hills, Hong Kong and Paris locations, among others. In fact, it was one of these Ralph Lauren stores that first turned the American Girl team on to the concept. They decided to launch their own virtual store to celebrate the brand's 35th anniversary earlier this year.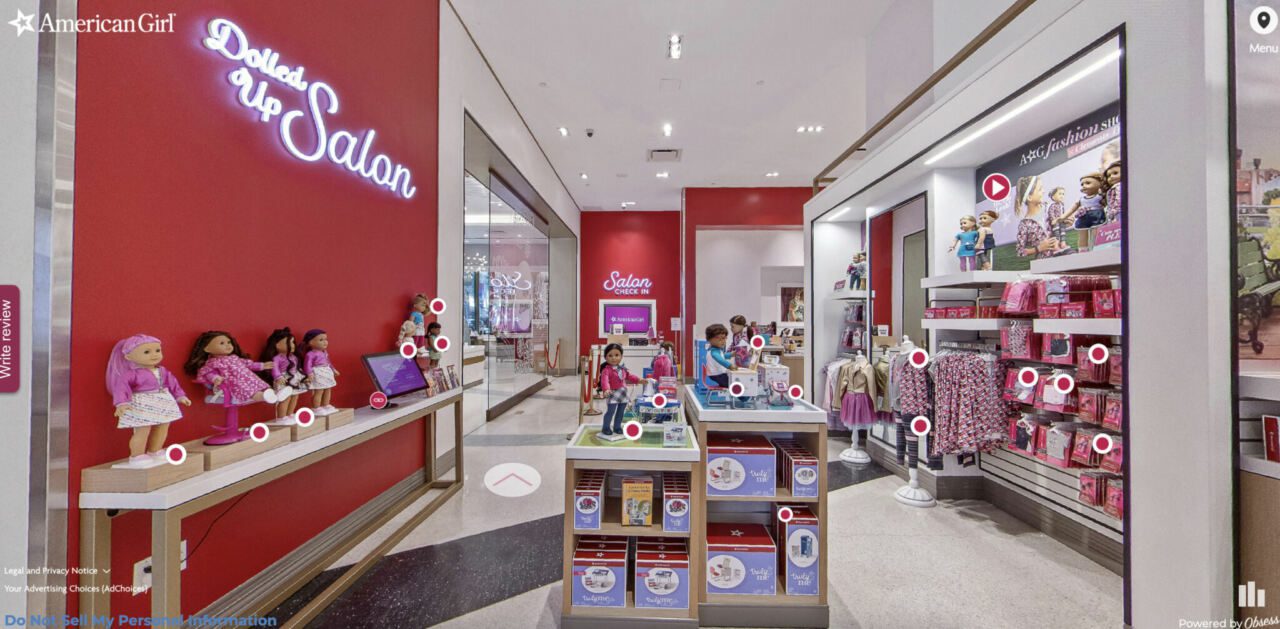 American Girl's iconic store in NYC's Rockefeller Center can now be visited and shopped remotely, with separate experiences for children and adults (kids can't see prices or add items to a cart, similar to how the broader American Girl ecommerce site is set up). Not only can customers from all over the world now explore and shop the store, they also can virtually experience some of the location's most popular experiences. For example, visitors can book tables and parties at the American Girl Café through an integration between the virtual store and the actual store's reservation system.
"The purpose of these virtual stores when they're based on a real store is definitely also to drive foot traffic to the store, so a lot of our customers will promote their in-store services and allow the booking of appointments," said Singh.
This virtual store isn't an exact replica of its real-world counterpart — the American Girl team capitalized on the flexibility of the virtual world to add in some of the best elements from its Chicago store as well. "Because the experience was virtual, we knew we had room to play to create the ultimate virtual store experience for our customers, which is why we combined aspects from our New York and Chicago stores alongside digitally rendered spaces," explained Carpenter.
Creating Whole New (Virtual) Worlds
Of course since all of this is taking place in the virtual world, there's no reason it has to have any ties to the real world and its physical restraints. Tommy Hilfiger created a summer pop-up store that was located on a virtual island, and De Beers dropped the store framework completely, creating a sweeping digital fantasyland for its Forevermark brand where the jewelry is presented as larger-than-life pieces of art.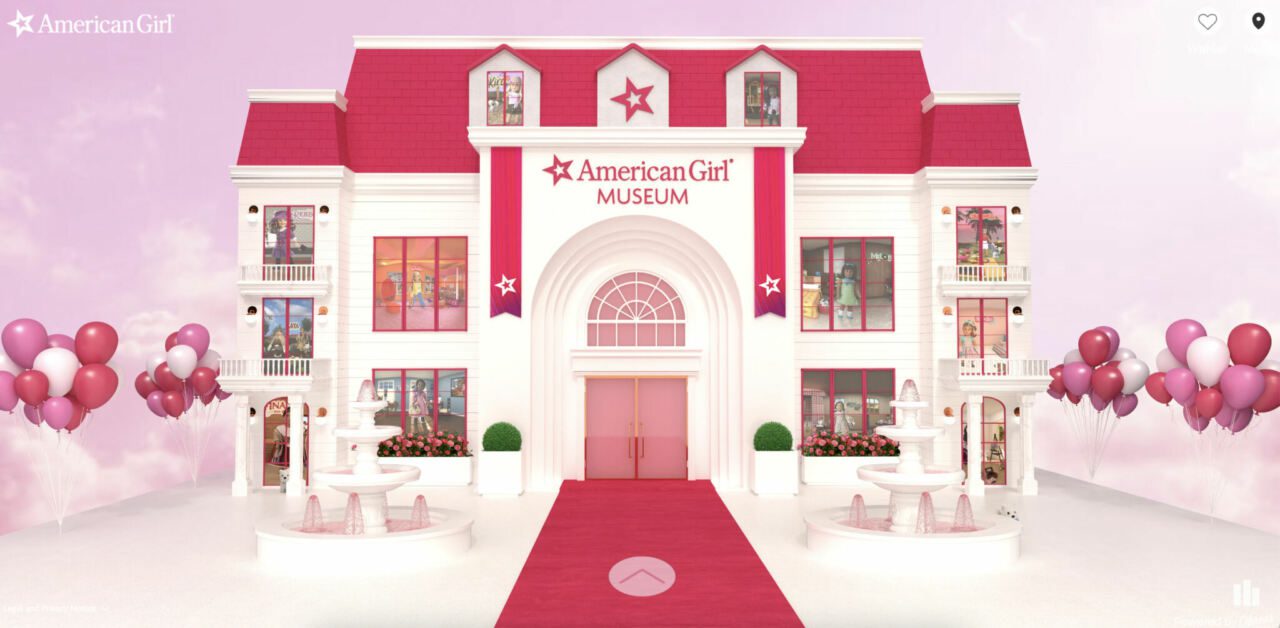 American Girl dove deep into the history and ethos of its brand for its virtual museum experience. Each doll has her own interactive room with a design and activities unique to that character's backstory. The museum experience itself features no shoppable elements, but there is a virtual museum gift shop.
"The virtual museum was definitely more challenging [than the virtual store], since we were creating something that had never been done for American Girl before," said Carpenter. "I worked across the organization to develop a framework for the museum and gather resources that could help bring it to life. I believe we went through over 20 different versions of the museum exterior before landing on something we all loved. The rooms within the museum were a labor of love, as our characters have entire worlds we wanted to convey and also create a thoughtful and immersive experience for visitors."
And these spaces, just like real-world ones, can constantly evolve. "We are very excited to 'holidify' the virtual experience and give customers worldwide access to explore the shop and see what's new for the season," added Carpenter. "We'll be launching the holiday activation in early November with some special experiences across the store and museum."
Personalized Stores and the Metaverse
As far as Singh is concerned, Obsess has only scratched the surface of what is possible for virtual retail environments. She and her team are currently working on ways to personalize the store experience by integrating dynamic product rendering that would allow the virtual store's merchandising to be curated for each user.
"Over time we also want to do that not just for the products, but the store design itself," Singh said. "Let's say, as a very simple example, if somebody loves the color orange, we could make the store décor orange. Essentially we could change the setting of the store based on your preferences. We already have some stores that have day and night view, so maybe you land in one or the other based on your time zone."
And as for the metaverse, Singh sees her company playing a natural role there as well: "Metaverse today is essentially a term for a new interface for the internet, these 3D virtual worlds where you will start doing all your online activities, including shopping. And for shopping it makes so much sense because the way we shop online today is not intuitive, it's not natural. The real world is 3D. These virtual worlds and stores that we are creating for brands are already a step in that direction.
"Today our virtual stores are running only on the websites, but next year they will be running on other platforms, including gaming platforms and headsets," Singh added. "The hard part for the brand is to decide what their virtual vision is. Once we have that, then it's just a matter of finding a way to run it on these different platforms, which we are working on."