Many industry experts commented on the speed with which retailers — even those that had been slow to embrace online sales, such as grocers — pivoted their operations in the suddenly ecommerce-heavy environment of 2020. The agility they displayed was remarkable, but it was made possible by the existence of technologies that had been waiting for their moment to shine. Retailers accelerated implementations, many of which were already part of their long-term IT roadmaps, and consumers embraced the solutions.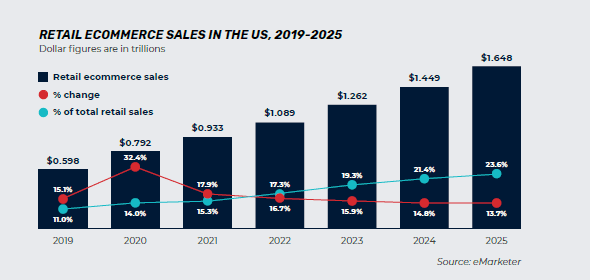 Indeed, the new digital and "phygital" shopping behaviors that consumers and retailers readily adopted last year look like they're here to stay. Double-digit growth in U.S. ecommerce is expected to continue in 2021, according to eMarketer, which also projects that digital sales in the U.S. will surpass $1 trillion in 2022. And yet, despite this recent huge growth in ecommerce, physical retail still maintains a firm foothold: Forrester predicts that the vast majority of retail — 72% — will still take place offline as far out as 2024.
It appears that, somewhat paradoxically, the next stage in the evolution of ecommerce actually involves physical stores to quite a large extent. "Retail has survived since biblical times roughly in the form of a physical space with product available to sell and the exchange of funds for that product," said Jonathan Sharp, Managing Director at the Alvarez & Marsal Consumer and Retail Group. "Don't get me wrong, I'm not pretending ecommerce doesn't exist, but I think it would be a real failure of imagination if this is the moment, 2,000 years on, where we can't imagine a future for the physical shop."
Omnichannel Offerings for Channel-Agnostic Consumers
As the separation between physical and digital continues to blur, retailers must throw out traditional ideas about the role physical locations play in the customer journey. Stores will become inspiration hubs and fulfillment centers as much as they are purchase points, and ecommerce touch points such as apps and websites will be crucial facilitators for all stages of shopping.
"Where we're moving to, it's not going to be siloed into physical and digital," said Matt Maher, Founder of technology-focused consultancy M7 Innovations in an interview with Retail TouchPoints.. "It's going to be one customer experience, and [shoppers] are going to want what they want, when they want it, wherever they want it."
Key to success will be the ability to offer a unified, seamless flow, from online to brick-and-mortar and back again. That means having one system of record for customer data that all others systems can tap into, said Emily Pfeiffer, Senior Analyst at Forrester: "[Store] retailers and digital businesses still talk about the experiences they create as if they are two separate things, but customers don't think about it that way," she said in an interview with Retail TouchPoints. "[Consumers] have an experience with a brand or a retailer — it's all tied together whether they're in an app, in a store, online, talking to someone or calling. And if they have an interaction in one channel that the next channel is unaware of, they feel like they're not understood, not respected by that retailer. That omnichannel view of understanding is terribly important."

For example, if a customer returns an item and the reason for that return is logged, yet that same customer continues to see recommendations for similar products or items with the same problematic feature, retailers are missing not only opportunities for future sales but also for building rapport with that customer.
"My biggest advice to retailers is to break down the silos, and build partnerships that continue to blur the lines, because when [business units] stay in their own tunnel of singular experience with the consumer, they're limiting themselves," said Pfeiffer.
Want more? Here are a few other pieces of content you might like: