So far, 2023's business outlook has been marked by uncertainty: Will a recession hit, and if so, how severe will it be? What will the Fed's next move be? How will consumers and markets respond? While a cloudy future often leads businesses to hunker down and reduce costs any way they can, retailers are responding in a surprising way. Instead of preemptively cutting back, many are planning to spend more this year.
That's right, retailers are planning to "invest their way through the recession," according to new benchmark research from digital transformation company Mercaux conducted by CensusWide. A full 50% of respondents said they plan to spend more on digitally transforming their stores this year, while 39% said they plan to maintain digital transformation budgets. This trend is even more pronounced among CEOs in the U.S. and UK, with 83% of this cohort saying they plan to increase investment in ecommerce and 72% saying they will increase investments in brick-and-mortar.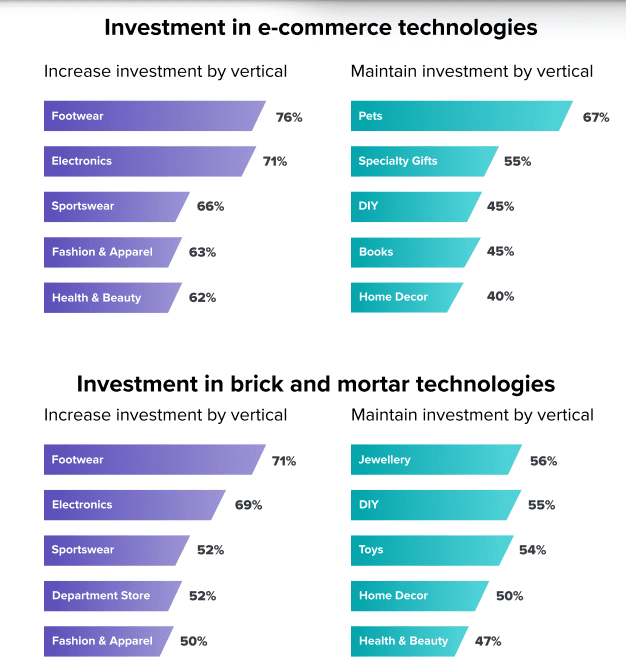 This is Mercaux's fourth annual Pulse of Retail survey and encompasses responses from more than 500 retail executives across the UK, U.S., Spain, Italy and France as well as the Benelux and Nordic countries. This year the report was co-commissioned in partnership with a number of Mercaux's fellow members of the MACH Alliance, a nonprofit dedicated to promoting open tech ecosystems, including Fluent Commerce, commercetools and Orium.
"Instead of battening down the hatches and stepping back from investments in technology and transformation, [executives] are looking toward that as a conduit to help them progress through the year and the impending recession," said David Miller, Chief Marketing Officer at Mercaux in an interview with Retail TouchPoints.
So where exactly will these retailers be investing in the coming year? Three key areas include:
Technologies that enable frictionless omnichannel experiences like assisted selling, mobile POS and progressive web apps;
Reshaping the store experience with more space reserved for fulfillment or the removal of the traditional cash wrap; and
Bringing the philosophies of composable commerce to stores, a trend in which digital pure-play brands, already built on online composable technologies, are at an advantage over traditional retailers with legacy tech.
1. Frictionless Omnichannel
"Omnichannel" as a goal is nothing new; retailers have been pursuing this objective for well over a decade. "Omnichannel" as a reality has proven more elusive. It turns out that enabling consumers to seamlessly move back and forth between physical and digital channels is pretty hard to pull off. In fact, just 11% of the executives surveyed said they are actually delivering a frictionless omnichannel experience today.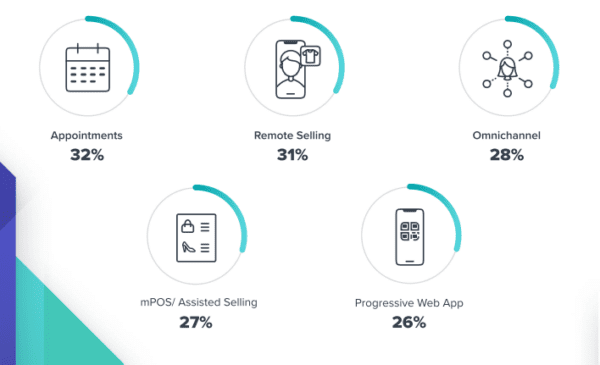 But technological advances are bringing this dream closer to reality, which helps to explain retail executives' enthusiastic spending plans despite a somewhat dreary economic outlook. Implementing new omnichannel technologies at brick-and-mortar locations in particular appears to be a big focus for the year, as retailers look to capitalize on increased footfall to offset smaller basket sizes. In fact, 45% of respondents said they are planning to actually grow their store footprint in 2023, with only 9% planning cuts, and half of respondents said they plan to spend more on in-store technologies in 2023.
"When we did the report two years ago, investments were predominantly in ecommerce, but now executives are looking to split that investment between both ecommerce and in-store," said Miller. "The cost and amount of competition online from an acquisition point of view is really going through the roof. [Retailers are looking for] a more cost-effective way to acquire customers, and [based on our findings they are] looking toward the store to do that."
Among the in-store technologies of greatest interest to retailers are appointment-scheduling, remote selling, assisted selling, mobile POS systems and progressive web apps, all of which reflect retailers' evolving philosophy about stores. Indeed, when asked how they view their stores today, three of the top six responses involved omnichannel integration with ecommerce operations, including expanding stores' roles as fulfillment centers, data collection points and ecommerce "showrooms."
2. Reshaping the Store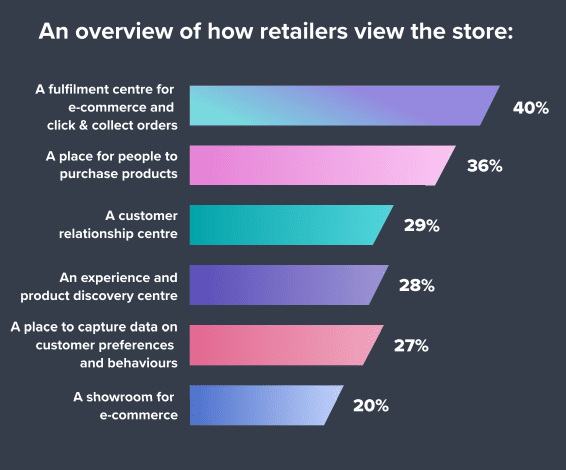 Not only is technology becoming more integrated into the store experience, but technological advancements are also reshaping the stores themselves.
"There are a couple of ways the store of the future is going, and it's really dependent on the split between in-store and ecommerce," said Miller. One trend driven by the rise in ecommerce shopping is a shrinking of the front, consumer-facing area of the store to make more room for back-of-house fulfillment. Another trend, sometimes happening in tandem, is stores creating space and changing their flow patterns in response to the rise of mobile POS and self-service checkout offerings. Both trends spell major shifts in the in-store customer dynamic:
• Store as window and warehouse — "Fulfillment from store is a trend that is continuing to increase in popularity, but to effectively fulfill from store you need the space in store for the stock," said Miller. "So we're finding that some stores are deciding to lessen the front of house and put out less SKUs and just fulfill, even for in-store customers, from the larger stock from at the back. The store itself will have less of the SKUs that are available companywide, but there'll be more technology in the store to provide customers and associates with the information they need to get those products into a universal basket."
This idea of a "universal basket," perhaps more than any other single technology, epitomizes the ideal of omnichannel. In a single transaction a customer could purchase a product available inside a store right alongside additional products available at another store, in a warehouse or only online. The customer pays for the whole purchase in one transaction and then, depending on where the inventory is, the various parts of the order are fulfilled accordingly. The customer gets everything they want in a single, seamless transaction, and the retailer handles the rest (with the help of a range of technologies, of course).
• Stores as multi-purpose hubs — Transitioning from legacy to next-generation point-of-sale systems was a tech priority for 79% of the retail executives surveyed. These systems can take many forms, from associate-manned mobile POS systems to self-service kiosks and even progressive web apps that allow customers to check out themselves on their own phones. Regardless of the method, the result is the demise of the cash wrap as we know it.
"If POS and transactions now happen on any device, be it with an associate or a self-service device, it gives a lot more room for engagement and clienteling," explained Miller. "What you find then is that store associates, because they don't have to man the traditional checkout, spend more time building a rapport with individual customers, using solutions to pull things like online behaviors, wish lists and even abandoned baskets into their discussion. They can remarket them from the store, and because you've got that 'endless aisle' [of online] within the hands of the store associate, you also don't have to have all your stock in store."
Among the executives surveyed, 41% said that implementing self-service checkout kiosks was "greatly important" in the evolution of checkout in-store, followed by checkout using a customer's own device (40%). In addition, the report anticipates that next-gen payment option such as BNPL and digital wallets also will begin to become more common in stores.
3. Composable Stores
Actually enabling the kind of seamless omnichannel experience executives envision will require a shift in approach similar to what has been happening with ecommerce in recent years. Both stores and websites used to be built on one central system, into which new features were incorporated or built over time. Now businesses are developing ecosystems built more as collection points where a range of plug-and-play, standalone solutions are added and removed as needs and strategy shift. This is known as composable architecture, because each business "composes" the unique infrastructure that works for them from among the plethora of technology solutions available today.
This infrastructure shift has been happening for several years online, and now similar philosophies are making their way into stores, for the same reasons — composable tech systems (often also referred to as "headless websites" in online settings) provide much more flexibility and agility because retailers can trial, implement and even remove new technology faster and more cost effectively.
"It has traditionally been seen as an online strategy to 'decompose' the technology architecture in this way, but what Mercaux and a few other companies out there are doing is building in-store services with that same MACH philosophy — so, microservices that are API-first and cloud-based [the M, A and C of MACH]. For the headless piece [the H of MACH] we're essentially creating that 'head' in stores, where data feeds and populates on customer or store associate devices," said Miller. "These ideas originated online, but we're trying to extend them to stores. With more advanced retailers that have this architecture now in place, it's a lot easier to deploy new solutions and connect to the existing backend systems."
For legacy retailers this will likely be an incremental shift that takes place over years, but there are a whole host of ways retailers "can put a flag in the sand to say they are moving toward omnichannel," said Miller. In fact, 28% of survey respondents said they have deployed "some solutions" toward their omnichannel ambitions, with another 20% indicating they were ready to deploy their first solutions this year and an additional 18% saying they are about to kick off the project.
"This evolution takes time though," added Miller. "It takes big investment and lots of internal resources to upgrade your systems, even from an ecommerce perspective, in order to facilitate that frictionless online-to-offline, and vice versa, experience. That's why there's not a lot of retailers able to facilitate it today, and the ones that are doing it really well are often digital pure-plays [already built on composable architectures] that decided to open a store."