A 45-year-old family-owned luxury business might not be the kind of company one expects to be at the cutting edge of digital commerce, but thanks to President Ken Natori, the company's second-generation leader, Natori is just that.
The designer fashion brand launched its own ecommerce operation in 2008, at a time when many other high-end specialty labels were still turning up their noses at digital. Prior to that Natori was a 100% wholesale business, selling into retailers such as Saks, Neiman Marcus, Nordstrom and Bloomingdale's, but the company's willingness to innovate has served it well, particularly throughout the COVID pandemic.
"I'm an only child and I never thought I was going to join the business," recounted Natori, who prior to joining the company was a reporter for Bloomberg and also worked in investment banking. "There are different ways to join a family business — some people go in guns blazing, but that's not really me," he said during a session at the NRF Big Show earlier in 2022.
"[When I joined in 2007] I tried to stay behind the scenes, but at one point we needed somebody to lead the investigation and eventual implementation of this whole new ecommerce business model that none of the employees, and certainly none of the executives, either wanted to do or had the capability to do," Natori added. "It really turned out to be this great way for me to earn my stripes in the business, and because of that we were probably more aggressive than our counterparts in terms of getting our skin in the game and establishing an ecommerce site."
And earn his stripes he has. The company's wholesale business is still thriving, but now it's only part of an omnichannel strategy that includes ecommerce, social commerce and marketplaces. Prior to the pandemic the mix was about 80% wholesale to 20% digital, but Natori said in an interview with Retail TouchPoints that by the end of 2022 he expects that proportion to shift closer to 60%/40%.
Natori's shift from wholesaler into DTC is an ongoing process, but a few key things have helped make it a success thus far:
The company's roots as a multi-generational family-led business have created a leadership mix that moves toward new opportunity but remains true to its DNA;
Despite fears about how its wholesale partners would respond to the brand branching out to DTC, careful online positioning helped ease the transition;
As the company's ecommerce business grows, Natori is using intel from its digital operations to better inform wholesale merchandising decisions; and
Since ecommerce operations aren't typically part of most fashion executives' skillset, tech partners like BigCommerce have been central to Natori's ability to scale and expand its online business.
'I Would Always Rather Over-explore than Under-explore'
Founded in 1977 by Ken's mother — fashion designer Josie Cruz Natori, who still serves as CEO — company executives started to notice a shift in consumer behavior in the mid- to late-2000s. "There were some signs in the tea leaves that were concerning," said Natori. "Loyalty to those stores used to be 100% — a top customer would go to Neiman Marcus for everything and not go anywhere else. But come 2006, 2007 we really started to see that loyalty go away, and the bigger piece of it was [that] fewer people were going into department stores overall. The high-end department store just wasn't growing, and that really pushed us toward establishing our own dot-com."
The problem for Natori, as for many fashion brands, is that the digital know-how and expertise needed to run an ecommerce operation aren't typical skills for most fashion executives. But Ken Natori wasn't a fashion executive, and that made him the perfect fit to lead the transformation of this designer label into an omnichannel brand.
"My mother will be 75 [this year] and she's still involved in literally every part of the business," said Natori. "She's very product-related and has that old school fashion mindset, whereas I have the ability to think about things that do not come naturally to her, or in general to a lot of fashion people. It's created this good mix that has allowed us to remain true to who we are as a company, but also make sure that we are constantly exploring new opportunities. I would always rather over-explore than under-explore, because if you miss something and you're late that could be the ballgame."
Introducing DTC Without Damaging Wholesale
That's not to say that the Natoris weren't a bit nervous about making the move into ecommerce. In particular they were concerned about the reaction of their retailer partners to a brand creating its own competitive sales channel — which, while commonplace now, was not standard practice 14 years ago. And because those wholesale relationships were so central to Natori's business, losing or seeing a significant pullback from even one account would have been a big blow.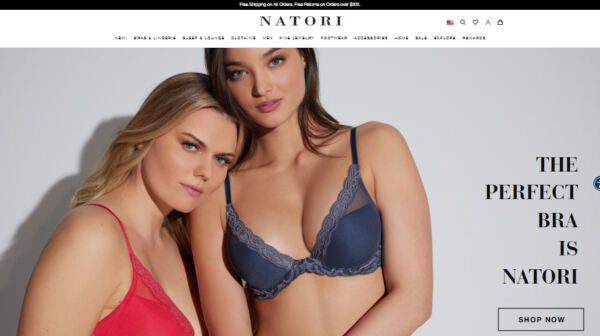 The key in the end was to ensure that Natori.com wasn't really competing with the brand's wholesale partners. "When we launched the site, we did it very quietly, because we didn't want to raise a lot of attention," said Natori in an interview with Retail TouchPoints. "But as it was successful and [we saw that] customers loved it, and when the stores didn't kick and scream too hard, we started making more noise with digital marketing and things like that. Our wholesale business will never go away, department stores will always be a very important part of our strategy, but now, as long as we aren't competing on price they understand ecommerce is part of every brand's ecosystem."
Natori's ecommerce ecosystem also has evolved over the years to further differentiate its digital channels from its department store offerings. Initially, simply because of manpower and technological constraints, the products offered on the Natori website were the same as those being produced for stores. Now, however, the brand has branched out into other categories via licensing and debuted new, more moderately priced brands.
Most of these newer offerings aren't part of Natori's wholesale business at all, which focuses primarily on the three core categories manufactured in-house — sleepwear, ready-to-wear and loungewear. New extensions via licensing into categories such as footwear, medical scrubs, pet apparel and children's fill out the expanded product offering customers can find online.
Finding the Right Partners
A big reason the company has been able to expand its ecommerce so significantly has been thanks to partnerships with key solution providers. "We launched our site for literally nothing and our partner for the first eight years was great, but eventually we made the switch over to BigCommerce because it was just becoming too cumbersome," explained Natori. "Every time we needed a new thing, it was our responsibility to find it, understand it, find the partners that could do it and then talk to our backend provider about we needed. The beauty of BigCommerce enterprise is that you have a base package and they do all the work on that other stuff and figuring out how to make it all work. People start working here, and they'll say they thought the company was like 10 times bigger in terms of people because our website [is so sophisticated]."
Natori's ecommerce business now actually helps inform the assortment the company places in stores. As shelf space and merchandising staff in department stores shrink, retailers are "putting a lot more of the onus on the brands to tell them what to put up. Because of what we learn from what does well on Natori.com, that's helped us help the stores more in terms of assortment," said Natori.
Now the brand is moving into the broader digital universe with social commerce on Instagram and Facebook via a BigCommerce plug-in — although Natori said it hasn't moved the needle much yet — and an expansion of the company's presence on Amazon.
Natori has been selling first-party on Amazon for more than a decade, a relationship that is akin to a wholesale arrangement. During that time the company also has tested out Amazon's marketplace on and off, but is planning to make bigger moves in the space now that they have technology partners like the BigCommerce-owned Feedonomics to help.
"Marketplace is a very important part of the future, but our marketplace business hasn't really ever been meaningful and one of the reasons for that is putting a product on Amazon involves a lot of backend work and data manipulation — it was just too much," said Natori. "But now we have some of the technology in place, what we really need to do is focus more on our merchandising — I'm really focused on making that more of a priority going forward."
"Our products are really built for a merchant like Ken — they care about quality and brand, but they have some complexity in terms of how the product gets distributed and where the product is being sold," said Marc Ostryniec, Chief Sales Officer of BigCommerce in an interview with Retail TouchPoints. "Where we're headed with the business is continuing to be able to support more and more sophisticated businesses — be that folks that are selling cross-border, merchandising in different currencies, selling on the marketplaces — and dealing with all of the things that involve complexity in the back end of a business."
Complexity doesn't intimidate Natori; in fact, after the last couple of years just about nothing does. "Every time someone asks me about my biggest business challenges right now, I just smile, because I feel like nothing will ever be worse than the challenges from 2020. I feel like we can handle anything now because we made it through 2020 when we were dealing with everything."