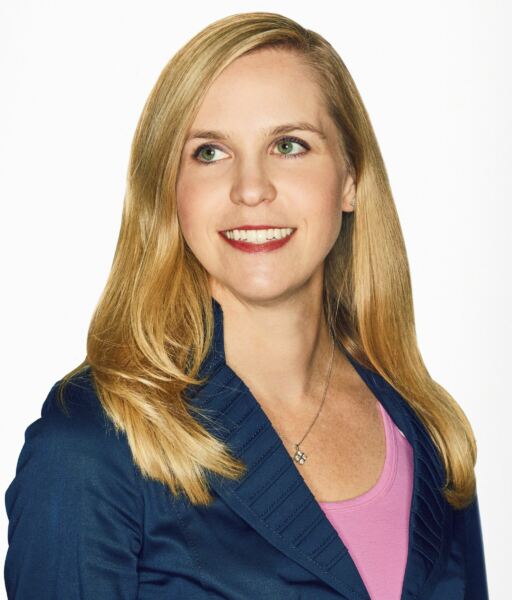 Cloud computing can be a bit of a nebulous concept, but the real-world functionality it's delivering to businesses of all sizes and industries is very clear. Google's Cloud division counts among its clients Walmart, IKEA, Sephora, Cartier, Albertsons, Target and many more. These retailers are using the Cloud to unlock digital potential across their business — both online and in stores — and Carrie Tharp, Google Cloud's VP of Retail and Consumer, is helping them do it.
Over the course of her career, Tharp led digital transformations from the inside at a host of companies, including Dean Foods, Travelocity, Neiman Marcus and Fossil. But now, at Google Cloud, she sees the opportunity to help usher in a new era of digital transformation for the retail industry as a whole. "After doing these data-driven transformations one retailer at a time, I realized that if I transitioned to Google, I could impact the industry in a scaled way and build the things that I always wanted Google to build for me," said Tharp.
The cloud computing sector is incredibly competitive, dominated by the biggest names in tech. Google's Cloud division currently captures the third-largest market share among providers, after Amazon Web Services and Microsoft Azure.
The reality, however, is that there's more than enough work to go around as more and more businesses, drawn by the flexibility and scalability of Cloud infrastructure, move functions there. Tharp spoke to Retail TouchPoints about the many ways Google's retail clients are using Cloud services to:
Create nimble, responsive ecosystems that meet the needs of a new generation of "channel-less" shoppers;
Optimize store operations and improve the associate experience at a time when staffing is a huge pain point; and
Harness the power of their "mountains of data" to create customer-centric experiences by drawing on Google's innovative tech in areas like search, recommendations and geolocation.
Retail TouchPoints: What are Google Cloud's biggest differentiators among the other big names in the space?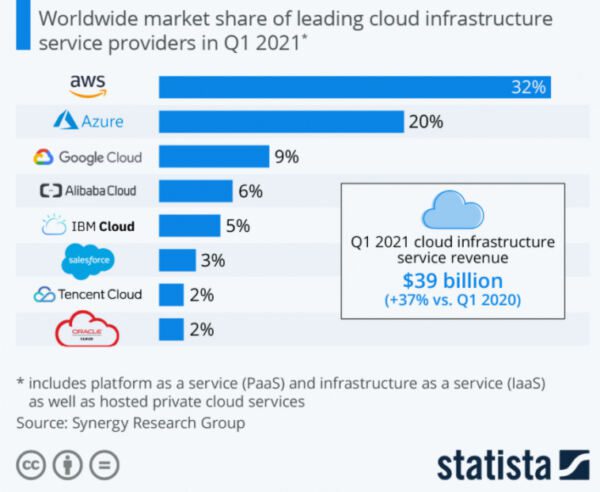 Carrie Tharp: It's a combination of the whole offering of Google, plus the AI and ML expertise that we have and our direct ability to drive higher performance. When many of our customers think of Google, they think of Google at large — Ads, Shopping, Maps or GPay. A lot of these represent innovation capabilities that you wouldn't necessarily want to build yourself as a retailer, so we're working with our [retail clients] to cherry-pick the best of Google and use Cloud as a backbone to pull all of that together and innovate on new experiences.
For example, our retail search capability is based on the search stack and capabilities we built for the core Google search — that natural language understanding, the understanding of intent, the product knowledge graph, and really understanding what and how people are saying things, and what that means to their shopping journey. That's incomparable globally of who [among other Cloud providers] has that capability to work off of.
For example, Albertsons is leveraging Google Maps capabilities to enable omni-shopping services that put Albertsons closer to the customer and offer a service that connects you back to their store. Our Recommendations AI capability is another example of something that was built for other Google products and solutions and then brought to bear in a retail product orientation. We have customers like IKEA and Sephora using that.
RTP: How do you encapsulate all the different things that you're doing for and with retailers?
Tharp: When you think about Cloud in general, there's all the infrastructure capability, running your ecommerce site, setting up data platforms, but we're also trying unlock value in all the different retail value chain steps.
The first bucket of that is driving digital growth, and that's an expansive bucket. Our solutions include things like product discovery, so helping with search on your site, recommendations AI, visual product search — these are all things that are focused on how to reshape the way a customer interacts with a website. Search and nav has been the same for 20 years, and it's not really how people shop, so how do you create more of a natural shopping journey?
But it's not just ecommerce, it's also about digital experience in stores. Now more than ever, "omni" is the focus. I think people are getting tired of using the word omni — it's really "channel-less." The customer doesn't think in channels, so [the question becomes] how can the retailer stop operating in channels?
That even includes no longer operating [in terms of] "properties." In the last decade, retailers were always thinking about getting traffic to my site, my traffic, my conversion. How do I get them to my brand so I own that experience? Now that's expanding, the customer doesn't think that way; they want to interact with you in chat and on social services. You have to extend where your brand shows up and how you show up there, so that it's like having a direct interaction with you, but it's not necessarily on your properties.
A second bucket is [focused on creating] customer-centric, data-driven organizations: building out customer data platforms (CDPs) for personalization and improved demand forecasting; how to take in more signals and get to better forecasts and have less stockouts.
Much of retail is sitting on top of mountains of data, but the ability to connect the product, supply chain and customer data together and actually change experiences in real time can be somewhat limited. That's where a big unlock is coming in retail at large — really getting to real time.
For example, Walmart is using AI and ML to determine, while a person's shop journey is happening, whether they're eligible for express delivery. Years ago you just set some business-coded rules, and people would be either in or out of a service because you couldn't determine it on the fly. Now Cloud capabilities are allowing you to get much more tailored and potentially offer services to more people.
The third bucket is about building the modern store. Not just the physical store of the future, like frictionless checkout and things like that, but a lot of our retailers are focused on associate enablement right now. With the store being this critical conversion channel, how do you get more information to the associate to make their lives easier? This includes things like optimizing pick, pack and ship in stores with AI-based solutions.
And then the final bucket is optimizing operations. Many retailers still have to fund their own innovation journeys, so how can we help them reduce costs throughout the system so they can put that money back into new, cool digital innovation? This includes things like Contact Center AI, improving service and reducing costs to serve customers.
[A big piece of all this] is also supply chain. Those of us in retail always knew how fragile the supply chain could be, but now it's been put in the face of the end consumer as well. [Historically], there's been a lot of investment into ecommerce and store technology, but we've been kind of scrimping on supply chain over the last five years. COVID has certainly changed the game.
RTP: When many people hear Cloud, they automatically think online, but a lot of what your team is doing is also about digital transformation in stores, right?
Tharp: One of the next big waves that we see coming in retail innovation is edge computing use cases in the store — digitizing the store and turning it into a signal, much like the way you can interact with your ecommerce site. You're getting this constant information stream from ecommerce, and comparatively the store can be a bit of black box. But there's a lot of capital and expense locked up in the stores, so we're really seeing retailers shift their focus to how they can make the most of these assets, especially with omni being so important to the customer. There are a range of use cases: personalizing marketing to somebody who's in a store, or leveraging your app with personalized offers when somebody comes in, all the way to operational use cases such as how to help the associates.
Google Glass is a great example of that. Years ago, it came to market and people laughed at it because they were trying to figure out how people would use this thing. Now it's really coming to life in enterprise use cases. If you think of an associate in the store, you need your hands. Whether you're helping a customer or you're doing pick and pack or live training, you can be wearing Google Glass on your face and it could be guiding you. Think about how much you can optimize operations and drive efficiency when your associates can go hands-free.
We're also using AI in the store to orchestrate how associates are moving through the store and handling different tasks and jobs, tied to staffing dynamics, store hours, when are the trucks coming in. In the past each store's performance depended on the quality of the operations leadership team. [This is] helping retailers bring all of their stores to operational parity using AI and ML to take on some of the burden of those tasks, which is especially critical at a time when many retailers are having staffing issues during the Great Resignation.
As an example, Cartier is using our vision product search capability to help their associates. They take a picture of a watch and can see everything in the assortment that is similar, so when you have a new person on staff, they don't necessarily need to know the full Cartier assortment. They can use this app to make sure they deliver a high-quality, luxury experience.
RTP: What are some of the Cloud opportunities for small- and medium-sized retailers that might not have the same resources as large national chains?
Tharp: With the products we're building, you can opt into any of them regardless of your scale. Take for example CDPs. Regardless of how big or small you are, having a unified view of your customer, understanding your customer across channels and tailoring your service to them has become more important than ever. And this is an example of where Cloud scales to meet your needs. Some of my largest retailers build their own CDP on Google Cloud with BigQuery, whereas some of my mid-tier retailers go with a package solution with one of our partners that runs on Google Cloud and comes set up out of the box.
RTP: What are the areas of greatest potential right now for retail? What should leaders be moving toward?
Tharp: For omni-retailers that have a store presence, it's that evolution toward the digitized modern store. How do you remove friction and enhance service and experience in your store in a brand-right way? That may look totally different at a luxury fashion player versus a mass merchant versus a mono-brand shoe business, but whatever it might be it's about assessing where in the customer journey can you build something unique and differentiating that brings people back to you.
On the digital side, it's that continued journey to channel-less and frictionless. It's about resetting those boundaries in your team's mind to say, "I've got to go where my customer is and where my customer is is changing on a quarterly basis." In retail, we're constantly incentivized to double down on this quarter, but you can miss what's going to happen next year if you're only looking at optimizing for the quarter. So thinking about innovations like conversational commerce and visual interactions on your site. These things might not be major traffic drivers today, but as that consumer mindset changes you'll need to have new experiences coming down the pipeline.