At first blush, home improvement fans might not seem like a core audience for electronics retailer Best Buy. But as homes have become more and more digitized, Best Buy decided it was time to let DIYers know how it could help them up their (smart)home improvement game.
True to form, Best Buy turned its eye to advertising's newest tech-infused channel to reach this consumer segment — connected TV (CTV). Brands are increasingly looking to CTV as a high-powered marketing medium that combines the storytelling capabilities of traditional TV advertising with the data-infused targeting and measurement capabilities of digital channels like search and social.
CTV viewership is growing every year as more and more consumers "cut the cord," and the vast majority of U.S. households (78%) now subscribe to at least one streaming service, according to a recent Forbes Home survey. But just as the number of CTV viewers is climbing, so is the number of advertisers.
Best Buy wanted to stand out from the crowd, so the retailer turned to Roku, the most-used streaming platform in the U.S. The resulting campaign included not just interactive ad spots but also custom content segments and in-show integrations of both Best Buy experts and products.
Roku's Head of Retail and Ad Sales, Sarah Monahan, took Retail TouchPoints behind the scenes for an in-depth look at Best Buy's multi-faceted, bespoke CTV campaign and the results it drove.
Taking Advantage of the Advantages of CTV
Developing an advertising campaign with Roku was a natural extension of Best Buy's already existing partnership with the streaming platform, which includes a data-sharing tie-up with Best Buy Ads, the retailer's media network, and the sale of the first Roku-designed TVs exclusively at Best Buy.
For its CTV campaign, Best Buy wanted to go beyond the standard 15- to 30-second ad and really take advantage of the technical capabilities and connectivity that CTV enables, said Monahan.
"It's happened to all of us — you're watching content and something on screen makes you want to shop," said Monahan. "At Roku we are creating a path from the biggest screen in the house to, in this case, your mobile device, so you can shop the look and complete the transaction either in session or, more likely, post-session.
"That was a big part of the challenge that Best Buy came to us with, and honestly the challenge that most of our major retail partners are approaching us with right now, which is: 'We know we're in the nascent stages right now of training consumers to shop from the remote, but how do we start to test? How do we create a crawl, walk, run?," she added.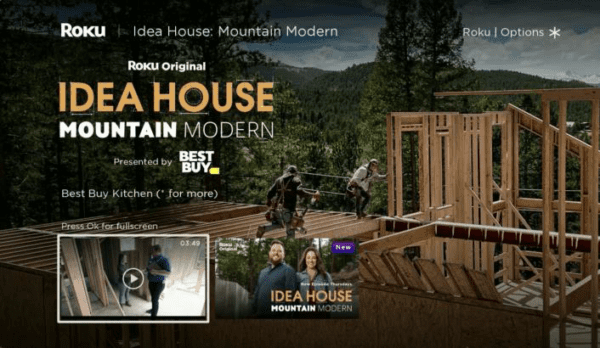 As luck would have it, just as Best Buy was looking for a way to get itself in front of home improvement enthusiasts, Roku had completed the acquisition of the This Old House franchise, which includes some of the top-rated home improvement programs in the U.S. Part of Roku's plan with the acquisition was to extend the franchise into new content, and one of those series was already in development: Idea House: Mountain Modern, which features husband-and-wife team Jared and Amber Phifer as they build a home in the Rocky Mountains.
Best Buy signed on as the premiere sponsor of the show, but "Best Buy didn't want to just sponsor it, they really wanted to understand how they could thoughtfully integrate into the show and make it shoppable," said Monahan. The end result included "a lot of organic, interesting integrations" into the show itself as well as custom content that sat alongside the series. This included: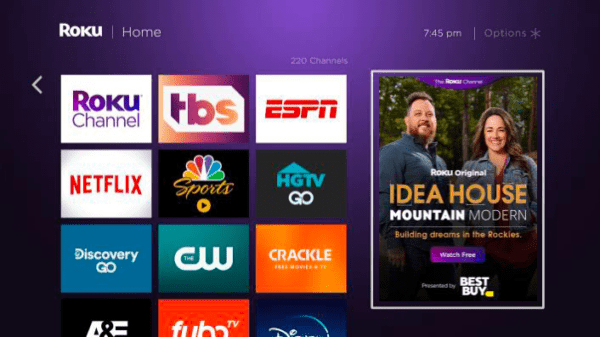 On-camera appearances in the show by Best Buy virtual and home experts giving the Phifers product and design advice;
Custom content "vignettes" created by Best Buy Ads and the Roku Brand Studio that featured some of the talent from the show and ran ahead of ad breaks;
Interactive ads that prompted viewers to enter their telephone number to learn more about products featured in the show; and
Sponsored ads on the Roku platform home screen that drove viewers to a co-branded destination for the series.
The Result: A 13% Lift in Consideration Intent
Over the course of the campaign, which ran in the summer of 2022, 1.3 million Roku viewers clicked on the Best Buy-sponsored homescreen ad units to check out the series.
More importantly for Best Buy, the integration with the show helped to measurably shift viewers' perception of Best Buy as a source for smart home improvements, according to a brand lift study conducted by Kantar Millward Brown. The campaign led to:
A 25% lift in agreement with the phrase "Best Buy is a brand for someone like me.";
A 13% increase in consideration intent among those exposed to the custom vignettes; and
A 9% lift in agreement with the phrase, "Best Buy is different from other retailers."
"The campaign showed how Best Buy is different and unique — and drove deep engagement with home improvement TV fans," said Monahan in a statement. "Best Buy's innovative virtual store experience brought to life for viewers one of the many ways that Best Buy can help them with their tech, including the next time they're looking for appliances or electronics or doing a bigger home renovation."
Moving Toward a Shoppable TV Future
For many companies, advertising integrations like this will be the first step toward the ultimate goal of television-enabled commerce, where consumers can buy items the moment they see something that inspires them.
Roku is undeniably at the forefront of building out these capabilities, with a few other players like Amazon, NBCUniversal, LG and YouTube also in the mix. In fact, Roku has become one of the first to build out remote-enabled purchasing through its recent partnership with Walmart, which allows viewers to buy products directly from their TVs.
That kind of direct functionality is still far from becoming ubiquitous though, so Monahan said that in the meantime most retailers should focus on more "DR [direct response]-focused ads, starting to test overlays, and looking at what's driving people to want to pick up the remote and press OK and take an action of some kind. That's the 'crawl' phase."
Want to learn more about how to dip your toes into the CTV waters? Check out our free special report, Demystifying Connected TV: How to Leverage Advertising's Hottest New Channel.