With Thanksgiving weekend officially kicking the holiday season into gear, retailers better have optimized their mobile app if they are seeking to get the most out of their digital offerings, according to data from App Annie.
The mobile app data and insights provider predicts a drastic rise in "couch commerce," as more shoppers continue making purchases via their mobile phones within the comfort of their own home. This holiday season, App Annie expects:
A 40% increase in total mobile app sessions during Thanksgiving week, meaning consumers will log into shopping apps at least 10 times or more during this time period;

A 30% increase in total time spent on mobile shopping apps during the week, with a forecast that each user will spend 20 minutes within these shopping apps; and

Twice as much time spent in shopping apps during the week of Thanksgiving compared to the four weeks prior to Thanksgiving in 2015.
Amir Ghodrati, Director of Market Insights at App Annie, attributes this growth to the ever-simplifying user experience that mobile phones are providing consumers.
"You always have your mobile device with you, even when you're at home," Ghodrati said in an interview with Retail TouchPoints. "When you're on your couch, it's easier to use a mobile phone than a laptop, and when you have the ability to do all of this holiday planning without having to wait in lines on Thanksgiving or Black Friday, it makes that experience much more pleasant. For the retailers, as much activity and sales as they're able to generate within the app also saves them time, money and space as well, since it's a lot more scalable to deal with that sort of infrastructure."
Although the "couch commerce" label references consumers' lack of desire (or ability after a heavy Thanksgiving meal) to rise from their furniture to shop, retailers also can leverage the increasing popularity of mobile apps to help drive consumers into the store, whether through mobile payments, coupons, or assistance in finding the items they're seeking.
"In some cases, the app might even help with optimizing the layout of the stores themselves, or even in deciding how much space they want to dedicate to certain types of products as well," Ghodrati stated.
Couch Commerce Makes Way For 'Sofa Sunday'
The rise of "couch commerce" doesn't just refer to mobile app shopping, especially since the continued upward trajectory of mobile app usage reflects the increase in mobile shopping as a whole.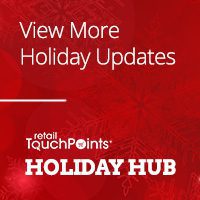 Mobile will overtake desktop in online traffic to retail web sites and apps for the first time in the U.S. this holiday season, taking a 53% share of visits, according to Adobe Digital Insights. But one day may be seeing more traffic and sales than usual, if trends continue as they did last year.
As the mega-shopping days of Black Friday and Small Business Saturday pass, more consumers are taking the time to relax and lounge around their homes with their mobile devices on hand. In 2015, advertising data from MediaMath showed a definite spike in mobile traffic on the Sunday of Thanksgiving weekend — which the company referred to as "Sofa Sunday," — with the most purchases made from 7 pm to 11 pm.
With consumers going out of their way to make purchases within a very specific block on Sunday, retailers may want to offer exclusive deals for the mobile channel, all while marketing the promotions across devices to reel in as many potential consumers as possible.