Google unveiled a series of new tools for merchants and advertisers at its annual Google Marketing Live event on May 23, 2023. Among the updates that will soon be available are a new generative AI tool to help brands create more sophisticated product imagery, and the ability for brands to have their Google product feed automatically populated from the content on their website.
"Google Ads helps you find customers, now Google AI will help you multiply creative performance," promises a new ad that was previewed at the event.
Generative AI for Product Images
The biggest announcement was the introduction of Product Studio, which employs proprietary generative AI technology, developed in-house at Google, to help merchants quickly and easily create unique product imagery for their product listings. (This will of course be equally useful for merchants' advertising campaigns.)
Touting the role of images as businesses' "digital window displays," Google's new Product Studio will help merchants generate a diverse slate of high-quality images to drive better results from their online listings.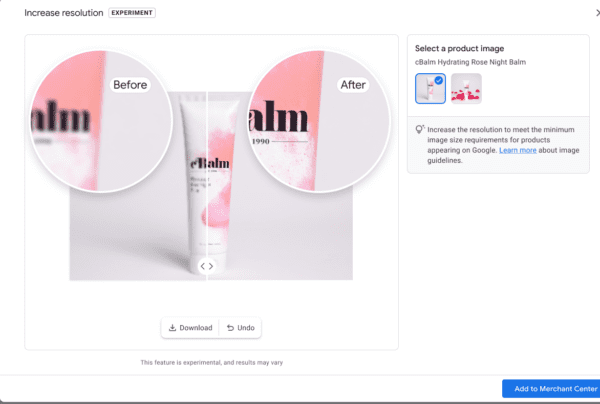 According to global Google data from April 6, 2023, product listings with multiple images typically see a greater than 76% boost in impressions, and a 32% increase in clicks, compared to those with just one image. And yet 40% of product offers on Google today have just one image.
"In a time when shopping is happening anytime, anywhere, we hear from businesses that they find it challenging to stand out and connect with new customers," said Matt Madrigal, VP and General Manager of Merchant Shopping at Google at a press briefing. "Eye-catching, unique content helps grab shoppers' attention, but creating that content requires a lot of time and resources."
When Product Studio debuts this summer, it will offer three features, all for free:
Scene generation, allowing merchants to create lifestyle product imagery from basic product photos. New imagery can be created in seconds to meet seasonal or campaign-specific needs without the cost of new photoshoots. Merchants simply prompt the tool with a text description of their desired background scene;
Remove background, making it easy to remove distracting backgrounds from an image; and
Increased resolution, which uses AI to improve the quality of small or low-resolution images without having to reshoot.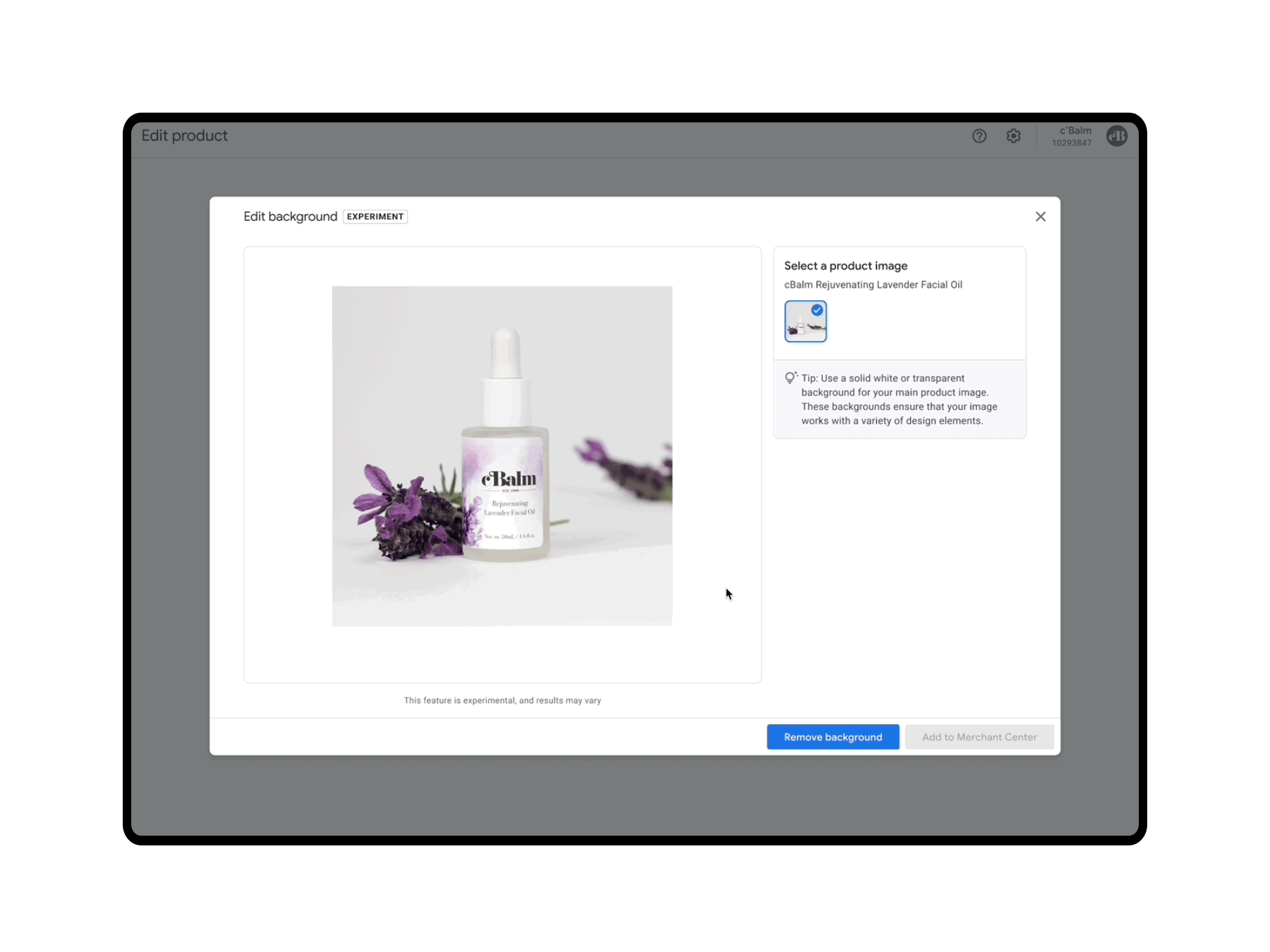 The new suite of generative AI tools is very similar to those introduced by Meta earlier this month in its "AI Sandbox" for advertisers. And while Google merchants don't have to be advertisers to use these tools, it's certain that those who also do advertise on Google will benefit from this enhanced content — and thus so will Google.
"These new tools that we're rolling out for Product Studio [will allow] merchants to create imagery that's going to help them connect directly with their customers as we see commerce evolving to be much more content-focused," said Madrigal. "The key piece here is that, as we integrate some of these new images automatically into the product feed, it takes the complexity away from merchants who can then show those images and products across all Google surfaces — organic as well as paid advertising."
Merchants in the U.S. will be able to access Product Studio from the new and improved Merchant Center Next product listing platform, as well as from the Google & YouTube app on Shopify, available this summer.
Simplifying the Process of Joining Google Shopping
The rollout of Merchant Center Next, an update to the original Merchant Center platform, was the event's second big commerce-focused announcement. The update aims to simplify the process for smaller merchants to get started and grow their business on Google without losing any of the features that larger retailers have come to rely on.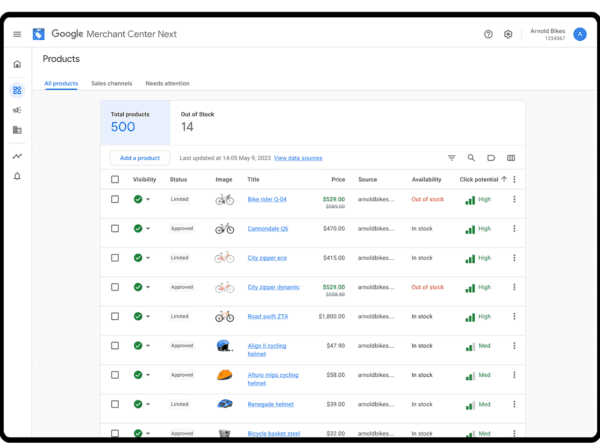 Merchant Center Next has already started rolling out for new users, and smaller businesses will be upgraded in the coming months, with Google expecting all merchants to be migrated to the new version of the platform in 2024.
New features of Merchant Center Next include:

Simplifying the process to set up a product feed: In the past, merchants setting themselves up on Google for the first time had to manually add their products, prices, images, descriptions and other details. Now in Merchant Center Next, Google will automatically populate a merchant's product feed with the information it can detect from the brand's website, making it much faster to get up and running on Google Shopping. Merchants will have the ability to edit what gets pulled in from their site or turn the feature off completely;
Bringing all insights reports into the Performance tab so that merchants can easily see metrics on their performance in one place, including best-selling products, what businesses show up next to theirs and how shoppers are engaging with their local business on Search and Maps;
A new insights tool that will show the potential benefits of fixing errors in product data, so merchants can more easily prioritize content updates; and
For merchants with both online and local brick-and-mortar stores, Merchant Center Next will show all products in one comprehensive view, so it's easier to manage online and in-store product inventory together.
"Google sits at the heart of the shopping ecosystem," said Madrigal. "Google isn't a retailer, and we're not a marketplace. It's our mission to connect shoppers and merchants who are looking for one another, so our goal in building tools for merchants is to bring Google's unique expertise to merchants at scale and help them grow their business."
Generative AI for Google Ads
Of course, the event wasn't only focused on improvements for merchants: Google unveiled a number of generative AI enhancements to its larger suite of tools for advertisers. This follows the announcement earlier this month of Google's new generative AI-enhanced search engine, called Search Generative Experience. "As the future of Search evolves, the future of advertising will evolve too — bringing more opportunities to grow your business and showcase your brand," said Jerry Dischler, VP and General Manager of Ads at Google in a blog post.
Dischler also pointed out that AI has long played a role in Google's ad products: "AI is foundational to Google Ads," he said. "For many years, it has been quietly helping in the background, supporting advertisers in maximizing their time and return on investment. It's fundamental to many of the products we've built over the last decade, driving growth for businesses of all sizes, from features like Smart Bidding to fully AI-powered products like Performance Max."
Now Google is increasingly bringing generative AI into that mix. New features coming to Google Ads include:
A new natural-language conversational experience within Google Ads designed to "jumpstart" campaign creation and simplify Search ads by tapping into Google AI. Advertisers can simply add a preferred landing page from their website; Google AI will summarize the page, then generate relevant keywords, headlines, descriptions, images and other campaign assets. Advertisers can also ask Google AI for ideas for their campaign, "just like they would a colleague," said the company. This new function, designed to help generate more effective campaign content, also mirrors a new offering from Meta that uses generative AI to help advertisers generate ad copy;
Last year, Google began rolling out automatically created assets (ACAs) for Search ads, which use content from a company's landing pages and existing ads to generate headlines and descriptions. Now Google plans to "supercharge" ACA with generative AI, to help advertisers more effectively create and adapt Search ads based on the context of a query. For example, with a search for "skin care for dry sensitive skin," AI can use content from a landing page and existing ads to create a new headline that aligns even more closely with the query, such as "Soothe Your Dry, Sensitive Skin"; and
New features for video ads will help advertisers generate video template text and voice-overs, and automatically resize video assets to meet different format requirements.
"It's your business, your marketing and your results — all multiplied by Google AI," said Dischler.