By all accounts, resale looks set to have a banner holiday season this year, as inflation weighs down consumer spending at the same time that younger consumers in particular increase their focus on cutting waste and shopping sustainably.
Findings from new research by ThredUP echo those of other recent studies, all of which indicate that the majority of consumers (71% in ThredUP's study) are looking for ways to be less wasteful this holiday season. Additionally, nearly three in four millennials said they would like to give more eco-friendly gifts this year, and 66% of consumers surveyed said buying secondhand apparel/fashion gifts is more socially acceptable than it was five years ago.
To highlight the appeal and potential of secondhand this holiday season, both ThredUP and fellow resale marketplace Dora Maar are featuring new exclusive designer collections of upcycled products made from used clothes.
ThredUP x Zero Waste Daniel
For its collection, ThredUP teamed up with sustainable fashion designer Zero Waste Daniel and The Nanny actress Fran Drescher. Daniel was tasked with creating a limited collection of affordable, eco-friendly pieces inspired by Drescher's signature style.
The resulting ThredUP x Zero Waste Daniel Full Circle Collection — which will be available to shop Nov. 15, 2022 — features a range of giftable items, from pet beds and bowls to scarves, bucket hats and scrunchies as well as some fashion pieces custom-made for Drescher. The collection marks a limited-time expansion into home goods for ThredUP, which generally sells only in the fashion and accessories categories.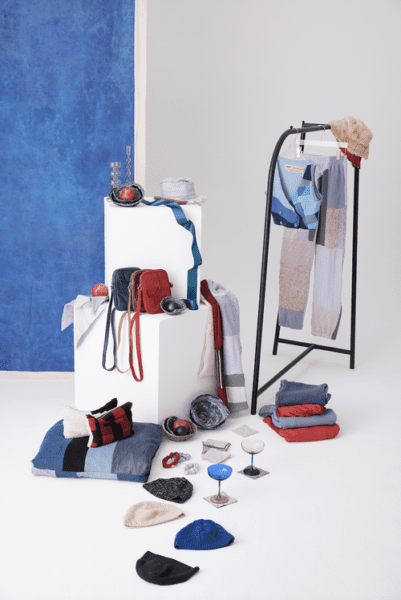 "We hope this collection designed by Zero Waste Daniel demonstrates that there is always more life left in the clothing we give away," said Erin Wallace, VP of Integrated Marketing at ThredUP in a statement. "As one of the largest online thrift stores, we are committed to thinking creatively about how we can recirculate and make use of every single item that comes through our doors. We also love a fashion throwback, so we decided to marry two of our favorites: secondhand clothes transformed into new looks and unforgettable 90s fashion. Who better to represent this combination than the ultimate then-and-now fashion icon Fran Drescher? We are thrilled to partner with her and Zero Waste Daniel on this campaign and show the world that some things just never go out of style."
The full collection features 1,000 pieces made by Daniel from approximately 2,000 pounds of textiles that could not be resold, with most items ranging from $20 to $60. (Although the bespoke Collector's Coats go up to $600.) ThredUP will donate 20% of the proceeds from the Full Circle Collection to Drescher's charity Cancer Schmancer.
"Nowadays, it feels like sustainable is a word people slap on something to make it more expensive," said Daniel in a statement. "My core belief is that everyone deserves to look and feel their best, and we all deserve a healthy planet too. I am so inspired by ThredUP's mission and was eager to tackle and challenge industry norms by making the sustainable option affordable."
Dora Maar x Converted Closet's Kate McGuire
On the other end of the spectrum is pre-owned luxury fashion marketplace Dora Maar's new collaboration with high-end fashion "redesigner" Kate McGuire, founder of the Converted Closet, which aims to demystify the process of converting clothes.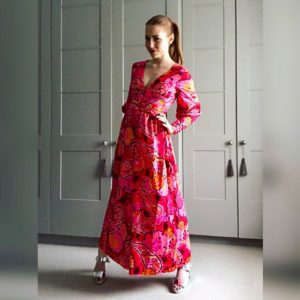 McGuire's new collection of upcycled couture — her first-ever consumer-facing offering — will debut on Nov. 11, 2022, via a video shopping experience hosted in partnership with Revo Video. The video will stream both on the Dora Maar site and across social media, with consumers able to instantly shop the handmade five-piece collection.
"We are thrilled to be partnering with the innovative Kate McGuire to bring her pieces of upcycled clothing to the public, as there's never been a collection sold in this way," said Lauren Wilson, Founder and CEO of Dora Maar in a statement. "Video shopping is an emerging medium where brands are able to connect and sell their products. This debut will allow consumers to see and hear the stories behind her beautiful 'converted' collection, taking the shopping experience to a whole new level."
"Clothes, especially refashioned clothes, tell the coolest stories, spark imagination and are an utter joy," added McGuire in a statement. "Creating a shopping experience where I can interact with consumers, answer their questions and regale them with the stories of how these pieces came to life, will create true 'shoppertainment.'"