OMG! Walmart customers have a new way to shop — by text message. The retailer's new Text to Shop capability launched Dec. 14, 2022, and is available for free on iOS and Android devices.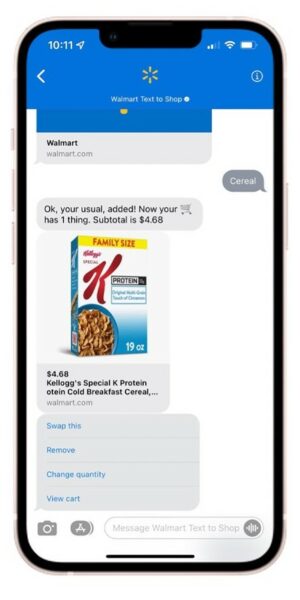 Once a customer enrolls, they are given a QR code that launches a text chat with Walmart on their phone. From there a customer simply texts the items they need. The retailer's full product selection is available through the service, including items at their local store and from Walmart.com. Shoppers can also easily repurchase products they buy frequently by texting "reorder" to see past purchases and selecting the items they need again.
Customers can add items to their cart directly in the text chat, as well as swap out items if they change their mind. When they're done, customers review their cart and then check out, either via text or in the Walmart app. They can then pick a time for pickup or delivery, all within the text chat unless they opted to switch over to the app).
The new Text to Shop service was built by Walmart's incubation division Store No8, in partnership with Walmart's Global Tech team.
"We worked closely with our customers to design Text to Shop," said Dominique Essig, VP of Conversational Commerce at Store No8 in a statement. "We know that for busy families and young professionals, finding opportunities to slow down and live in the moment is a priority — that's what inspired Text to Shop."
Walmart is on a roll this month when it comes to new tech offerings — just last week the retailer launched an image recognition tool called TrendGetter that lets customers shop Walmart.com with pictures and screenshots. Additionally, the retailer will reportedly soon be getting into the buy now, pay later space.