First off, it seems the term "Singles' Day" is a bit passé. The more contemporary appellation for the massive Chinese shopping extravaganza is apparently Double 11 or 11.11 (pronounced "Eleven, Eleven.") After all, as it heads into its 13th iteration, the event is clearly no longer targeted just to singles, and, for that matter, it's no longer just one day.
Unlike in the West, 13 is a lucky number, meaning "assured growth" or "definitely vibrant" — serendipitous since 11.11 2021 is set to be both, with an eager consumer base and historical precedent on its side. (Alibaba's sales have increased every year since the event debuted in 2009.)
According to executives at Alibaba, the official name is the 11.11 Global Shopping Festival, and they would know given that the ecommerce giant was the event's original architect. Now 11.11 has extended well beyond the Alibaba ecosystem to become the single biggest shopping event in the world. Alibaba and competitor JD.com racked up a combined $115 billion in sales at last year's 11.11, a record-breaking total and impressive rebound from the economic downturn that shaped the earlier half of the year. The fact that 11.11 2020 lasted 11 days, instead of the typical 24 hours, also helped greatly in boosting that number.
The dates for 2021 have yet to be announced, but one thing is sure — expectations are high following the Year of COVID ecommerce boom. In fact, eMarketer predicts that this year, China will become the first country in history to transact more than half (52.1%) of its retail sales digitally.
"China is the largest ecommerce market in the world," said Tony Shan, Head of Tmall Global (Alibaba Group's cross-border B2C marketplace) for the Americas in an interview with Retail TouchPoints. "Due to the ongoing travel restrictions, Chinese consumers have turned to our platforms for their overseas purchases. The budget that they usually set aside for travel is now going to shopping, especially online shopping."
And therein lies the opportunity for U.S. brands — capturing the attention and a piece of the wallet share of the 792.5 million digital shoppers in China hungry for something new: "There's huge demand in China for international brands," added Shan. "There's a large chunk of consumers now in the middle class, and they have a lot of disposable income. They're looking to upgrade their lifestyles."
For U.S. brands looking to enter the China market, 11.11 can provide a springboard to a whole new audience, but there are few things to keep in mind:
11.11 is much more than just Chinese Prime Day: There is no real American equivalent to the Chinese shopping festival in terms of both pageantry and scale, so a region-specific strategy is a must;
Promotions alone won't cut it: 11.11 is characterized by an element of discovery; consumers aren't just seeking deals but also innovation and novelty, and livestreaming in particular fuels that hunt; and
China is an equal opportunity market: There's huge demand right now for U.S. brands, and not just the big names, which is why Tmall developed the Pitch Fest program to help SMBs make their 11.11 debut.
[Editor's Note: You may also be interested in this recent article featuring insider tips and tactics for a successful 11.11 outing, including details on livestreaming, inventory considerations, advance testing of marketing and product strategies and the unique characteristics of Chinese consumers that need to be taken into account.]
Beyond Prime Day … Way Beyond
Those who haven't actually participated in 11.11 can be forgiven for thinking it's simply the Eastern equivalent of Prime Day or Cyber Monday. In reality, the two are very different animals. For starters, Prime Day and the like are really just big sales, but 11.11 is an event in the true sense of the word. It comes complete with a gala, digital games that offer discounts and product discovery, countless live-streamed performances and presentations, pumped up product launches, AR and VR experiences and more.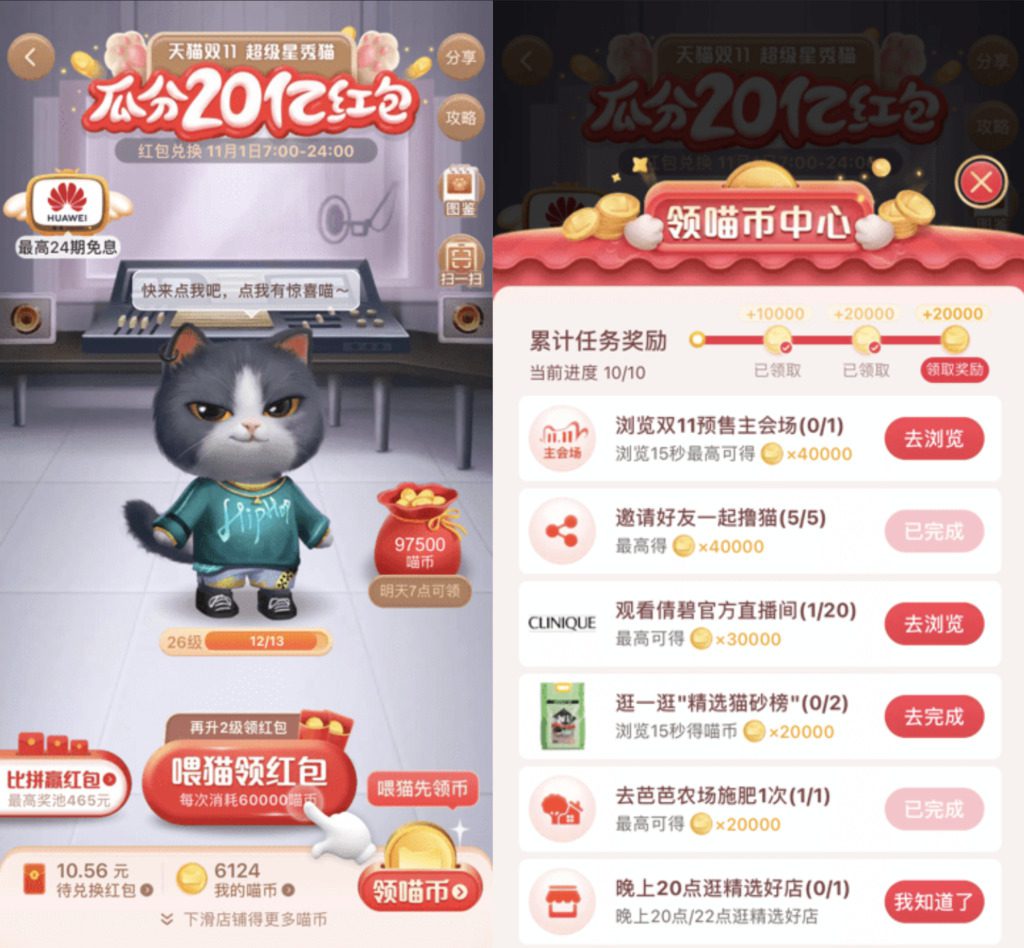 "It's not just about sales transactions, it's actually a lot more than that — it's about entertainment and engagement with consumers," said Shan. "The idea of the Global Shopping Festival is to celebrate shopping. Each year we try to elevate the experience for both our consumers and our merchants to make it fun for them to shop and experience."
Deborah Weinswig, CEO and Founder of Coresight Research, pointed out another important distinction: "Amazon is a retailer, so they're competing with [the brands] on their platform, whereas Alibaba is a true platform," she said in an interview with Retail TouchPoints. "So [Alibaba] is supporting the brands right through to intelligence and having a true shopping festival. There's a huge event, a big gala — that's not Prime Day."
For U.S. brands, replicating strategies from Prime Day or Cyber Monday for 11.11 simply won't work.
"For us, the approach is very different," said Max Bissell, VP and General Manager of Hard Surface and Robotics for floorcare brand Bissell, which has participated in 11.11 for the past three years. "In China, these festivals are a way for us to get the brand in front of consumers, it's such an important event for us to make a name for ourselves. The U.S. is a little bit more promotion driven, so you have to have really sharp prices to move units. In China, my learning is Chinese consumers are really willing to pay for innovation or something new."
A Platform for Discovery and Innovation
Beyond the pure fun of it, 11.11 has also become a testbed for innovation and discovery.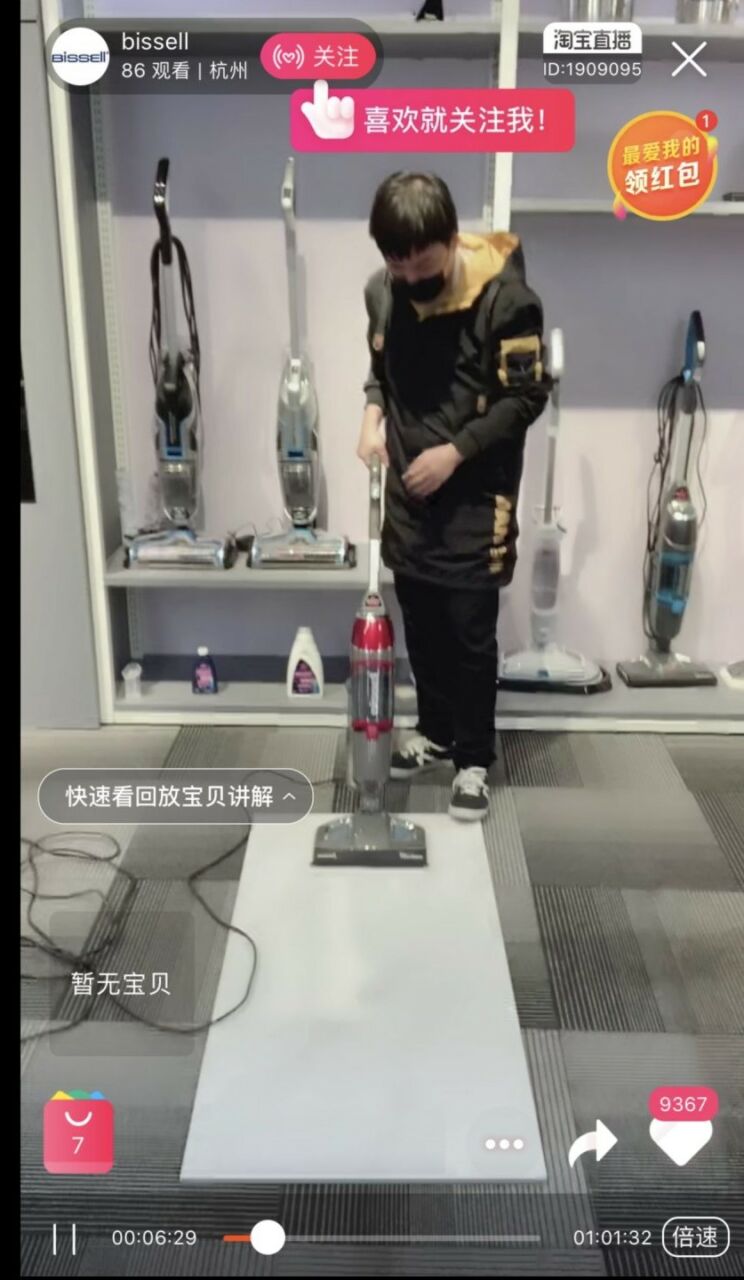 "A lot of new brands and new products are discovered by the consumer on Double 11," explained Weinswig. "There's a whole discovery process that takes place, and with all the livestreaming you're really learning how to use the brands or what the attributes are of a given product. You can also find brands that are consistent with your own brand values much, much easier."
Perhaps most importantly for U.S. brands, the consumer engagement and insights they have access to during these shopping festivals can be invaluable in shaping future strategy, both in China and beyond. Unlike similar platforms in the U.S., many of the Chinese social and ecommerce sites will share data with merchants. On Tmall for example, each brand has its own storefront and is given access to a full-fledged CRM system where they can see a host of consumer demographics, macro category trends and competitive analysis.
"You can think of our platform as a virtual mall, and each brand has what we call a flagship store within this virtual ecommerce space," explained Shan. "In the backend there are a lot of different data points that brands can collect, not only from a product perspective, but also from a customer perspective."
"It's a great opportunity to learn from a new customer, to get a lot of feedback and data," said Weinswig. "Here in the U.S., you don't get the data, and so it's very difficult to get smarter as a retailer. For example, on Douyin, which is TikTok in China, the data isn't available here in the U.S., but it's available in China. It's anonymized, but you know the demo of your consumer, when they came to the stream, when they dropped out, and so as a retailer you're getting smarter literally by the minute."
Not Just for Big Brands: The SMB Opportunity
Despite the clear opportunity for U.S. brands, entering China can still be an intimidating prospect. Alibaba is making a concerted effort to remove the barriers to entry for global companies, not least because of the huge and growing demand from Chinese consumers for international brands and products.
One of the ways they're doing this is with a now annual "Pitch Fest" specifically aimed at fast-tracking the process for U.S. SMBs to join 11.11 festivities. The first U.S. Go Global 11.11 Pitch Fest was launched last year in response to increased interest from brands in finding new digital channels for growth during the pandemic, said Shan.
Close to 100 brands applied and eight were ultimately selected to receive hands-on support and advice from Shan and his team, including everything from marketing and livestreaming tips to account support and help setting up their Tmall Global store. "A lot of [these brands] had been wanting to consider China for quite some time, they just didn't necessarily have either the resources or the business intelligence," said Weinswig, who was a judge at the program's inaugural outing.
"I think we are going to continue to offer [Pitch Fest] moving forward to help these brands get to know the Chinese consumer and the different shopping vessels in China and get prepared for 11.11," said Shan. "A lot of these brands don't know the intricacies of the market. It is a very different market, a different language, and consumer behavior is different. [Through Pitch Fest] our team guides them through this process and provides advice to figure out the best approach."
Applications are now open for the 2021 Pitch Fest — brands have until Aug. 6 to throw their hat in the ring.
Two years ago, Tmall also launched Global Overseas Fulfillment to enable cross-border transactions. The program lets U.S. merchants plug into Tmall's warehouses and logistics network in the U.S. to get their products to Chinese consumers.
"There's a lot of interest from small- and medium-sized businesses here in the U.S. because they see the potential in China and the lucrative customer base," said Shan. "Given the huge shift toward online shopping and also the growing demand for American products in China, brands should really have a China strategy."
[Editor's Note: Do you have a China strategy? Check out this article featuring insider tips and tactics for a successful 11.11 outing and for selling to a Chinese audience.]