It's becoming increasingly clear that returns have costs that go well beyond the financial. Each year in the U.S., 5 billion pounds of returned goods end up in landfills and 15 million metric tons of carbon dioxide are emitted in the transportation of returns, according to research conducted by reverse logistics solution provider Optoro.
Two trends are now converging to make the ecological problems of returns something that retailers can no longer ignore. A surge in ecommerce has caused returns to increase dramatically at the same time as consumers are focusing on sustainabilityas a core attribute in their purchase decisions. (In a recent survey by Coresight, 29% of respondents said environmental sustainability was more of a factor in their shopping choices now than before the pandemic.) This means that returns not only erode retail profitability — they also have the potential to erode brand affinity.
"It's wasted energy and it's wasted resources," said Marie Driscoll, Managing Director of Luxury & Retail for Coresight Research at an event presenting new research she spearheaded into the impact of returns on sustainability. "It's not necessarily quantifiable in terms of dollars and cents, but we know that [returns are] using up resources that could be better allocated in other areas and also could improve retailers' profit margins."
The good news is that the environmental and financial impacts of returns are so inextricably tied that any reduction retailers are able to achieve can address both problems simultaneously. In fact, returns reduction solution provider Newmine estimated that the 11.2% average annual U.S. retail return rate could be reduced to 7.7% with proactive retailer interventions, representing $125 billion of avoided returns.
After the events of 2020, both retailers and consumers are primed to take action:
Last year's ecommerce surge brought returns out of the shadows and made them a point of focus for both retailers and consumers;
Returns reduction is complicated but possible, with research showing that eight of the top 10 reasons for returns are controllable by the retailer; and
The first step for both retailers and consumers is education: understanding the reasons for returns so they can be addressed, and making consumers aware of the costs so they can make different choices.
Ecommerce Boom Amplifies Environmental Impact of Returns
Return rates for goods bought online can be as much as 3X higher than those bought in stores, according to Optoro. And they have significant negative impacts on sustainability in the form of increased carbon emissions, packaging and plastic waste and landfill contributions. Optoro estimates that ecommerce returns can produce up to 14% more landfill waste than brick-and-mortar returns because of inefficiencies in traditional reverse logistics.
"From the time the product is manufactured there is an absolute impact to sustainability, whether it is carbon emissions, packaging, etc., and as soon as a return happens, you just multiply that by two," said Navjit Bhasin, CEO and Founder of Newmine, who spoke at the Coresight event.
Retailers Have the Power to Impact the Majority of Returns
Despite the fact that returns carry a huge environmental cost, they have not really been a focus of most retailers' sustainability efforts, perhaps because returns have long been viewed as simply a cost of doing business. That may not be the case, however; as an estimated 73% of returns could be avoided by retailer action, according to research from Incisiv in partnership with Newmine. In fact, almost all of the top 10 causes of returns are at least somewhat in retailers' control.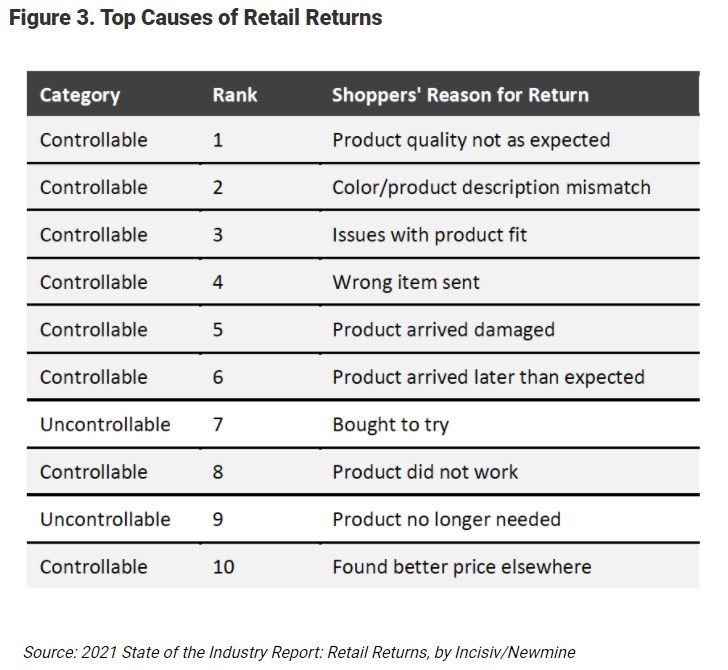 The top five reasons for returns include issues with quality, products not matching the description, issues with fit, the wrong item being sent and products arriving damaged — all problems that retailers have within their power to mitigate.
"Even though [returns] are everyone's problem, it's nobody's problem, because there is no one true owner accountable for it, hence it's never been a priority," said Bhasin. "[Returns have] already been baked into the P&L. If I've already assumed that a 20% return rate is acceptable, then I'm not going to do anything proactively to reduce it, but at the end of the day, returns are unprofitable no matter how you slice it or dice it."
"Everyone's focused on, 'What were my sales yesterday?' but nobody looks and says, 'What were my returns yesterday?'" said Michael Relich, recently named Co-CEO at PacSun, who spoke at the Coresight event. "The big thing that drives that is, the data is siloed throughout the organization. It's really not very easy to go and actually pull all the data necessary to find out what's driving returns. It's very, very onerous, so it's kind of like taking out the garbage; people just tend to ignore it."
Returns Should Signal Retailers About Marketing, Merchandising and Product Quality Issues
But as consumer and financial pressures mount, it's clear a change is in order. "When a customer returns something, what does it mean? It means as retailers we failed that customer," said Relich. "Did we have wrong copy? Do we have bad photography? Did we not describe the product correctly? That all results in a reduction in lifetime value for the customer. Rather than retailers just focusing on driving comp sales, you need to go and look at returns, because it's probably one of the lowest-hanging pieces of fruit to increase profitability."
If retailers take the time to understand why a return is happening, it can actually present an opportunity to mitigate the problem. "Not all returns are bad," said Bhasin. "If a consumer is returning a product, and it is due to, say, product quality, or some other issue that the retailer can learn quickly from and take corrective action, it can prevent future returns."
For retailers, the first step toward action is getting a complete picture of the causes of returns. This requires a consolidation of organizational data surrounding returns, which is more possible than ever before thanks to advancements in AI, analytics and automation technologies.
A host of solutions are now available to help retailers proactively reduce returns, including:
Virtual fitting technologies to help consumers get the right product the first time;
Data tracking and mitigation solutions like those offered by Newmine to help identify and then address return drivers; and
Reverse logistics solutions like Optoro, Returnly or Happy Returns that make the returns process easier for customers and encourage more sustainable solutions, such as box-free returns.
Another key component of the puzzle is educating consumers about the impact of returns.
"I don't think consumers are even aware of how much [returns] cost in the negative impact on the environment," said Relich. "Retailers need to focus on returns because the financial impact is significant, but that starts with educating the customer."
Generous return policies have moved from the realm of a competitive edge to a consumer expectation. But research shows that if consumers are made aware of the impact of their returns on the environment, many of them would be willing to shift those expectations.
Nearly six in 10 consumers (57%) recently surveyed by the National Retail Federation and IBM said they were willing to change their shopping habits to reduce their environmental impact. That number jumps to 77% among consumers who say sustainability is important to them. And while there is a subset of consumers who say that carbon footprint is simply not a factor they consider when buying online, Driscoll said Coresight's recent research found that 23% of consumers would actually be willing to pay to offset the environmental impact of their online shopping.
"Retailers don't need to boil the ocean," said Bhasin. "Start going after the low-hanging fruit to make an impact first financially, because you know what? Consumers are spoiled. You can't change them overnight; that's going to require a whole village to make a big change. But the bottom line is, returns can be reduced. You just need the right level of executive ownership, the right tools and the right processes."