Before "resale," there was "thrifting." And before Poshmark, ThredUP, Facebook Marketplace and even eBay were a twinkle in their founders' eyes, there was Goodwill.
Launched in 1902, Goodwill far predates even the internet itself, but that's not stopping the more than 120-year-old nonprofit from staking its claim in the online resale movement with its new marketplace GoodwillFinds.com.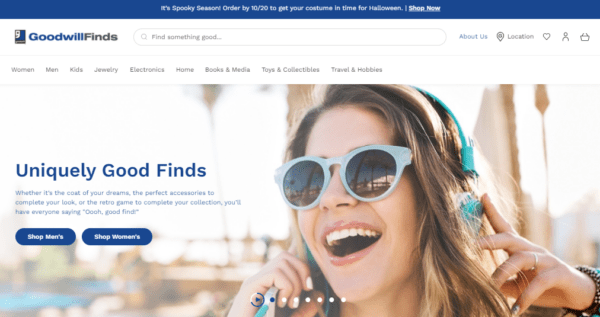 "Goodwill is the OG of thrift stores," said Matthew Kaness, a retail OG in his own right, who recently joined as CEO of GoodwillFinds.com. "With the scale of the of the operation — $4 to $5 billion a year, mostly store-based — it feels like the giant has woken up and is now looking to take its rightful place.
"The digital online revolution has been happening for decades, but now the timing is great with the customer," Kaness added in an interview with Retail TouchPoints. "The customer is saying not just, 'I love thrifting, I love discovery, I love "the finds,"' but also 'I want to participate in the circular economy, I want to put my dollars toward brands whose mission I can align with.' Shopping Goodwill online will go back to social service programs at the location where the item was donated, so there's a real circular ecosystem around this venture that I know the consumer cares about. I think [they're going to] align their conscious consumerism around it pretty quickly."
A Familiar Name in a New Space
Most of what you need to know about the newest player in online resale is already common knowledge, evidenced by the fact that almost every consumer in America already knows the Goodwill brand — the organization boasts an enviable 94% name recognition.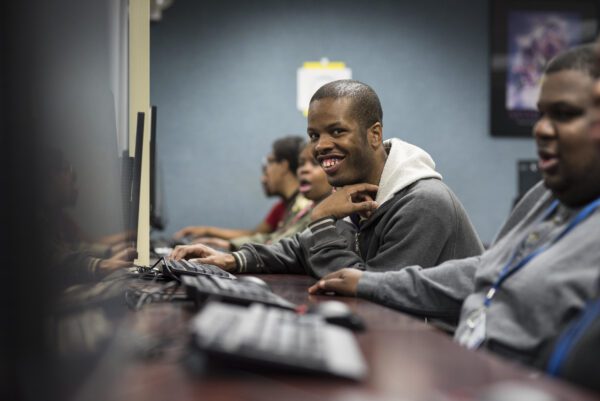 The nonprofit is centered around a mission of removing barriers to employment through training, job placement, mentorship and more. This mission dates back to the organization's founding when Reverend Edgar Helms realized he could better serve the beneficiaries of the used goods he was collecting and re-distributing by giving them a job helping him with the effort. In 2021, nearly 2 million people utilized the social services of their local Goodwill and more than 123,000 people were placed in jobs.
The environmental impact of Goodwill's retail operation will also probably not come as a surprise — last year Goodwill's 3,300 thrift stores diverted 3 billion pounds of items from landfills.
"Goodwill has built a legacy of strengthening communities through the power of work," said Steve Preston, CEO of Goodwill Industries International — the parent organization that oversees the nonprofit's retail and social efforts — in a statement. "GoodwillFinds furthers that mission through a modern online shopping experience backed by a century-old philosophy to harness resale with purpose. This is an exciting inflection point for the organization, as GoodwillFinds expands the thrifting alternatives to existing supporters and brand-new visitors."
Kaness certainly seems like the perfect person to head the endeavor, having made a career of leading brands through their own major inflection points. He was at Burton Snowboards when it crossed over to mass market, just as the X Games were entering the Olympics; then he spent nearly eight years at URBN during the dawn of Web 2.0, leading the ecommerce build-out across Urban Outfitters, Anthropologie and Free People; after that he went to ModCloth just as digitally native vertical brands were picking up steam; which then brought him to Walmart when the retail giant bought ModCloth in 2017 right during Walmart's "head-to-head with Amazon. It was fun to be a fly on the wall for Mark Laurie versus Jeff Bezos," Kaness recollected; finally, he worked with AfterPay just as the BNPL boom was beginning. After all that he took a break from corporate roles, spending his time angel investing, mentoring and "trying to get back to inspiration."
"I wasn't looking to join a nonprofit, but this job really pulled at the heart," he said. "My older brother was born with cerebral palsy. I've watched him go on and off disability his entire adult life, and he is living his best life when he's working. Goodwill's mission of transforming lives with the dignity of work is a huge deal, and the more I learn about the scale of the impact that they have every year, the more I'm excited to tell the story and help get the word out."
Nonprofit Meets Resale
Goodwill operates under a federated store model, essentially the nonprofit equivalent of a franchise system. Across the U.S. and Canada, 150+ regional Goodwill affiliates each operate their own independent 501(c)(3)s with their own Boards and assets. These local operations then pay a membership fee to the umbrella Goodwill Industries organization.
GoodwillFinds.com is set up the same way, as an affiliate associated within the larger Goodwill organization. The site was founded by six Goodwill member groups — Goodwill Industries of Southeastern Wisconsin, Evergreen Goodwill of Northwest Washington, Goodwill of Colorado, Goodwill of Southern California, Goodwill of Central and Southern Indiana and Goodwill-Easter Seals Minnesota — representing a combined 338 stores. At launch, four of those founding members are already contributing products to the online marketplace, with additional member groups set to be added continually in the coming months.
The platform formally debuted Oct. 4 with more than 100,000 unique items. "We'll quickly scale that to at least 1 million by the end of next year," predicted Kaness. "The scale and velocity of the turnover of unique items that we're going to be launching online is going to be akin to your local Goodwill. Every week there will new things that show up, and it's all priced to move." Those products will span everything from women's, men's and kids' clothing and shoes to housewares, books, toys and collectibles.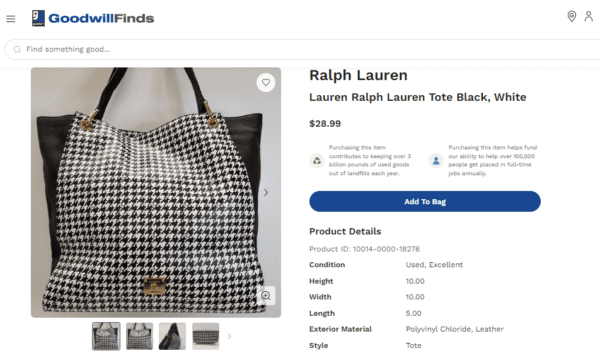 The new marketplace is powered by a proprietary recommerce platform that enables existing store staff to scan and upload products to be sold online, directly from the store. "The folks that are being retrained are those same people that Goodwill give jobs to, folks that are typically outside of the mainstream labor market," explained Kaness. "So we're super sensitive to the fact that we are serving them as much as we are serving the customer."
The anticipated result is a user-friendly platform that will make it easy for existing staff to manage a highly distributed assortment where every item is unique. The online marketplace is built on Salesforce's Commerce Cloud platform with a number of other solutions integrated to support the full stack of capabilities needed.
"The reason it's important to mention Salesforce is they are built for scale," said Kaness. "I've been at some early-stage ventures where I have advised founders to go into Shopify Plus because it's very configurable, it's lightweight, it's cheap. But we are building GoodwillFinds to rapidly scale, and Salesforce is the perfect partner for that."
Like other marketplaces the funds from the sale of each product will go back to the original seller, in this case the Goodwill store where the product was donated. Unlike with other marketplaces, GoodwillFinds wants to minimize as much as possible the amount it takes for itself from those transactions. "Once we cover our overhead, we're passing the profits back to the various Goodwill partners to fund their social service programs," said Kaness. In fact, the website promises that 87 cents of every dollar spent will end up back with the originating store.
GoodwillFinds sidesteps the sticky issue of returns by not accepting them — all sales are final except in the case of fulfillment errors or goods damaged in transit.
The OG Advantage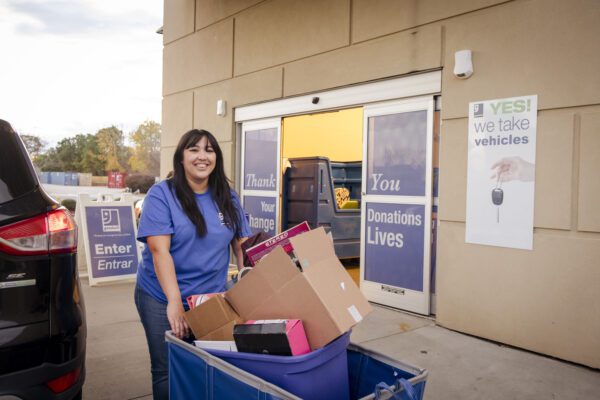 Goodwill has a number of things working in its favor as it enters the hotly contested online resale arena — name recognition, a reputation that will appeal to conscious consumers and, of course, its stores. "We have constant donations coming into the various goodwill donation centers," said Kaness. "Getting access to supply can be a challenge for some of the marketplaces out there, but that shouldn't be a constraint for us."
Another advantage that Kaness sees is the company's status as a nonprofit. While most of Goodwill's competitors have similar mission-oriented goals and messaging, as Kaness pointed out many of them have recently gone public and as a result "are under tremendous pressure" to perform financially.
"I hope we're all successful, because it means that the economy is accepting secondhand as mainstream, and that's good for everybody," he said. "But when consumers are considering shopping GoodwillFinds versus some of these other sites, there's this added benefit of knowing that there's a story behind the item and there are people at the location that are going to benefit from that purchase directly.
"One of the things that I love about digital and online retail is that there is definitely a 'coop-etition' thing that happens with these firms that compete also cooperate," Kaness added. "Amazon is a marketplace, but many Goodwill members sell on Amazon. It's no different than folks that have their own DTC business selling on Amazon. But secondhand is growing 8X faster than total retail — it's a large and rapidly growing sector. I think there's going to be room in the market for multiple players to win."
In fact, Goodwill isn't completely new to online resale. Many stores choose to sell some items on existing resale platforms like Amazon and eBay. For example, a lot of the used books on Amazon come from local Goodwill sellers. And Goodwill actually already has an online marketplace ShopGoodwill.com, which was launched by Goodwill of Orange County in 1999. But that site is a whole different animal, leveraging eBay and selling items via an auction format.
"GoodwillFinds is built on our proprietary, fully vertical marketplace and technology platform — it's apples and oranges," Kaness said. "It's pretty common for companies that sell through marketplaces to have multiple listings, so over time we'll figure out which items make sense for us to be selling on GoodwillFinds exclusively versus ones that we want to also sell through Amazon and other markets. That's just Retail 101 stuff that you figure out based on customer reaction."
Other plans for the future include the addition of membership and loyalty programs and building out marketing with local customers and influencers to spread the word about this new way to shop Goodwill.
"It always comes back to the customer, right?" said Kaness. "The RealReal is focused on the luxury accessory space, there's secondhand sneaker marketplaces out there — we're going have some of those kinds of items donated to us but our positioning in the market is going to be really broad. It's also going to be targeted to a specific segment of the market, that is, folks that love thrifting, love discovery, want a great deal and are consciously using their dollars to support a good cause. I don't think we're going to have a problem finding our spot in the market."