Despite rumblings of consumer fatigue, Insider Intelligence research indicates that U.S. subscription ecommerce sales will continue to see double-digit growth over the coming years, swelling from $33.48 billion in 2022 to a projected $43.13 billion in 2024.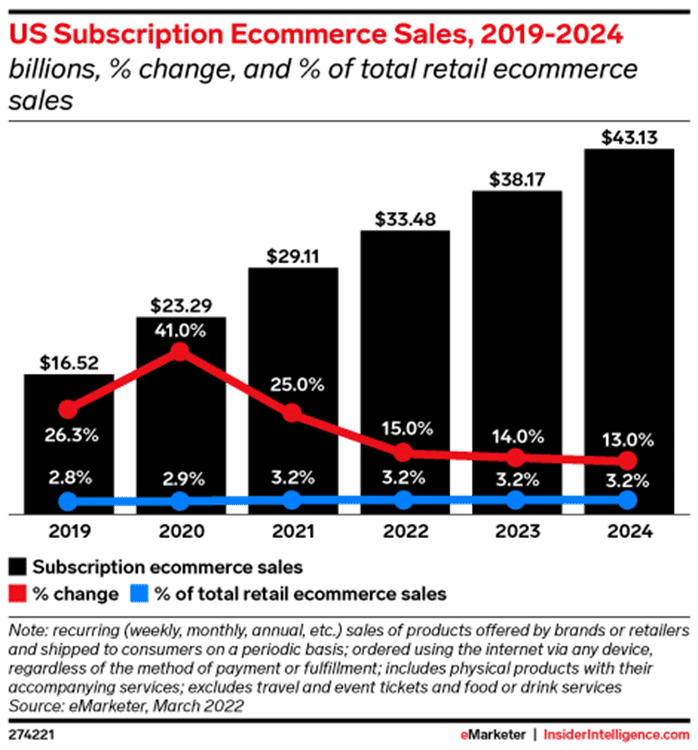 The firm points to two categories that will have the biggest influence worldwide: food and beverage, and beauty and personal care. That's a good sign for CPG brands, which are capable of making the most seamless transition to subscriptions: deodorant, toothpaste, diapers and even smoothie packets quickly become part of consumers' routines. While the brand reaps the rewards of recurring revenue, the consumer benefits from the ease, convenience and savings from maintaining a subscription. But as a looming reception encourages some consumers to curb spending, CPG brands are focusing on ensuring that their subscription programs are too valuable to cancel, which is why companies are:
Using subscription programs to power both acquisition and retention;
Assessing their program benefits and expanding their tiers;
Making the program registration and customization process easier; and
Tapping data to further personalize and optimize program strategies.

Even extremely niche brands like Neuro Gum, a gum and mint brand with products designed to increase energy and mental focus, can benefit from the model. Each of Neuro Gum's SKUs are available for subscription, a way to seamlessly embed the products into consumers' daily habits, according to Co-founder Kent Yoshimura.
"Instead of supplements that sit in bottles in your medicine cabinet, our belief is that health should be readily available in your pocket," Yoshimura said in an interview with Retail TouchPoints. "There's a plethora of daily health supplements we take to improve our health, and Neuro Gum aims to be the one that fits your schedule, rather than the other way around. Health should be accessible, shareable and available to you at any time of the day. And for that reason, I think subscriptions and us being a part of our customers' daily lives is the intention we aim for."
For obvious reasons, diaper brand Freestyle also has made subscriptions core to its business strategy. In fact, the brand's hyper-absorbent bamboo diapers are currently only available through subscription, although there are plans to revisit that decision as the company's assortment grows.
"Since each order includes six packs of diapers, approximately a four-week supply, the subscription program revolves around a monthly delivery model," explained Mike Constantiner, Co-founder of Freestyle. "Given the nature of diapers, and the long-term economics of a subscriber versus a la carte shopper, we offer a 15% discount on a diaper subscription and make it the default selection on our website."
Brands seeking success in the subscription arena certainly don't need to limit themselves to necessities: many lean into a more entertainment and discovery-based model, which means their subscription offerings revolve around access to communities and content versus standard financial benefits. Paul Chambers, CEO and Co-founder of the Subscription Trade Association (SUBTA) offered Vinyl Me, Please as an example, a record of the month club that brings the model a step further by tapping into members' innate love for music. Members can select from several tiers offering different benefits, including access to a community, an exclusive store, listening booklets and even collectible art prints.
In both cases, brands with subscription models should focus on going the extra mile to create value and create a foundation for long-term engagement. If they don't, brands will stagnate, no matter how quick their initial growth was.

"After a certain amount of time, brands will eventually tap into their total addressable market from an acquisition side of things," explained Chambers in an interview with Retail TouchPoints. "You run so many ads on Facebook [and other channels], and it gets more and more expensive, so you start to plateau. That's because you just focus on acquisition, or you just focus on retention. What you're not paying attention to is the referral opportunity, where you can go to those loyal fans and give them incentive to share what they love so much about your brand with everybody else in their network."
Driving Growth Through Subscription Services
Brands also need to ensure the mechanics of their programs are as frictionless as possible, including seamless transitions from acquisition to retention. Insider Intelligence advises brands to determine whether they want to focus on convenience or product discovery as their primary value drivers — and then double down on that decision.
"If discoverability is your claim to fame, then play up your offerings and lean into surprise," recommended Arielle Feger a newsletter analyst at Insider Intelligence. "But if convenience is what you aim to offer, emphasize a seamless customer journey and customer discounts."

Executives from various CPG brands offered insights into how they have embraced the subscription model to drive long-term growth for their organizations:

Tip 1: Leverage subscriptions to drive customer acquisition.
As noted earlier, subscriptions can be used to support both acquisition and retention. Superfood wellness brand ARMRA has seen many net-new customers immediately subscribe to its products, which is why CMO Molly Murphy recommended that all brands add subscriptions to their acquisition funnels.
"We initially thought we'd bring people in and then upsell them to subscriptions, but people are really open to subscribing right off the bat," Murphy said in an interview with Retail TouchPoints. "It works perfectly to get them to establish that consistency early on, and promoting flexibility of the subscription program has seemed to be one of the most important things for these customers."

ARMRA also has recently added bundled products to its subscription offering, which has proven to help customer acquisition efforts. "Our entire line of ARMRA's Immune Revival is available for subscription, including our bulk jar and our convenient stick packs," Murphy explained. "We recently launched the duo as a bundle, and we've had a lot of customers who immediately subscribed to the duo."
Tip 2: Tailor marketing and advertising strategies based on customer relationship status.
Slate is a line of all-natural, lower-sugar, higher-protein and lactose-free chocolate milks and lattes. The protein powder and beverage market is extremely saturated, which means the marketing team needs to focus not just on building brand awareness but showcasing the value of the product through different use cases. While the brand's marketing and advertising strategies are focused on these goals, the tactics vary based on whether the brand is engaging new or existing customers.
"For current customers who aren't subscribed, we target them with very specific ads about 'drinking moments,''' said Ron Lubin, Senior Marketing Manager for Slate. "The ads help them realize that they can use the product in various ways, from breakfast to mid-day boost and a post-workout. The message is, 'We already know you like the product, you can use it in these different ways, and you can save some money when you subscribe.'"

Lubin and his team also use pop-ups and email flows, powered by Klaviyo, to further tailor the customer journey by using data to activate different flows that drive upsells. If consumers purchase the same Slate product twice within a 60-day period, the brand pushes a suggestion to try a subscription.

The pop-ups' content is differentiated for new customers, current customers or subscribers, Lubin explained: "The pop-up that shows up has a discount if you're a new customer and have never ordered," he said. "That completely changes when we recognize that you're a customer coming back to the site for a new purchase. The same thing happens with the ads. The pop-up lets the customer know you can save money if you move into a subscription. The returning customer will also get more information on drinking moments and various use cases."
Tip 3: Create subscriber benefits that are too good to pass up.
When visitors become subscribers, brands have a unique opportunity to showcase the benefits of becoming a long-term (and loyal) customer. That's why Neuro Gum tailors marketing messaging to focus on the exclusive perks and benefits of being a subscriber.

"We default to subscriptions in much of our messaging," said Neuro Gum's Yoshimura. "For example, using email segmentation, we grant subscribers additional benefits, whether it be early access to new products or exclusive rewards for subscribers only. We try and create merchandise on a quarterly basis, so depending on how long they've been a subscriber, we try and reward them with the merchandise. Another example of how we reward subscribers is through one of our tech partners, Aisle, which allows us to Venmo subscribers' money back."
Tip 4: Make it easy to subscribe and customize buying options.
Chambers noted that customer journey mapping can make or break a brand's subscription model. Teams need to constantly test the subscription registration, customization and even cancellation processes to ensure the entire interaction is seamless.

For example, Freestyle implemented Smartrr to "make the subscription account signup process incredibly simple for customers," Constantiner shared. Consumers can "check out as they would in a normal Shopify checkout and [also] have the ability to manage their subscription in Smartrr's intuitive customer account portal." This allows subscribers to update diaper sizes as their babies grow.
Slate takes a similar approach by allowing consumers to easily alter the size and frequency of their orders. However, the brand also uses this capability to offer steeper discounts as members grow their basket sizes.
"We offer a 12-, 24- and 48-pack with increasing discounts as the quantity goes up," Lubin explained. "We also offer increasing discount percentages on our subscription for each pack size. With the increased cost of shipping, we can pass on the savings to the customer. The customer can choose to buy twice the amount of the product less often for a discounted price. Because our product is shelf stable, it doesn't need to be refrigerated, which makes it ideal to subscribe for large quantities."
However, the most critical (and often overlooked) part of subscription commerce is making it easy as possible for consumers to cancel their memberships. It may seem counterintuitive, but for some consumers, cancellations may initially be short-lived. Chambers noted that the experience they have will ultimately impact whether they decide to return in the future.
"The fear has always been that consumers are going to cancel, but really, you need to worry about them leaving forever," Chambers explained. "It's OK if they pause for a month or two. If you make it easy for them to do that, their customer lifetime value (CLV) is going to be better in the long run."
Tip 5: Use data to continually improve your model.
All the executives interviewed stressed the importance of setting and revisiting KPIs as a brand's subscription model spends more time in-market. "Always test your offering and structure," Constantiner noted. "Just because something seems to be working fine doesn't mean there isn't room for improvement. Ensuring that you're providing the best subscription experience for customers is understanding your own metrics and living in the dashboard, specifically analyzing active subscriptions and retention rates, comparing month-by-month."