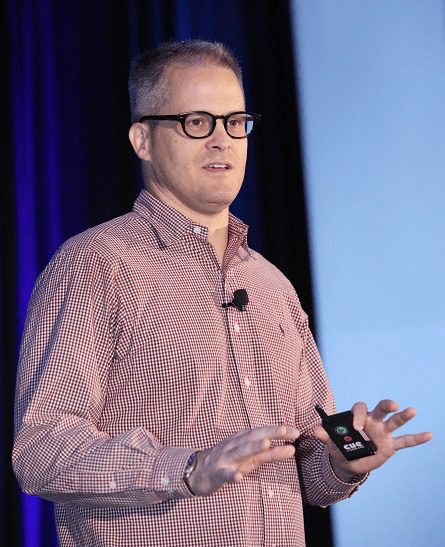 With a vision to "be the most fun outdoor retailer on the planet" while selling the best outdoor products, Moosejaw strives to deliver experiences that are both meaningful and memorable — all hinging strongly on being relatable to the shopper.
The retailer operates by four chief values: be notable, get people engaged, make customers love the brand and "only do cool stuff" — or in business terms, be willing to test, try and fail — according to Dan Pingree, Moosejaw's CMO, in a session at Retail TouchPoints Live! @ RetailX.
To embody the first value, Pingree said Moosejaw routinely poses two questions: "Is this campaign something the average consumer would tell 10 friends about?," and "Is this a campaign that REI would do?" (If it's the latter, Moosejaw is unlikely to move forward with this idea.)
"It's all about being relatable, and about being fun," Pingree said during the presentation. "It's about experiencing the outdoors on your terms. If your experience in the outdoors is nothing more than grilling a hamburger or going to a soccer game with your daughter, that's every bit as cool as scaling Mount Everest. You'll notice it's not selling the most badass outdoor stuff, it's just about selling the best stuff. We really try to relate to one another."
'Tallest Moose,' $1 Kayak Shipments Personify Moosejaw Marketing Capabilities
These values extend into all of Moosejaw's marketing campaigns, whether through the company's 10 stores, e-Commerce site experience, mobile site, email, direct mail and even product listing ads. Moosejaw delivers these campaigns to shoppers at all interaction points as well, including when they're shopping, returning a product or seeking customer support. For example, a blog post may showcase the optimal way to pack a backpack for a weekend getaway.
Pingree shared examples of Moosejaw's outside-the-box, zany marketing campaigns, including an experiential on-site deal where shoppers could get $1 shipping on kayaks and stand-up paddleboards. As part of the campaign, Moosejaw wrapped the kayaks to make them look like bananas, and actually shipped them out to consumers who ordered them that way. Campaign imagery included a gorilla holding the oversize "bananas."
"$1 shipping isn't really that interesting or that notable at all," Pingree noted. "But if it comes wrapped like a banana, Target isn't going to do that. We ran the kayak promo, which we do once per year, and it's significant because it usually costs $250 to ship those products."
Moosejaw also interjected itself into an international feud over which town could claim it housed the tallest moose statue in the world. While "Mac the Moose," built in the town of Moose Jaw, Sask., held the crown at 32 feet for more than 30 years, Norway's "Storelgen" beat the statue by 20 inches upon its completion. Moosejaw "responded" to this by unveiling its wobbly 34-foot "Peanut" statue outside its corporate office to "break" the record. Pingree highlighted this as a perfect instance of the "Moosejaw Madness" the company strives to include within its marketing campaigns.
"This wasn't about sales; this wasn't about conversion; this was about the Moosejaw experience within Moosejaw and within the employee base," Pingree said. "This was designed to be something that was notable that for sure REI wouldn't do. It was a great morale booster internally. Of all the videos we've done as a team in seven years I've been at Moosejaw, that's the one I'm most proud of. It encapsulates Moosejaw in two minutes and is dead on."
New Owner, Same Moosejaw…But Bigger
Moosejaw's marketing delivers standout success for the brand, but the company's acquisition by Walmart in February 2017 was such stunning news that many have since questioned whether the outdoor brand has changed its approach to specialty retailing. According to Pingree, the answer is a resounding no. In fact, Moosejaw has been able to develop its Walmart partnership through the Premium Outdoor Store, which the companies launched in August 2018. Moosejaw curates the site with premium outdoor brands such as Tentsile, Jack Wolfskin and Craghoppers.
"Hundreds of millions of consumers per month come to Walmart.com, and they need more options for their outdoor needs than Ozark Trail and Coleman, which were two private label outdoor brands on Walmart," Pingree said.
Going forward, Moosejaw seeks to continue expanding its assortment, both on its e-Commerce site and on the Premium Outdoor Store, and to do more outreach toward Walmart's audiences, which are typically more diverse than Moosejaw's. The retailer is currently investing in recently launched categories, such as its bike and snow shop in Birmingham, Mich. The shop will convert to offer more snowboarding and skiing gear in the fall and winter seasons.
"In the past, we've sold skis and snowboards through third parties, but this is all our own inventory," Pingree said. "So we're taking a bigger bet and saying 'We need to be more than just a Canada Goose jacket or a North Face jacket. We need to have all the gear too.' It's a bigger risk, but it's a big opportunity for us and we're up for the challenge."