Whether they're shopping for clothes, toys, books, furniture or electronics, consumers shopping for baby items can easily be overwhelmed by the volume of information available — especially online. For more than a decade, Babylist has helped make researching, registering and buying items more seamless, thanks largely to its robust content strategy. Now, as its users rely more on digital channels and content to make buying decisions, Babylist is reaching a new frontier of engagement with its Cribs Virtual Showroom, which builds on the success of the company's physical pop-up experience in Venice, Calif.

Through quarterly surveys, consumer panels and individual UX research, Babylist has been able to master its content strategy. "From all that insight, we've found that our audience, especially during COVID, relies a lot on our content to understand what to register for and even how to use products," said Lee Anne Grant, VP of Revenue for Babylist in an interview with Retail TouchPoints.
While creating and amplifying content across email, video, social media and its site has helped Babylist build credibility and drive user engagement, "one thing we have never been able to help them with is the physical touch-and-feel experience with products," Grant noted. Babylist used the California pop-up to venture into that world, and the virtual showroom, which was developed in partnership with Obsess, is helping close that context gap even further.
A Virtual Walk-Through Shows Products in Real-Life Contexts
As consumers venture through the Cribs Virtual Showroom, they digitally walk through the floor plan of the home used to simulate the "IRL" experience. They can venture through different vignettes, such as a living room, kitchen or backyard, and see a myriad of products "in situ." Once consumers click on a product hot spot, they can access in-depth content including photos, videos, product descriptions and even educational blogs and resources.
To bring this more contextual experience to life, Babylist had to create a rich library of content — everything from TikTok videos to YouTube product tutorials, videos and photography — in a branded content studio. "We created about 181 new pieces of content to meet our constant mission of educating and supporting the consumer," Grant explained. Babylist is serious about the educational aspects of this offering; in fact, while setting goals for the experience, "the word 'sales' was never mentioned. The goals are around engagement, content creation, sharing and the Net Promoter Score of those who go through the experience," said Grant, adding that "our director of editorial led the process of selecting which products would be featured in the home because we are a very editorial-driven company."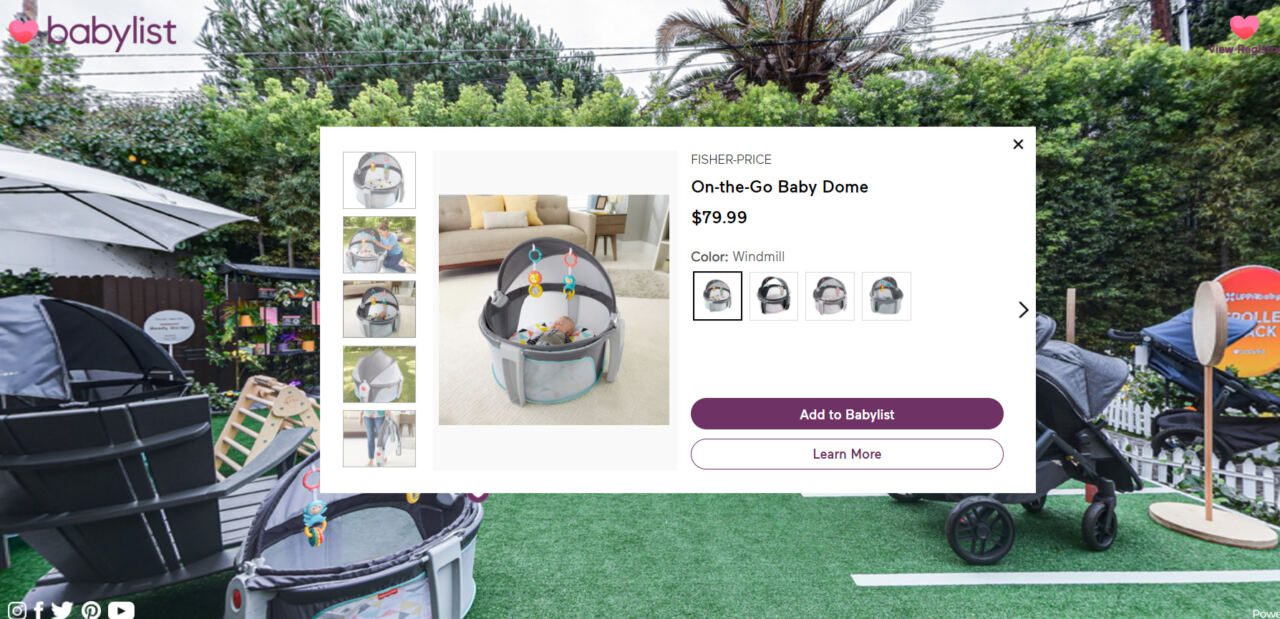 Creating 'Parent-Centric' Content Built for Accuracy and Engagement 
After combing through Babylist's top-performing articles to gauge consumers' interests, needs and challenges, the team determined which evergreen resources could be used as is and which needed to be updated for accuracy and timeliness. Babylist then integrated products from 13 different brand partners into the space. "This allowed us to bring some first-to-market products into the experience and then create content around those items," said Grant. The entire experience, which spans two levels and nine rooms, features more than 650 products.
Babylist used its in-person showroom in Los Angeles as a road map for the virtual iteration. The "IRL" showroom was very focused on user experience, brand growth and marketing, Grant noted, which empowered the team to build an experience that was "parent-centric."

Although the physical showroom featured hundreds of products, they were staged in an authentic, integrated way — not in a way that felt obvious or forced. Through visitor surveys, Grant learned that consumers felt they were in a "no-pressure environment" that allowed them to browse and experience products freely and in a more tangible way. The virtual showroom represented a way to bring this leisurely experience into the virtual world and create a vibrant testing ground that will help Babylist better understand consumers' content preferences and consumption habits.

While the goal for any team is to create content that drives engagement and action, accuracy is even more central for the Babylist business. "We have really strong editorial standards around safety," Grant noted. "We want to make sure content has our products showing up in a very safe and accurate way." For example, the director of editorial walked through the virtual showroom to ensure there were no safety risks, such as images of blankets in cribs: "We want to make sure we're educating our parents in a smart way."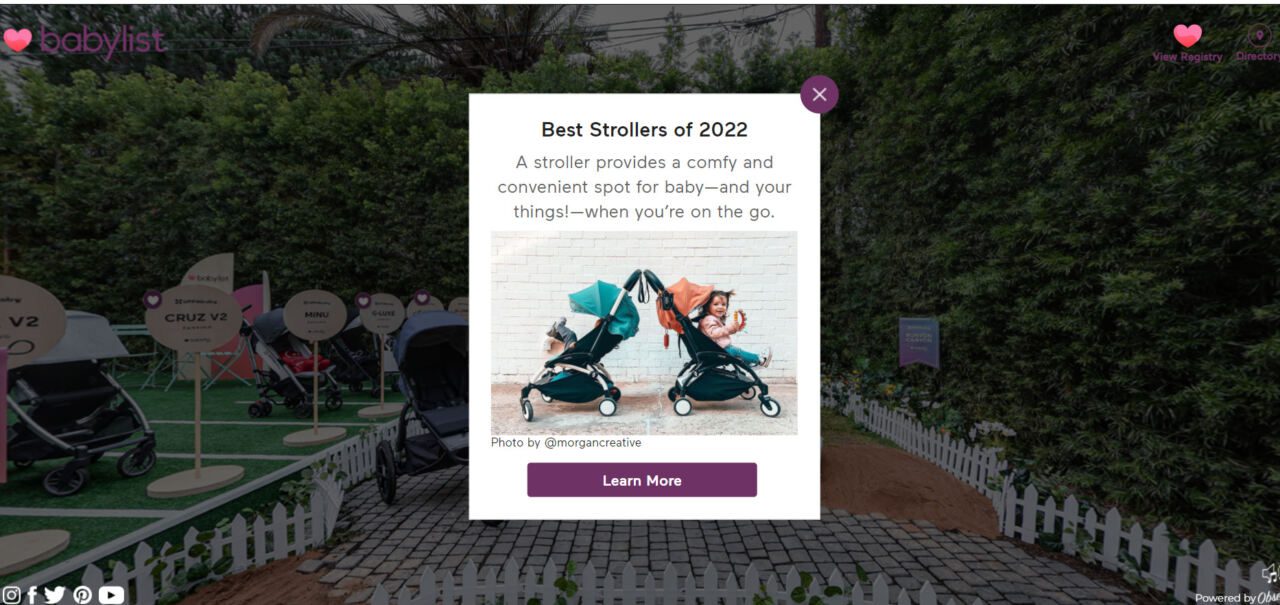 Collecting Data to Further Refine the Experience
Babylist also collaborated extensively with the Obsess team to ensure they were building the right experience for their objectives and tracking the most meaningful KPIs. "In Babylist's instance, the company was looking to increase brand awareness, highlight their registry product and get prospective parents reading and watching their content," explained Neha Singh, Founder and CEO of Obsess in an interview with Retail TouchPoints. "With this in mind, we created an experience where Babylist's branding was prevalent, using their heart logo as the hotspot image and placing content strategically throughout the showroom. We also made the functionality of adding items to a shopper's registry as seamless as possible: once a consumer is logged in, they can add to their registry with the click of a button."

In terms of KPIs, Obsess is measuring average time spent within the virtual showroom as well as content and registry interactions per user. The company also is tracking general engagement metrics such as interactions per user and number of rooms visited, Singh explained: "As we see live data from the store come in, we'll be able to evaluate how prospective parents are moving throughout the space and can make adjustments either on the current store or to future stores."
Babylist is now in "promotion mode" for the virtual showroom, and will be integrating it into all key branded channels, including email, social media, the company homepage and the Babylist mobile app. The company will use this showroom and another Obsess-powered project scheduled for later in 2022 to gauge the role that the metaverse will play in the brand's future media and commerce strategies, according to Grant. "We'll have two different experiences for our families to use, and depending on the performance of those, we'll be looking to expand in different ways."