Today's online shoppers have become accustomed to a wide selection of in-stock products at competitive prices that can be delivered in a matter of days. It's a high bar.
Given that many of these expectations were first set by customers' experience with Amazon, it should come as no surprise that third-party marketplaces have become a key tool for many retailers to meet these consumer demands. Kroger, Bed Bath & Beyond, Michaels, Hudson's Bay and Macy's are just a few of the retailers that have waded into the marketplace waters recently.
"Part of what makes working in retail so fun is that the customer and their shopping habits are a moving target, they're always changing," said Matt Baer, Chief Digital and Customer Officer at Macy's in a session at the 2022 NRF Big Show. "Over the last two years we've seen incredible acceleration in terms of customer shopping behavior, and right at the core of that is an accelerated adoption of digital channels. At the end of the day, it's our job to create the best experience for customers no matter how their shopping behaviors are changing, and that is, in part, why we're launching a marketplace in the back half of this year."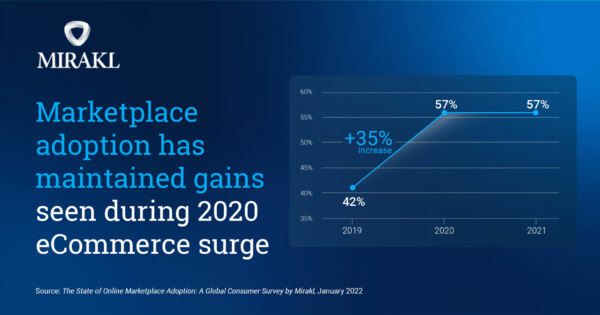 Unlike Peloton purchases or baking sourdough bread, consumers' increased preference for marketplaces looks like a pandemic-powered behavior that's here to stay. New research from marketplace SaaS platform Mirakl, conducted by Schlesinger Group, found that following significant gains in the early days of the pandemic, marketplace use remains high. In 2019, 42% of U.S. consumers said they shopped exclusively, or a lot, on marketplaces. That number rose to 57% in 2020 and held steady at 57% in 2021.
Other findings from the Mirakl research include:
Convenience is the primary reason online shoppers are increasingly turning to marketplaces, with their expanded assortments and fast delivery;
Marketplaces now account for 50% of the online shopping conducted by "power shoppers," consumers that shop online once a week or more; and
Consumers are inclined to choose the marketplaces of retailers they already know and trust, but those marketplaces must deliver the same experience customers have come to expect from the brand.
Why Consumers are Turning to Marketplaces
The Mirakl survey polled 9,000 consumers across nine countries. U.S. survey respondents said that 43% of their online shopping now happens on marketplaces, and looking ahead, 92% of U.S. consumers expect to shop on marketplaces at the same rate or more in the coming year. Millennials are the biggest cohort of marketplace shoppers, buying from marketplaces 79% of the time.
But this is hardly a U.S. phenomenon. Brazil saw a 75% increase in consumer usage of online marketplaces, and Singapore and Australia each saw 65% bumps in the last year.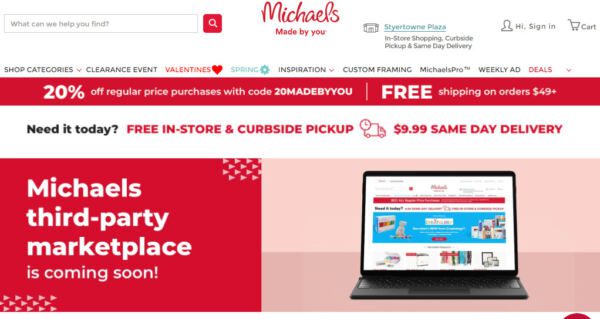 So why are consumers around the globe increasingly turning to marketplaces? In one word — convenience. When consumers ranked their most important online shopping criteria, in-stock items, product variety and fast delivery were the top three, all things that the marketplace model is uniquely suited to deliver on.
"Over the last year and a half, we've spent a ton of time and resources improving the foundation of our business," said Baer of Macy's, which is working with Mirakl to build its forthcoming marketplace. "So if a customer comes to Macy's, can they find what they're looking for? Do they have the information they need to make a confident decision, and then do we deliver a good post-purchase experience? It felt like a very natural next step to launch a marketplace. It will enable us to add additional breadth and depth in our core categories and easily moved into new or adjacent categories.
"It will also enable us to stay ahead of trends as [changes in consumer preferences] happen really rapidly," Baer added. "And then it also helps us accelerate some of our strategic initiatives in terms of selling diverse and women-owned brands as well as sustainable products. So we really see our marketplace as an enabler to support our current enterprise strategy."
The Rise of the Online Power Shopper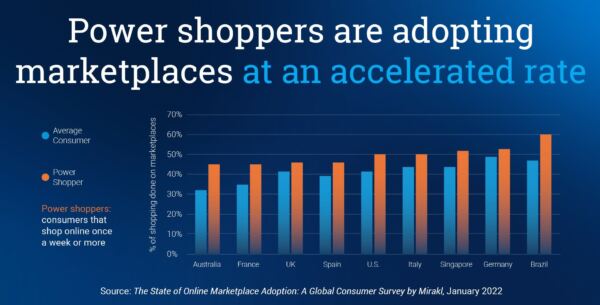 A preference for marketplaces is particularly prevalent among what Mirakl categorized as "power shoppers," consumers that shop online once a week or more, a group that tends to be retailers' most frequent and highest-value customers.
The vast majority (83%) of power shoppers in the U.S. believe that online marketplaces are the most convenient way to shop, according to the Mirakl survey. And that preference translates into purchases: on average, U.S. power shoppers conduct 50% of their online shopping through marketplaces, versus 43% for the average U.S. consumer.
What was particularly notable was these shoppers' preference in terms of which marketplaces they use: 87% said they have the most trust in online marketplaces of the brands with which they already have established relationships. That means hard-won consumer confidence and customer engagement are providing a "halo effect" for marketplace transactions.
Tips for Getting a 3P Marketplace Right
Shoppers are clearly open to the idea of buying third-party products directly from the retailers they already know and trust. But that means getting the implementation right is crucial for these retailers to maintain brand loyalty. In this regard, the Mirakl study identified three crucial factors for any enterprise marketplace:
Seller and product reviews;
Fast delivery; and
Curation.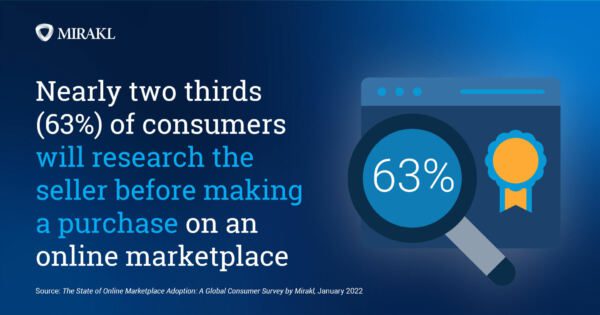 Concerns about product quality (46%) and negative reviews (45%) are the top reasons U.S. consumers hesitate to buy from a third-party seller, proof of how important it is for these sellers to provide a satisfactory customer experience. Once again, the brand equity retailers have built comes into play, with roughly half (51%) of consumers saying they are more likely to purchase from a third-party seller if that seller is working with a retailer they trust.
Offering reviews and maintaining a good post-purchase experience also are critical to the success of a retailer's marketplace. When buying products from third-party sellers, most U.S. respondents (63%) will research a seller before making a purchase, and 71% said they check reviews first. And despite supply chain issues, 88% of U.S. consumers surveyed said they expect their packages to arrive in 3 to 5 days or less. A whopping 46% expect their products even faster, within just 1 to 2 days (excluding perishable goods like groceries).
"The most important thing is that the customer has a seamless experience and that their relationship with the assortment or the seller is the same, or maybe even better, when they're purchasing a marketplace item," said Baer.
Prior to the online boom, many traditional retailers' differentiator was their merchandising, but the marketplace model changes that by moving brands closer to the Everything Store format Amazon pioneered. Baer said that retailers can maintain their competitive edge by continuing to do what they've always done well. Put another way, adding a marketplace doesn't mean the end of merchandising.
"I think Macy's has the best merchants in the world," he said. "They're still going to put together an assortment strategy, and then they're going to figure out the best way to meet the needs of customers and execute that strategy. The marketplace just becomes another tool in their toolbox. We have that ability to differentiate with the curation of our assortment online and with the experience that we deliver. I'm very confident that with the marketplace platform, you can achieve that curation at scale, and it becomes a really powerful tool to unlock new opportunities for the merchant to achieve their goals."