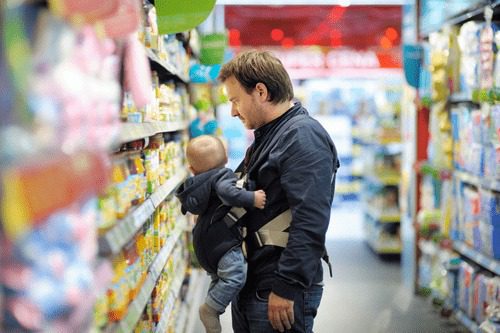 Parents of children in grades K-12 plan to spend an average of $873 per student, according to research from the Rubicon Project.
Although moms traditionally occupied the Chief Buying Officer role of their households, new research from Yahoo indicates that a new generation of Millennial dads want to get more involved. As a result, retailers need to understand the buying behaviors and preferences of these younger dads, and tailor back-to-school campaigns and messages to them.
Currently, more than half of all dads contribute to shopping decisions, including groceries, childcare products and children's apparel, according to the New Face Of Fatherhood study. Prior to making buying decisions, most Millennial dads (92%) use retail and shopping web sites to research products, while 85% turn to search engines.
To gather results for the study, Yahoo partnered with brand and strategy firm Audience Theory and Ipsos. In addition to reviewing more than 100 studies and articles, the companies conducted three expert interviews with scholars and authors. They also conducted 15 in-depth interviews with dads aged 25 to 50, and implemented a study among 620 dads and 673 moms in May 2015.
Because Millennial dads are so versed in technology, they use a variety of different outlets to research potential purchases. Beyond the retailer web site and search engines, Millennial dads also use:
Video (91%);

Social networking sites (83%);

Coupon sites (79%);

Peer product reviews (78%); and

Online ads (70%).
Why are Millennial dads so focused on contributing to the family decision-making process? Most (74%) respondents said they want to spend more time with their kids than their own fathers did with them. However, nearly half (44%) of Millennial dads admit that they still believe they don't spend enough time with their kids.
Study results also point to a significant shift in not only how Millennial dads view fatherhood, but also in their overall willingness to balance their careers and families. For example, 76% of men say work-life balance issues have become more important. Meanwhile, the total number of stay-at-home dads has doubled over the past decade.
As more dads get involved in the shopping process, retailers need to do their part by crafting campaigns, offers and messages that align with their preferences. Survey respondents agree: 60% said "it's about time advertisers recognized that dads shop too." In addition, 53% of fathers said they would welcome advertising that's specifically targeted to them.