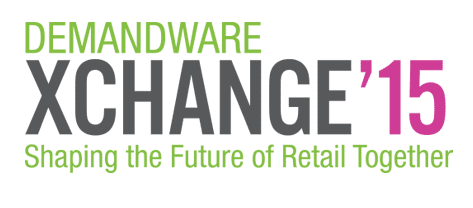 Agility was the thread connecting all content, speakers and even attendees at Demandware's 2015 XChange Conference in Las Vegas. Throughout the event, which took place April 13-15, Demandware executives unveiled new product capabilities designed to further connect e-Commerce, mobile and the in-store customer experience. These announcements provided a glimpse into the strategic vision and overall goals for the company following its January 2015 acquisition of Tomax, a leading point-of-sale (POS) solution vendor.
In 2015, Demandware plans key investments in its services, the Commerce Cloud and its community, which touts a variety of partner solution and service providers. During a keynote presentation, Jeff Barnett, COO of Demandware outlined the company's vision towards Unified Commerce, which includes the following solutions:
Store Center: An enterprise cloud POS solution based on Tomax technology. Store Center includes fixed, virtual and mobile POS capabilities designed to empower store associates to serve consumers on the sales floor, personalize in-store experiences, and improve operational efficiency.
Order Center: A distributed order management solution that enables buy-anywhere, fulfill-anywhere experiences. Stronger integration with the platform is expected to help provide a shared view of price, promotion and other information. The solution also is now localized and available for the European market.
Predictive Merchandising: A new personalization solution built on intellectual property obtained through the acquisition of CQuotient. Predictive Merchandising uses data science and predictive intelligence to deliver product recommendations that personalize online shopping experiences and help create a more meaningful relationship between brands and consumers.
Predictive Email: An email personalization solution, also based on CQuotient technology. Predictive Email harnesses data from all customer touch points and creates a predictive portrait for each consumer. Retailers are positioned to tailor email content by including the optimal choice of product, promotion or content.
"Agility is an important ingredient to thrive in this new democratized era of retail," Barnett said during the presentation. More than ever, retailers also need to "differentiate on the customer experience."
Although digital solutions have long been at the core of Demandware's business, the company is now focused on bringing store and e-Commerce systems together, according to Eric Olafson, SVP of Store Solutions at Demandware. "Traditionally retailers have two different systems but one customer that's agnostic to channels and the challenges retailers are facing. We want to remove cost and complexity and create a real-time platform that has scalability, reliability and functionality."
The Power Of Agility
Supporting Demandware's message of agility, Scott Galloway, Founder and CEO of L2, shared some new research that investigated how quickly brands can adapt to the changing digital landscape.
By analyzing 82 brands across six sectors, L2 examined the bottom-line impact of cloud, in-house and on-premise solutions. Overall, the Intelligence Report: E-Commerce Agility, concluded that brands demonstrating e-Commerce agility yielded financial growth and expanded globally more successfully.
Key findings include:
Cloud and in-house solutions each represent 26% of the 82 brands, while on-premise (third-party licensed software) comprise of 48%.
Early movers on in-house platforms had the highest scores in L2's Digital IQ Index in 2010 and 2011. However, brands on cloud-based solutions surpassed in 2012 and have sustained the lead.
73% of brands on a cloud platform are high-growth companies focused on aggressive earnings growth over the next three to five years, according to L2. These organizations identify cloud platforms as a critical component for achieving e-Commerce agility.
"We can safely say that the majority of companies adapting cloud faster are the companies that are growing faster," Galloway said during his presentation. "And looking at the brands in our sample set, the same percentage of businesses on cloud, on-premise and in-house solutions have stores outside of the U.S. Brands on the cloud, though, have an easier time scaling across boarders."
L2 also identified correlations between internal systems and their e-Commerce experiences. For example, cloud-based solutions empower retailers to make site updates and incorporate new features quickly and seamlessly.
"E-Commerce platforms are becoming the backbone of a company's efforts," Galloway said. "They can't escape it and it's impacting their ability to grow and their overall shareholder value."
Are Retailers Ready For Unified Commerce?
During a panel discussion, Tom Litchford of the National Retail Federation (NRF) and Nikki Baird of RSR Research discussed retailers' overall preparedness for Unified Commerce.
A Unified Commerce platform encompasses product content, customer intelligence, promotion optimization, inventory management and other core areas of the business in a single platform. Taking this approach, retailers can bridge all business units together to provide one central source of truth.
Litchford shared key takeaways from research conducted by NRF regarding Unified Commerce and future plans and investments. For one, 53% of retail executives said they plan to implement a unified commerce platform within five years.
Currently, retailers are in various stages of their journey towards Unified Commerce. While only 13% are in the execution phase, most are in the following planning phases:
Exploration, or monitoring the trend and gathering information for education (13%);
Consideration, or actively discussing the viability of a Unified Commerce approach (23%); and
Strategy, or creating a formal plan by developing the business case and budget (36%).
Retailers that move towards Unified Commerce can speed the pace of innovation and add value to the in-store shopping experience, the panelists noted. Respondents to the NRF survey said they would expect an improvement in operational efficiency (71%), average order value (67%), total customer value (68%) and conversion rates (63%), among others.