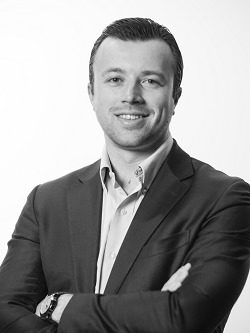 Jeff Bezos' ambitions for Amazon go well beyond becoming the world's number-one retailer, according to Cooper Smith, Director of Amazon Research at Gartner L2. "That's a means to an end," said Smith in an exclusive interview with Retail TouchPoints. "I believe his vision is for Amazon to be the ultimate purveyor in the marketing, selling and transportation of goods."
Smith revealed key insights into both the omnichannel retailer's latest moves and its long-term plans, including:
• The likeliest targets for Amazon's next brick-and-mortar acquisition after purchasing Whole Foods;
• How these acquisitions will help Amazon crack higher-end markets, particularly in apparel;|
• The likelihood that Amazon will introduce Amazon Go-style cashierless technology in its brick-and-mortar stores;
• Which "strange bedfellow" combinations may be needed to challenge Amazon; and
• The potential location of Amazon's HQ2.
Retail TouchPoints (RTP): What do you see as the likeliest target for Amazon's next physical-world acquisition?
Cooper Smith: The Amazon acquisition of Whole Foods gave them a brick-and-mortar footprint and a private label business, but Amazon's biggest problem when it's expanding into new categories is the relationships with legacy brands. Whole Foods doesn't have the partnerships with the Krafts and Coca-Colas of the world. For that reason, I would say the next acquisition will either be a European luxury retailer, or a U.S.-based mass luxury retailer, for example Neiman Marcus.
These types of retailers have already established higher-end assortments, distributed by a number of luxury brands. The higher-end you get in categories and assortments, the tougher it is for Amazon to entice those brands. Take Nike — they held out until just recently to distribute on Amazon, and their distribution over the past eight months has been a nightmare. Every other luxury brand is on the sidelines looking at their problems.
RTP: What have been the most significant developments at Whole Foods since Amazon bought the retailer?
Smith: The biggest is the integration of Amazon Prime, which is the most successful loyalty program in retail. Prior to this, Amazon had not been able to really disrupt the food and beverage market. Amazon Fresh would have to be counted as a failure. Amazon needed to integrate Prime into Whole Foods as the proxy to establishing loyalty with their customers, which of course is super important in grocery.
A likely future development will be opening the door at Whole Foods for more large CPG brands to distribute through them, which goes against the original Whole Foods value proposition. But they will need to, because Amazon's ambition isn't to be the number-one regional or niche grocer. Their goal is to be a top five grocery chain within 10 years, and for that to happen they will need the assortment that consumers demand.
Also, while Amazon has said they will not be adding the Amazon Go cashierless technology in Whole Foods stores, I don't buy it. Amazon Go is representative of two things that Amazon does well: it uses automation to achieve efficiency, and it collects data to better target consumers and induce more loyal shopping. This technology is one of the ways Amazon will compete against traditional retailers.
RTP: What do you make of some of Amazon's other recent moves, for example its acquisition of Ring and its expansion of fulfillment services?
Smith: When you look at Amazon's acquisitions and its moves into new products and services, the choices may seem chaotic, but the Amazon vision is pretty clear: to become the most vertically integrated business in the world. E-Commerce startups like Bonobos have recognized that their opportunity is in becoming vertically integrated. Amazon has put that on steroids, and gone far deeper into vertical integration than any other business has.
What you need to understand is that Jeff Bezos doesn't run Amazon like a traditional CEO. His ambition isn't to become the world's number-one retailer. That's a means to an end. His vision is for Amazon to be the ultimate purveyor in the marketing, selling and transportation of goods. If you take a step back, Amazon's opportunity is in owning every aspect of the supply chain. There's the storage of data with Amazon Web Services (AWS), and now they are pushing into last-mile fulfillment, which Ring will help them in acquiring.
Amazon has gained the trust of more consumers than any other American retailer, and the power of the people is a powerful thing. Amazon can take the trust and goodwill of consumers and, as long as they don't mess it up, combine it with their current operational efficiency in shipping and fulfillment, and extend that into adjacent industries such as last mile delivery, advertising, fast fashion and more efficient manufacturing.
RTP: Given the scope of its ambitions and the power it already holds, which retailers are going to be able to challenge Amazon?
Smith: You're going to see a lot of strange bedfellows in retail. You might see Walmart and Target partnering with Google, for example. And we've already seen a lot of grocers acquiring or partnering with same-day delivery companies.
The best chance of defending on the retail side is Walmart, because it's primarily a grocery store. More than half of its sales are in food and beverage. They have the largest store network in the U.S., so for grocery pickup and delivery, they already have the infrastructure in place to compete.
RTP: Do you have any predictions for the location of Amazon's HQ2?
Smith: Your guess is as good as mine. I do know that Amazon has increased the number of lobbyists in the Washington, D.C. area more than any other retailer, so it would make sense to have important Amazon executives in that area. Three of the 20 finalist locations are in the D.C. area (Washington, D.C.; Montgomery County, Md.; and Northern Virginia).
RTP: If you could ask Jeff Bezos one question, what would it be?
Smith: I would ask him what his inspiration was for setting out on such an ambitious path. I truly believe he plans on disrupting the entire supply chain. He's always been very humble publicly about what his ambitions for Amazon are, saying 'We're just obsessed with the customer,' but I think that's also been to keep the skeptics at bay.