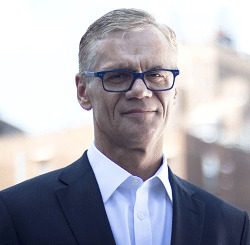 Nike's hiring of controversial quarterback-turned-activist Colin Kaepernick was a gamble, but it's one that paid off handsomely. The company sold out 61% more merchandise in a 10-day period following the Kaepernick ad's initial appearance, and the company got a 31% online sales bump. But if other brands want to emulate Nike's success by embracing hot-button issues, they will need to carefully consider their own brand's public profile before taking the plunge, according to branding expert Erich Joachimsthaler.
"Nike is a very special brand, one that stands for this level of irreverence, as well as athleticism, winning, authenticity and inspiration" said Joachimsthaler, CEO of global brand strategy firm Vivaldi. "Nike is fearless, and taking a stand has become part of their DNA."
In this exclusive interview with Retail TouchPoints, Joachimsthaler explains:
• How branding has moved from differentiation and image to creating connections and promoting virality;
• Why campaigns, particularly controversial ones, require constant monitoring of sentiment and "social currency" to succeed; and
• The potential dangers of choosing a celebrity spokesperson.
Retail TouchPoints (RTP): In these polarized, highly partisan times, can it be a good business move for a brand to take a strong stand in the way that Nike did?
Erich Joachimsthaler: In my experience I have recommended that clients not engage in political causes. Nike has earned the permission to take strong stands, because they are seen as being fearless. A lot of other companies become convinced that they need to do something — someone from social media convinces them about their responsibility, or the CEO has a relationship to a particular cause. But just because you can take a stand doesn't mean that you should.
The brands that are doing extremely well right now are those that have learned about the new principles of branding, and that are able to establish a direct connection with consumers and a constant interaction. Nike is doing it with their direct-to-consumer activities, including selling on Amazon. They are shifting their business model to be more like Casper, which also has a direct connection to consumers.
RTP: How have the basic principles of branding changed in recent years?
Joachimsthaler: The whole industry, including branding, marketing and advertising, has been in disruption during the past 20 years. All the great brands, like Nike, BMW, Apple, were built in a world of walls, where the brand was designed to create a veneer of differentiation around the product. The truth is athletic shoes are commodities, but branding allowed people to imbue them with certain beliefs and feelings. When you play basketball wearing Air Jordans, it makes you feel that you are like Mike, the flying man from Chicago — that you can actually jump higher. BMW said their car was not just about German engineering, it was the ultimate driving machine — that it conferred a level of sportiness, technology and performance that would cause envy in your neighbors. These are examples of classic branding.
The idea then was to define what the brand stood for, and then to shout your brand value from the rooftops as loudly as you could. You would spray and pray — spray your advertising via commercials, and then pray that consumers find themselves in a retail store.
Today, though, we're in the world of webs and networks, where billions of people globally are connected by mobile phones and there are thousands of channels for advertising. There are new types of networks, for example networks of gamers playing Fortnite, as well as social networks — Vivaldi came up with the term 'social currency.' Now brands are there to make a connection, create some virality and facilitate some kind of movement.
RTP: How does the latest Nike campaign illustrate these changes?
Joachimsthaler: You can see this very nicely with Nike. One thing to note is that Colin Kaepernick, not Nike, was the first one to announce that he would be the Nike spokesperson. It came from him, not Nike. Nike then began looking at the social networks, looking not just at how the brand performs but how the conversation performs. I'm sure that at the moment Kaepernick made his announcement, at Nike's social media/digital command center in Beaverton they were looking at sentiment scores, both positive and negative, by age group, by demographics — and based on all of that they decided to wade into this.
They saw that older white men hated this — and to that Nike would say 'We don't care about older white men.' They saw that people 35 and younger liked it overwhelmingly, and they would say 'Cool, that's our target market.' Nike would be looking not only at how many Americans are divided on the issue of kneeling during the national anthem, but how many of their target market are for or against it.
Based on that, Nike then says 'Here's what we must do to spread the fire and create virality, and make the networks work for us.' They were creating the connection and the action, essentially making people vote in favor or against this. Even a negative vote would be good for them, because it meant they were tapping into something important. Within a day or two, Nike could say 'We are hitting on the cultural zeitgeist of this country.' And remember that this was a full two years after the kneeling issue began! But that's how branding works today. It's a managed process.
RTP: In general, what kinds of calculations do marketers need to make when they consider hiring a celebrity, particularly a controversial one?
Joachimsthaler: In general when you take a celebrity, you have to assess your downside risk a lot more. We know from research that when a celebrity transgresses, the brand they're associated with can be significantly negatively affected. But it also depends on the sponsor's product and how it relates to the spokesperson.
Take the example of the Olympic swimmer Michael Phelps. Several years ago a picture of him supposedly smoking marijuana in a dorm room was released. He had an endorsement deal with Oakley goggles. In this case, the goggles are a functional device to improve the speed at which you swim, so the implication is that Michael Phelps wins gold medals because he uses Oakleys. When there's a transgression and the sponsorship is performance-related, this can have a significant impact on the product's sales.
On the other hand, Lance Armstrong had been sponsored by the U.S. Postal Service while he was winning the Tour de France, though he was under suspicion of using performance-enhancing drugs. The delivery of mail isn't related to Armstrong's performance, so even though Lance Armstrong went down, this didn't necessarily affect the sponsor's brand.