When it comes to subscription retail, the cross-currents are intense. Big retailers have either pulled out, as JCPenney did in February when it ended its Bombfell subscription apparel business, or they've gone all in. Look at American Eagle. While other apparel retailers have launched fairly standard box models, AE took the industry by surprise in February with a new model: Rent anything you want for $49.95 a month. And if you don't like it, send it back. And if you want it laundered, send that too.
Even with these contradictions, there's no argument that subscription retail remains one of the industry's most compelling growth areas. Its opportunities are only now being tapped, and its problems — mostly concerning customer retention — are just now being reckoned with. This article will track the growth of the subscription retail business and its current problems, including:
Whether the industry's 100% YOY growth rate can be sustained;
Subscription retail's unique customer retention challenges, exemplified by churn rates of up to 40% in the meal kit category;
Four signs that a customer is at risk of churning; and
Three strategies for retention and rescue of subscription customers.
According to online traffic measurement and consultancy firm Hitwise, online visits to pure-play subscription-based retailers have risen almost nine-fold, from 4.7 million visits in April 2014 to 41.7 million in April 2018. (These figures include the popular Blue Apron, Stitch Fix and Loot Crate sites). Even though growth rates have slowed for many sites, a recent McKinsey report shows that when subscription pure-plays are combined with physical retailers offering subscription services, the overall market has grown by more than 100% per year over the past five years. The largest such retailers generated more than $2.6 billion in sales in 2016, up from $57 million in 2011.
But there's a catch. While many subscription retailers have been able to acquire new customers through a combination of email, social media and the use of data analytics capabilities, keeping those customers in the fold has proven to be more difficult. In fact, it's safe to say that subscription retail has a serious customer retention problem.
There's No Silver Bullet For Customer Retention
It's not a challenge with a simple one-time solution, either. "Adjust your mindset because customer retention is not a problem to be solved — more like a chronic condition to be managed," said Carl Gold, Chief Data Scientist at Zuora, which specializes in subscription models and their associated data strategies. "You have to put your data to work so that you are making decisions based on facts. Figure out what aspects of your product are the greatest drivers of retention, and double down on them."
Additionally, higher-than-expected churn rates have a range of negative ripple effects for subscription retailers, from disrupted marketing strategies to unsettled investors. However, the microscope of success also has identified best practices for increasing customer retention, through data analytics and more insightful methods to measure it.
"Take advantage of the new data and understanding you gain in the relationship with the subscribers, and turn that data into a better product for all your customers," said Gold. "I'm suggesting you see your subscribers as more of a long-term focus group to learn from, even if you are just breaking even on the expanded service you offer them. So start by measuring the value of subscription customers in terms of new data collected and learnings, not short-term revenue gains. And if you're not ready to collect and use the data, think twice about offering the subscription."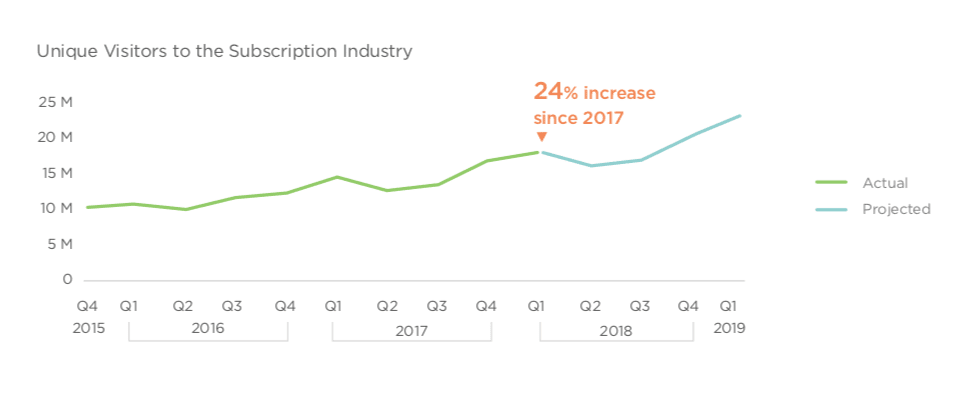 Source: Hitwise
Meal Kit Services Spotlight Customer Retention Challenges
Customer retention became a high-profile problem in this category as its most popular site, Blue Apron, went public and invited the unforgiving eye of stock analysts. From Q3 2017 to Q3 2018, the company reported that its paying customers plunged 25% to total just 577,000, which caused revenues to plunge by a similar percentage.
Blue Apron CEO Brad Dickinson tried to focus Wall Street on more positive metrics such as average revenue per customer, but Blue Apron's stock price still slipped under $1. Those problems were amplified when McKinsey research found an overall category "churn" rate of 40%. More than one-third of consumers who sign up for a subscription service cancel in less than three months, and more than half cancel within six.
Customer retention problems haven't been limited to meal kits or startup companies, however. In 2017 Gap launched several subscription box services. When the retailer launched babyGap Outfit in Sept. 2017, it did so after a year of testing that predicted "high retention rates and low return rates," as well as the promise of a trove of insightful customer data. By September 2018, however, Gap had pulled all subscription boxes from the market, with no official explanation.
To Cut Churn, Identify 'At Risk' Customer Behaviors
A 40% churn rate is not a sustainable business model, and pure plays as well as physical retail companies know this, according to John Fetto, Senior Analyst, Research and Marketing for Hitwise.The first step for subscription retailers to address this problem is to be vigilant about identifying behaviors that indicate the customer is likely to leave.
Identifying what an "at risk" customer looks like has been a sacred mission for retailers. In the subscription business a customer that's about to churn displays four key characteristics:
Erratic search behavior: If a food box user starts searching for "recipes" or even competing services, that behavior is measurable and should be met with more aggressive retention tactics before cutting ties;
Decreased app or online engagement and a drop in visits;
Drop in overall usage or spend; and
Decreased social interactions: Customers who once interacted with a service on social media, or even recommended the service to others, are often valuable influencers. If these interactions decrease, however, they should be considered at risk.
3 Steps To Improve Customer Retention
Once potential "churners" have been identified, retailers can deploy the following three strategies — which also can be used after a customer has actually dropped the service:
1. Align acquisition tactics with retention. Many consumers who churn do so quickly, which suggests that companies should be careful not to overinvest in free trials or heavy discounts unless these promotional investments have a clear payback. "Acquisition has everything to do with retention," said Mike Zappulla, Director, Paid Social for Elite SEM. "If customers are acquired through aggressive discounting they will want more of that to stay. Find your most relevant prospects and acquire them through value instead of deep discounts."
2. Increase subscription and product options. The digital mantra of "consumers want what they want when they want it" still applies to subscriptions. Customer retention can be amplified by offering multiple subscription and product options. With this strategy, customers can find reasons to stay and spend more, but if they are served the same limited options, they will find reasons to leave. Clothing subscription retailer Stitch Fix, for example, lets customers order as frequently or infrequently as they like. High-end jewelry rental site Flont has partnerships with 65 different brands and offers five different monthly subscription options, with prices ranging from $59 to $379. Gaming subscription site Loot Crate has 22 different options for product boxes. "As this business model proliferates, expanding subscription options becomes a competitive necessity," said Fetto of Hitwise.
3. Find Partnerships To Scale: Blue Apron got more attention for its retention problems than for the solutions it developed to address them. One of these has been partnerships, including those with celebrity Chrissy Teigen and Weight Watchers. Partnerships give subscription customers more reasons to interact and more reasons to spend.
Bottom line, retention in the retail subscription business hinges on customer relationships and the ability to leverage the data from those relationships. Overall growth in the business will not solve a retention problem, although it may delay its impacts. Retailers should find ways to compete on the products they offer, the variety of options and perhaps most important, the data they have gathered about customers' behaviors and preferences.