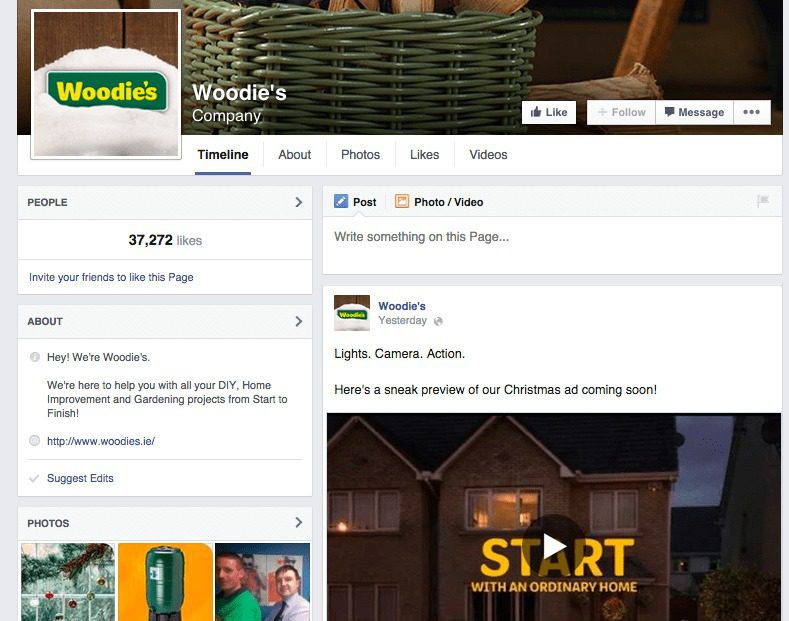 Retailers are building up their social media teams in order to establish thriving communities and long-lasting relationships with consumers. But some retailers do not have bandwidth to develop a dedicated team to manage and post to social networks.
For example, Woodie's, an Ireland-based home improvement retailer, just established its social strategy less than a year ago as part of a major brand change. Now, Laura Lynam, who is a marketing executive at Woodie's, is focused on building up its social presence, and testing new engagement and marketing strategies across Facebook, Twitter, Pinterest and other networks.
To help facilitate this process, Woodie's has implemented Falcon Social, a social media management platform, which provides Lynam with a comprehensive view of posts, comments and feedback across social sites.
"The great potential with social media is that consumers can go into the store, buy a can of paint, then when they go home that's when they can get inspiration," Lynam said in an interview with Retail TouchPoints. "We want to show that, from start to finish, consumers can get everything they need for a DIY project. Our brand comes alive on social."
Although its social strategy is still new, Woodie's has already collected more than 30,000 highly engaged fans on Facebook and recently launched on Pinterest, Lynam reported. Because the Facebook fan base is predominantly female and interested in DIY projects, Lynam plans to investigate how to build its social following and better engage target customers for its power tools business.
"We'll have to look at a different strategy, maybe even Twitter, to start that social communication," Lynam said. "Our social strategy just needed to be started by one person so the proper tone of voice could be developed. But I do see the team expanding in the future."
Falcon Social will play a key role in Woodie's social expansion, as the tool allows Lynam to manage and schedule posts and respond to fans in a more timely fashion. She also can pass off control to team members when she is out of office.
"While looking for a management tool, we knew we wanted to give different people the ability to complete tasks and manage our accounts without having to use my personal log-in information," Lynam explained. "My manager had a few people in mind who could step in and be ambassadors if I wasn't in office but we also didn't want one user having control over everything."
With Falcon Social, Lynam can pre-schedule content and posts for social sites, and then assign a team member to manage posts and reply to comments. "This gives me peace of mind that although I'm gone, there's someone to look after our sites and respond to all the comments underneath the content."
A Detailed Look At Social Performance
A measurement dashboard provides Woodie's with a detailed look at the overall success of social posts, as well as follower response rates, unread messages and other data. There also is a sentiment tool available within the Falcon Social solution, which allows Lynam to see whether consumers have a positive or negative outlook on the brand.
"Sometimes it's difficult to manage comments and track what you have already read and replied to," Lynam noted. "This is a great way to help me delegate tasks since I'm the only person managing the accounts fulltime."
Woodie's can run different reports on customer engagement, and even benchmark results against competitors. The retailer even can expand its social following and generate buzz by rolling out campaigns and contests through the Falcon Social platform.
For example, Woodie's ran a competition for a kitchen giveaway shortly after launching on Falcon Social. The retailer acquired more than 10,000 entries during the contest period.
"I can create apps for competitions without ever leaving the management tool," Lynam said. "The apps provide a completely new engagement piece. We can use our own creative for these contests and it's so easy to use that consumers aren't deterred from participating. A lot of people think promotions encouraging comments or likes is the best way to run a competition, but this allows us to be more creative with our branding."