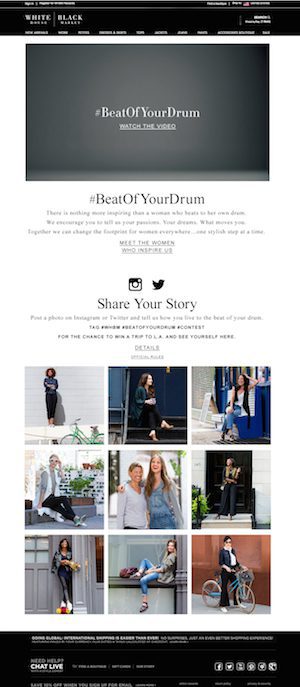 The fall season is drawing near, which means adults and children alike are purchasing new apparel for the colder months ahead. In an effort to inspire women and encourage them to share their fall fashions, White House Black Market has launched the #BeatOfYourDrum campaign, which will run through September 20.
Following a series of successful multichannel initiatives, including the #WearWhatWorks campaign, White House Black Market is taking a similar approach by integrating TV advertising, the web site and user-generated content (UGC). The retailer also is integrating stories from fashion influencers and real-life women into the campaign, which will further surprise and delight its target demographic.
White House Black Market developed the #BeatOfYourDrum campaign based on the song "Drums Make Me Happy," from recording artist The Golden Hippie. "We chose her track for our fall TV campaign because the song's emotional lyrics, strong rhythm and The Golden Hippie's powerful delivery are the heartbeat of White House Black Market and an anthem of empowerment for all women," explained Donna Noce, Brand President of White House Black Market.
Ignited by the song's message, White House Black Market is striving to turn #BeatOfYourDrum into a movement of sorts. "It's about staying true to who you are," Noce said in an interview with Retail TouchPoints. "As a brand, we celebrate women, style and individuality. This philosophy is at the core of White House Black Market's DNA."
Driven by the belief that style and substance should coexist, the #BeatOfYourDrum campaign markets the official kick-off of the retailer's new fall collection. The collection's story is driven by "modern femininity," according to Noce, with "new proportions and classic silhouettes reinvented for the way women live now."
Honing in on the importance of spotlighting the real, modern woman, White House Black Market partnered with street style photographer Bill Gentle to capture images of 20 women in New York City and have them share what #BeatOfYourDrum means to them. To execute this element, the retailer had to "comb the streets and concurrently talk with friends and family we personally know," Noce said. "The photo shoot was frenetic and exhilarating, as is typical when authentically shooting real people as opposed to models or actors."
White House Black Market also is spotlighting 20 influencers and fashion bloggers, including Louise Roe, Mary Alice Stephenson and Damsel in Dior, who will share how they live to the beat of their own drum on Instagram and Twitter.
Images from both initiatives will be fed into a gallery on a branded landing page moderated and hosted by Olapic. They also will be shared across channels throughout the campaign.
Activating The Social Network
White House Black Market is using #BeatOfYourDrum to activate loyal and potential customers alike. Social media users are encouraged to upload photos on Instagram and Twitter, sharing how they "live to the beat of their drum." By tagging #WHBM, #BeatOfYourDrum and #contest, all users have the chance to win a trip to Los Angeles and appear in the Golden Hippie music video for "Drums Make You Happy." All consumer images also will live on the branded landing page.
"We knew our customers would embrace UGC," Noce said. "Before the word 'selfie' even existed, they were posting and sending us photos showcasing their favorite White House Black market pieces and looks."
But over the years, White House Black Market has acquired a series of very important best practices that it will undoubtedly apply to the #BeatOfYourDrum campaign. For one, although consumers love to share how they wear White House Black Market items, "they also love to see how other people style and wear our clothing and accessories," Noce noted. "Another key takeaway is the important — and power — of a holistic, integrated marketing plan."
In an effort to extend the #BeatOfYourDrum message, the campaign and supporting content is being marketing across the web site, paid and organic social media, email, direct mail, TV and through a variety of influencers and bloggers. Even select pieces of UGC will be used across social channels and in emails throughout the campaign's duration.