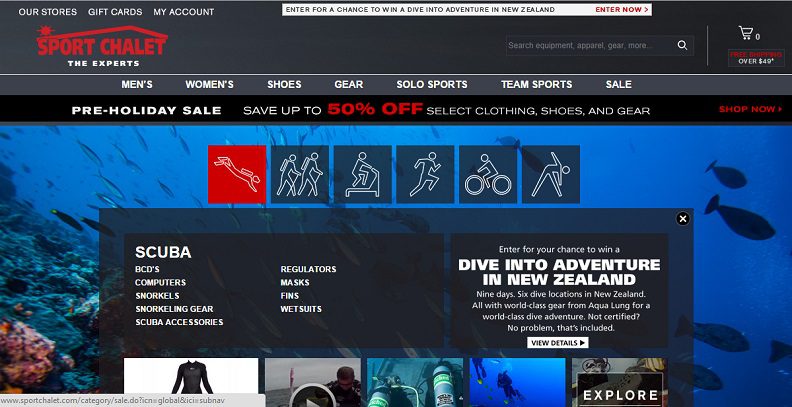 Retailers looking to build an effective experience across all platforms usually start with the e-Commerce site. The functionality and appearance of this channel can have a large impact on how potential customers perceive the brand as a whole.
Action sporting goods retailer Sport Chalet is no exception and relaunched its e-Commerce site in August 2014 with the help of the MarketLive Total Commerce technology platform in an effort to grow the company brand and foster further in-store engagement. The relaunch included a complete renovation of the site, as well as the incorporation of features such as Find in Store and gift cards.
"Whether it's through click view capabilities or sophisticated search capabilities through the web site, we're able to present the products in a much faster way," said Craig Levra, Chairman and CEO of Sport Chalet. "Conversely, for those athletes who just want to learn about a particular sport or a particular item, there's a whole set of content and video that didn't really exist on the site before that truly speaks to the product and the specialty services that we offer."
Social engagement is a major priority for the Sport Chalet team, as evidenced by the creation of the site's
community section
. The community section integrates customer stories, how-to guides, pictures and experiences from experts to engage more consumers with the store.
"If you really think about our business, very few items we offer are any fun to participate in by yourself," Levra said in an interview with Retail TouchPoints. "When you go snowboarding and skiing, you go with your friends, and it's a requirement in scuba diving, ice climbing and rock climbing. There's a social component to all of the sports and activities that we offer, and yet our prior web site couldn't bring that component to life."
The process to implement MarketLive took less than a year, with the solution provider collaborating with Sport Chalet on a seven-days-a-week basis. The retailer has since used the solution to leverage the "reverse showrooming" trend many shoppers partake in after browsing the e-Commerce site.
"We're certainly happy with the relaunch," said Levra. "One of the great learnings from our relaunch is that we're able to dig into the reverse showrooming behavior that exists today. We clearly see athletes and customers walk into our store who have done their homework at SportChalet.com and are ready to learn more from talking to one of our experts face to face.
The retailer is no stranger to innovative ideas, as it opened a "next-generation" concept store in downtown Los Angeles in the summer of 2013. The store was designed to provide a "physical version of the online experience," according to Levra, and provided an Expert Center that facilitates customer interaction with in-store experts on all topics related to the purchase and usage of the products. Consumers can order Sport Chalet products on iPads located throughout the store.
"We gauged the experience and how we connect with the athletes and the customers before serving in that environment," said Levra. "The relaunch of SportsChalet.com takes that brand engagement experience to a different level."