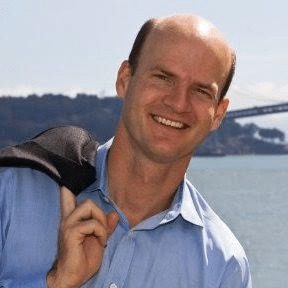 It's an impressive résumé: Eric Grosse has been Co-Founder of Hotwire, President of Expedia Worldwide, CEO of TaskRabbit and now, CEO and Co-Founder of Chairish, an online, curated marketplace for vintage and used home furnishings.
Grosse was inspired to enter the home décor marketplace business by his fellow Co-Founders, Gregg and Anna Brockway. Gregg also was a fellow co-founder of Hotwire, while Anna previously was a Worldwide Vice President at Levi's and hailed from a family of furniture and design executives.
Moving from significant success in the travel business to consignment home furnishings may seem like a stretch, but Grosse doesn't look at it that way: "There are surprising similarities between travel and the home décor market," he noted, outlining three key crossovers:
Category Size: "First, home décor is a massive category that will grow $300 billion over the next decade in the U.S. alone. Home décor is one of the few categories that can compete with travel in terms of pure market size."
Timing: Grosse seems to have a knack for great timing when it comes to building a successful business using the latest technology. "I was fortunate to help start Hotwire at the right time, when offline migration from agencies was moving online. There's a similar migration emerging in home décor, as almost 50% of buyers are now going online for home inspiration or research."
Fragmented Supplier Base: "Both categories are fragmented in terms of their supplier base," Grosse said. "Like travel, market leadership will go to those who can bring fragmented buyers and sellers together."
A Key Difference Between Travel and Décor: Delivery And Shipping
While fulfillment for travel is entirely digital, that's not the case for furniture. "Product delivery and shipping was one of the first things we looked at when starting the company in February 2013," Grosse explained. "The power of e-Commerce is the ability to offer an infinite selection, but we must be able to get that item to you."
Grosse continued: "Even professional sellers don't know how to get a dresser across town, let alone across the country. Delivery and fulfillment limitations are restricting the growth of furniture and décor online."
Because Amazon has "trained consumers not to be concerned about fulfillment and shipping," Grosse and his team addressed the issues before moving forward. Chairish now works with a number of fulfillment partners, locally and for long-distance shipping.
Returns In The World Of Marketplaces
Another challenge with furnishings versus travel is product returns. Yet Chairish is operating at a less than 1% return rate. "A key component of a successful marketplace is building trust," said Grosse. "and the ability for buyers to return items — unique for our segment of the industry — is an important part of building confidence."
For elective returns buyers pay return shipping, but sellers take responsibility for the return if the item is misrepresented, Grosse explained. "Our return policy helps ensure our sellers describe their items accurately and honestly."
Making It Easy For Sellers To Sell
Because selling furniture online has unique challenges, vintage sellers have been stunted by limited online options in the past, Grosse said. Chairish handles all payment fulfillment, marketing and merchandising, and in exchange receives a 20% commission across the board.
"We have curation, production, inventory acquisition and fulfillment teams that work closely with our sellers," Grosse explained. "Our marketplace and support teams give us a strong value proposition for the seller community."
Today Chairish hosts several thousand sellers and more than 70,000 curated items at any given moment.
Marketplace Marketing Is Social, Word Of Mouth
Instagram, Pinterest and Facebook play a key role in bringing in buyers and sellers to the Chairish family. "Instagram is really powerful for us because it's high growth and very visual," Grosse said. "We have more than 60,000 Instagram followers and we've been innovative around how we've used the platform."
Chairish offers "Instapurchase" through flea markets and other sellers. "It's the thrill of going to a flea market and discovering one-of-a-kind items without having to leave the house at a frightfully early hour in the morning."
While Pinterest is getting exposure for the Chairish brand name, it is not the key social channel for sales conversion, according to Grosse.
Also, while most Chairish customers are individual consumers, the brand works with hundreds of designers who buy on Chairish on behalf of their clients.
"Our core customer is female and passionate about design," Grosse noted. "We want redesigning a room to be frictionless. Over time, furniture and home décor can become more like fashion where we make it easier to change your look more often."
What's Next For Chairish?
Longer term, Grosse said Chairish will offer a broader range of design services for professionals as well as consumers. "A growing number of Chairish customers are professional designers working on behalf of clients," he explained. "Going forward, we can offer more guidance and services to both audiences, which in turn makes purchasing vintage furnishings online even easier and stress free."