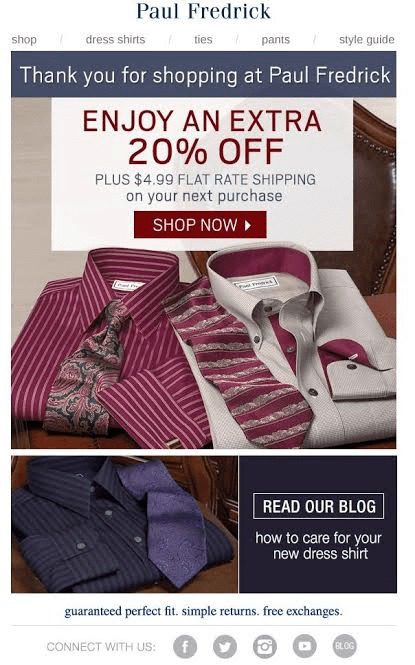 Paul Fredrick, a retailer, designer and manufacturer of menswear, has achieved a 70% boost in revenue growth from its recurring email messages after selecting Bronto to revamp its email marketing strategy.
In the two years since the Paul Fredrick team started working with the platform, the retailer has moved away from "batch-and-blast" email campaigns, seeking to gain a more personal relationship with its intended consumers while leveraging more automation.
With the upgrade in email marketing technology, the Paul Fredrick team also achieved:
A 5.6% increase in YOY revenue from post-purchase email campaigns;

A 10%+ conversion rate from abandoned cart messages just three months after the initial deployment; and

An increase in triggered messages, from 20% of all emails sent in 2014 to approximately one third today.
"Across the board, for the triggered campaigns, open rate, click rate and conversion rate, we are doing 2X what we were doing for batch," said Scott Drayer, VP of Marketing at Paul Fredrick. "Open rates are 90% higher, click rates and conversions are almost 100% higher. There's definite value in execution of these campaigns, and that's where a significant amount of growth has come from our email business."
Where Timing And Purchase Paths Intersect
Part of building out this more segmented email strategy meant contacting consumers as they interacted with the retailer to gauge appropriate message timing. Additionally, the Paul Fredrick team can now gather consumer data from cart abandonment and browse abandonment, and ensure that the "welcome paths" and "post-purchase paths" of each shopper reflected their experience.
"We've tried to think about the customer experience either at an immediate level or where that customer is in their lifecycle, and really try to put ourselves in the customer's shoes," Drayer said in an interview with Retail TouchPoints. "Whether there is a recent event such as a cart abandon or a purchase, what is the customer looking for from us at that point? If it's cart abandon, did something frustrating happen? Do they need assurances so they don't forget about our guarantee? For post-purchase, you are never going to have a more satisfied customer then immediately after they click purchase. We try to think about how we can continue that experience for them."
As part of the email marketing strategy, Paul Fredrick now has a process in place to ensure that automation is not simply running unchecked. The team holds postmortem reviews twice every quarter to assess the email campaigns, compare them to the standard promotional campaigns and identify opportunities to adjust them where necessary.
"Out of that process, we will come up with new ideas, expansion, opportunities for testing," Drayer explained. "In terms of where we want to go in the future, we want to focus less on event- or activity-based personalization and more on product recommendations. I feel we've done a good job of communicating to people at appropriate times. Now I want to make sure that the contents of the message are becoming more appropriate."